---
Home - Western Cape Self-Catering Apartments - Camps Bay - Atlantic Seaboard
---
Camps Bay Featured Apartments

View map of Camps Bay

With its stunning Blue Flag beach, Camps Bay is a popular and upmarket destination for families and singles.

Besides the clean, white sand and blue sea, Camps Bay also offers a row of waving palm trees, all backed by a selection of coffee shops and restaurants, overlooking the beach. The beach is also a popular place to watch the sunset and in the summer months, look out for celebrities enjoying all the benefits of Camps Bay.
In the summer months, Camps Bay beach is a fun vibe with international beach volleyball tournaments and the Summer Beach Festival.

For your safety, lifeguards are on duty in the summer months and sunbathers can enjoy a range of cold drinks and ice creams from the roaming beach vendors.

For those who don't like sand in their picnic, enjoy the grassy area next to the tidal pool, where children can swim in safety.

For more energetic visitors, head on a great sea front walk from the beach in Camps Bay through to neighbouring Glen Beach. If you still have the energy, take a stroll past Maiden's Cove and Bachelor's Cove to finally end up on Clifton's 4th Beach. For a quick route back, head down Victoria Road all the way back to Camps Bay.


Photo Courtesy © Robert & Monica Hausammann
After a day enjoying the sunshine, visit one of the many great beachfront restaurants and bars to enjoy sundowners, a great meal and a spectacular sunset.
Some things to do in Camps Bay:
Glen Beach (0.7 km from Camps Bay)

Camps Bay beach can be windy and should the South Easter be blowing, head to Glen Beach, a beautiful beach surrounded by huge granite boulders, which not only look very picturesque, but also make a great wind shield.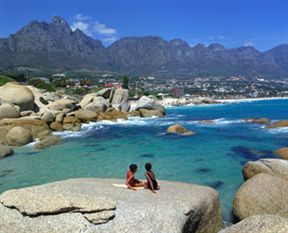 The beach is small and relatively uncrowded and you can enjoy the walk from Glen beach via Maidens Cove and Bachelors Cove to the Clifton 4th Beach. Backing Glen Beach is a small number of houses with uninterrupted sea views all framed by the awesome backdrop of the Twelve Apostles mountains and Lions Head.
The beach is popular for the young local surfer crowd and girls in their bikinis and is conveniently situated within easy walking distance to the local shops, trendy restaurants, cocktail bars and the Theatre On The Bay.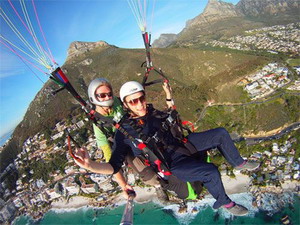 Theatre on the Bay (0.9 km from Camps Bay)
Pieter Toerien's beautifully intimate Theatre on the Bay offers all the latest and best shows in town. Theatre goers can enjoy a good mix of local and international drama, musicals, comedy, cabaret, music and dance.The theatre is also home to the Act I Theatre Café, a fabulous restaurant that is open for dinner before and after the shows.
Cape Town Tandem Paragliding
Cape Town Tandem Paragliding offers tandem paragliding flights from the famous Lion's Head and Signal Hill. You fly with safe, experienced and fully certified tandem flight instructors using only the best paragliding equipment. They offer tandem flights, cross country adventures, videos and souvenirs. No experience is required for tandem flights.
More reading on Camps Bay: Holidaying in Camps Bay
Camps Bay Nest, 1 bedroom luxury Self-Catering Apartment, CAMPS BAY
Luxurious one bedroomed fully furnished ground floor apartment on the spectacular Camps Bay beachfront. One minute walk to the white sands of Camps Bay beach, many shops, famous restaurants & sidewalk cafes, theatre etc. One bedroomed fully furnished ground floor apartment on Camps Bay beachfront. Set 2.6 km from Table Mountain in Cape Town, this air-conditioned apartment features a terrace and a garden. The property boasts views of the mountains and is 4.1 km from Sea Point Pavilion Swimming. There is a seating area, a dining area and a kitchen. A flat-screen TV and blu-ray player, as well as an iPod docking station and a CD player are offered. Other facilities at Camps Bay Nest include a seasonal outdoor pool.
Camps Bay Resort, Hotel/Apartments, CAMPS BAY
With a stay at Camps Bay Resort in Cape Town, you'll be minutes from Camps Bay Beach. This apartment is within close proximity of Cape Town Medi Clinic and a short drive from Sea Point Swimming Pool and Table Mountain. Within walking distance from an abundance of day and night activities, café's, sundowner spots, cocktail venues, fantastic restaurants and places to be seen, staying at Camps Bay Resort is both fun and convenient. Park Studios has been created by converting a beautiful old farmhouse into 5 studios. It has a sunny pool deck with views of Camps Bay beach and the Twelve Apostles mountain range. Superior one bedroom apartments which are air-conditioned (Sleeps 2 - 4) and two and three bedroom apartments are perfect for the family travellers. Apartments have fully equipped kitchens, DVD players & beautiful Ocean Views. (Sleeps 4 - 6).
Camps Bay Terrace Palm Suite, 2 bedroom Self-Catering apartment, CAMPS BAY
An unpretentious and excellent value apartment in Camps Bay's most prime position! The Palm Suite is perfect for groups of friends or a family. This charming apartment has two en-suite bedrooms adjoining onto an open plan kitchen, dining area and lounge. Double doors open from the lounge onto a paved terrace with wooden patio furniture and access to the pool and barbecue. Sitting under the umbrella of the big palm tree sipping a drink as the sun goes down over the sea is a wonderfully romantic experience. The Camps Bay beach, bars and restaurants are a few minutes stroll away. The apartment offers two bedrooms with views of Bakoven Bay. Both bedrooms have queen-size beds and the one room offers an additional single bed.
Camps Bay Terrace Suite, 1 bedroom Self-Catering apartment, CAMPS BAY
The ultimate one bedroom accommodation in Camps Bay, the suite apartment offers the perfect retreat for a couple looking for some privacy, be it a honeymoon or just some time together. The apartment has received a four-star grading, and has fantastic views of Bakoven Bay, the Twelve Apostles and the Atlantic. It has an en-suite bedroom, lounge, dining room and kitchen. Outside is it's own patio area, a private sun deck and a private splash pool. A separate entrance provides access from off-street parking on Camps Bay Drive, so you can really enjoy having the place to yourselves at all times. There is an en-suite bedroom, a lounge, dining room and a kitchen. The apartment is ideally located within an easy four-minute stroll of the Camps Bay Promenade and beach. There are restaurants and bars within walking distance.
La Fleur, 2 bedroom Self-Catering Apartment, CAMPS BAY
Panoramic Views is modern flat, with contemporary furnishings, and a very comfortable living area. It is on a quiet road in the centre of Camps Bay. The main bedroom, and lounge especially, enjoy spectacular views of the Twelve Apostles mountain range, and of the sparkling Atlantic Ocean. The second bedroom looks up onto the Twelve Apostles, Lion's Head and the cable station. The apartment has a wonderful, open, holiday feel. Cape sunshine washes in through the large windows that stretch the length of the lounge. The block shares a large communal pool, and a braai (barbeque) area that has wonderful 360 degree views of both the mountains and the ocean.
Lion's View Penthouse, 2 bedroom Luxury Designer Apartment, CAMPS BAY
Situated in a tranquil leafy street in Cape Town's exclusive and trendy neighbourhood of Camps Bay, Lion's View faces the Atlantic Ocean and is backed by the peaks of the Twelve Apostles. Designed by a leading South African architect, its innovative, modern architecture and furnishings have featured in many a glossy design magazine, fashion shoot and TV commercial. The Penthouse Apartment features its own separate entrance, two luxurious bedrooms, 2 spacious en suite bathrooms, a lounge and fully equipped, open-plan kitchen, balcony with plunge pool to indulge the senses - the sun, the sea and a chilled bottle of chardonnay.
RECOMMENDED BY OUR TRAVEL PARTNER:
Place on the Bay, Condo Hotel, CAMPS BAY
This property is 1 minute walk from the beach. This hotel is right on the Camps Bay beach, in one of Cape Town's trendiest suburbs. It features an outdoor pool with ocean views and a palm-fringed terrace. The bright apartments at Place on the Bay are individually decorated, and offer Atlantic Ocean or Table Mountain views. Every apartment has satellite TV and a kitchenette. When dining, guests can choose from one of the many international restaurants nearby. Guests can enjoy a delicious cocktail on the terrace and take in panoramic views of the Atlantic Ocean. There are games available at the front desk to keep the children entertained.
RECOMMENDED BY OUR TRAVEL PARTNER:
The Crystal Apartments, Condo Hotel, CAMPS BAY
This property is a 9-minute walk from the beach. The Crystal is situated in Camps Bay less than 2 km from the beach. It offers apartments with panoramic views of the ocean and 2 pools on a spacious terrace. The Crystal Apartments are located 1.4 km from Camps Bay Beach. Accommodations at The Crystal have air conditioning and modern furnishings. They come equipped with satellite TV and a washing machine. Some units have balconies and direct pool access. The Crystal is located 30 km from Cape Town International Airport. An airport transfer shuttle is available upon request. Camps Bay is a great choice for travelers interested in beaches, nature and wine.
Continue browsing accommodation in Camps Bay
Camps Bay Self-Catering Apartments / Camps Bay Bed & Breakfasts / Camps Bay Guest Houses / Camps Bay Hotels / Camps Bay Self-Catering Villas
Relevant reading on this area:
Holidaying in Camps Bay by Phil Smulian
Are you looking for the perfect beach holiday? If you like your holiday to have sunshine, long white sandy beaches, cocktails and palm trees, then consider Camps Bay as the perfect beach holiday destination. Choose Camps Bay in Cape Town as the holiday destination of a life-time. Camps Bay is an exciting suburb of Cape Town, set between the magnificent mountains of Cape Town and the Cerulean Blue of the Atlantic Ocean. In Camps Bay visitors will be able to enjoy the long white sandy beach as well as the vibey street café style street which follows the beach. The trendy up-market suburb of Cape Town, Camps Bay has its own special selection of fabulous restaurants, bars and nightclubs to satisfy any tourist's entertainment appetite.
For a visitor the easy to pick draw-card for Camps Bay as a holiday destination is easily the location. Not only can visitors enjoy fabulous beach days and up-market entertainment, but sightseeing from Camps Bay is also accessible. Hire and drive holidays from Camps Bay are beautiful; you can also look into driven tours where you can experience the natural beauty of the Cape Peninsula as far as Cape Point, the most South Western tip of South Africa. Camps Bay is only a few minutes drive from Cape Town City centre and the V&A Waterfront, and Cape Town's famous landmarks such as Table Mountain.
The unique position of Camps Bay makes this a very popular destination for holiday-makers. Visitors can enjoy the peace and quiet of this trendy suburb of Cape Town, or if they choose they can be in the middle of all the action with only a short drive or stroll. Accommodation in Camps Bay is easily organized and it is a recommendation to ensure you have made a booking. There are many places to stay, depending on what you are looking for, search the internet and find your desired accommodation.
Many travelers stop and stay in Camps Bay, not only to fully appreciate the many beautiful beaches found along the Cape Town Coast, but also to take in the local culture and create their own African adventure. There are many different activities visitors can take part in, from hiking in the local mountains, water sports to sunbathing. The beautiful natural environment of the area allows for endless opportunity for active and relaxing holiday vibes.
Cape Town is fast becoming one of the world's most popular tourist destinations: visitors flock to South Africa to take in the cultural aspects of such an interesting country with a past marred with conflict and struggle for many South Africans. Take in the history and culture of this complex country while staying in one of the most beautiful regions of Cape Town: Camps Bay.
Camps Bay Self-Catering Apartments / Camps Bay Bed & Breakfasts / Camps Bay Guest Houses / Camps Bay Hotels / Camps Bay Self-Catering Villas