Limpopo Province:
Limpopo Province is Africa undistilled. It is raw and wild and wonderfully enigmatic. With about half of the Kruger National Park and many other game reserves, it has miles and miles of untamed wilderness where the Big Five and other animals roam in a space so large it may almost be considered unfenced. This low-lying area, which is generally referred to as the Lowveld, is archetypical Africa - broad-leafed open forest interspersed with grassy plains dominated by huge bulbous baobab trees.
In stark contrast, the high-lying Waterberg, which rises from the plain like a hippo standing up in a shallow stream, has a totally different vegetation type, but is nevertheless a fantastic game viewing destination with the added advantage of being malaria-free - unlike Kruger and the Lowveld reserves. For wilderness of a different kind, Limpopo Province has some of the most awesome wilderness hiking in the world. The Blouberg and the Wolkberg (Blue Mountains and Cloud Mountains) are wild and virtually untouched. Experienced hikers can explore spectacular mountainous areas that few people have seen, and climbers can clock up loads of first ascents. Deep and uncharted caves await those brave enough to explore their depths and patient enough to endure the red tape necessary to get permission to mount an expedition.
The Magoebaskloof area is characterised by lovely mountain scenery. Pretty streams with tumbling waterfalls and secluded rock pools wind their way through vast stands of indigenous forest, many with laid out hiking trails. Limpopo has some of the best horseback safaris in South Africa, including luxury trails in the malaria-free Waterberg and one fabulous operation in a Big Five reserve near Kruger. The white water rafting on the Mutale and Olifants Rivers is wet and wild.
But there's more to this fascinating place than animals, birds, mountains, rivers and trees. With sacred forests clothed in mist, a hereditary semi-divine queen who can make rain, and mystical lakes inhabited by mythical giant serpents, it's a place of mystery and magic. Over Easter literally millions of adherents of the Zionist Christian Church - a dynamic blend of charismatic Christianity and traditional African beliefs - gather in the holy city of Moria for a long weekend of frenzied devotion. Close to the borders of South Africa, Zimbabwe and Botswana, Mapungubwe was a thriving city state in the 11th, 12th and 13th centuries, and its remains have yielded fascinating archaeological data, as well as some beautiful artefacts, the most notable of which is an exquisitely worked gold rhino. It is a world heritage site.
Dating from a similar era, Thulamela, in the Kruger National Park, is also worth a visit. Of great botanical, as well as anthropological, importance is Modjaji's Forest - the largest stand of cycads in the world. Consisting of thousands of these austerely beautiful primitive plants, some of which reach over 13m in height, this magical forest has been under the personal protection of Modjaji - the hereditary Rain Queen of the Lobedu people - for centuries. But Limpopo also has its prosaic aspects. Huge iron mines dominate the landscape in places, and the small towns serve mostly the large farming community that breeds cattle and grows delicious tropical crops like avocadoes, citrus fruit, litchis, mangoes, bananas, macadamia nuts, pecan nuts, coffee and tea.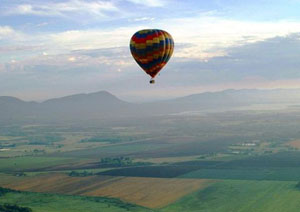 The area around Bela-Bela (previously called Warmbaths) is renowned for its therapeutic hot springs. In fact, there is a whole string of hot springs all through the province, and the many private game lodges and boutique hotels have attached wellness centres, so it's a great venue for some pampering combined with a bit of game viewing.
For a real adventure, climb into a hot air balloon for an aerial safari over the Lowveld game areas adjoining the Kruger National Park. Flights take place over Kapama Game Reserve and other lodges and reserves with suitable terrain, and the experienced pilots and guides ensure a safe, enjoyable and informative adventure over 'Big Five' country.
Note: If you are planning to travel to the Kruger National Park or Lowveld please be aware that certain parts of this region are malarial. Consult your doctor or travel clinic for advice.
Limpopo Reading: South Africa and The Great Limpopo Transfrontier Park


| | |
| --- | --- |
| SAFARI & GAME LODGES, COUNTRY HOTELS & RESORTS - LIMPOPO PROVINCE, SOUTH AFRICA | |




| | |
| --- | --- |
| BELA-BELA (FORMERLY WARMBATHS) ACCOMMODATION - LIMPOPO PROVINCE, SOUTH AFRICA | |

Bela-Bela is a town in Limpopo Province and the name literally translates from the Tswana language as "The pot that boils" or "boiling, boiling."

The town's name is apt, due to the geothermic hot springs which gush from the ground at a temperature of 53°C, situated around the town. While the town was originally dubbed Warmbaths, it changed its name in 2002.

Bela-Bela is located in the Waterberg District, just off the N1 road between Pretoria and Polokwane (Pietersburg). The town hosts a number of family resorts with play parks and waterslides, as well as small game farms and several wellness centres and spas.

Itaga Luxury Private Game Lodge, Mabalingwe Nature Reserve near Bela-Bela
Located in the Mabalingwe Nature Reserve beneath the Waterberg Mountains near Bela-Bela, Itaga Lodge is an affordable game lodge perfect for relaxation and adventure. Itaga Lodge is located in a Malaria-free province, only 2 hours from Johannesburg, just over an hour from Pretoria and a 30-minute drive from Bela-Bela and offers an affordable game and spa experience. The Lodge is set in a thatched central complex with a communal lounge with free WiFi, a cocktail bar with a viewing deck overlooking a floodlit waterhole and an open-air bush boma. Enjoy a massage or spa experience while viewing the Limpopo Bushveld at the poolside, or in the comfort and privacy of your own room. Exercise equipment is available to keep up your routine.
Continue browsing accommodation in Bela-Bela

| | |
| --- | --- |
| HOEDSPRUIT ACCOMMODATION - LIMPOPO PROVINCE, SOUTH AFRICA | |

Hoedspruit, which is Afrikaans for Hat Creek, is located at the foot of the Klein Drakensberg (Small Dragon Mountains) in Limpopo Province, on the railway line from Tzaneen to Kaapmuiden. While the town is still relatively small, it is becoming a popular tourism destination due to its proximity to private game reserves and the Kruger National Park. Eco-tourism is a major contributor to the local economy.

Hot air balloon safaris are available in the area and the Hoedspruit Endangered Species Centre engages in research and breeding of endangered species, notably cheetah, African wild dog and black-footed cat.

Elandela Private Game Reserve and Luxury Lodge, near Hoedspruit
Lakeside lodge overlooking the Klaserie River in a private game reserve just 10 km from Kruger National Park. All meals are served in a candlelit dining room or by the fireside in an enclosed patio boma. A sports bar next to an outdoor pool offers and chance to relax and catch up with other guests, while a lounge offers local art. The lodge offers a full board and 2 daily photo safaris in open 4 x 4 vehicle on Elandela Private Game Reserve. Complimentary pick-ups and drop-offs to the adjacent Hoedspruit Eastgate Airport are available upon request.
Phelwana Game Lodge, near Hoedspruit
Phelwana Game Lodge is located in the Hoedspruit area of Limpopo Province, just 40 km from the Kruger National Parks Orpen Gate, The Blyde River Canyon and the nearby Timbavati Private Nature Reserve. Phelwana is the ideal destination for guests wanting to relax in the South African Bushveld. The lodge also offers a venue for Bushveld Birthday Parties and other celebrations and conferences. A choice of full English or Continental Breakfasts are served daily in the Phelwana Room. High tea is served between 14h30 and 16h00 in the afternoon. In the evenings, enjoy a traditional cooked meal with a great bottle of wine in the Phelwana restaurant or relax in the African Boma.
Shikwari Game Reserve, near Hoedspruit
Shikwari Game Reserve is owned and managed by the Lawrie family and is located a 25 minute drive from Hoedspruit. Surrounded by nature and with views of Skilderkrans Mountain, the lodge offers a perfect eco wildlife holiday and has a plunge pool, verandah, a lounge and dining room plus a fully licensed bar. Free WiFi is available in public areas. Guided game walks and game drive opportunities are available and visits to nearby reserves can be arranged by staff. The suites at Shikwari are tucked away in the bush and decorated with colonial style furniture. Each suite has a private bathroom, seating area and a small patio. The Pangolin Bush Camp is a more rustic-style self-catering camp with communal amenities.
Search for more accommodation in Hoedspruit

| | |
| --- | --- |
| PHALABORWA ACCOMMODATION - LIMPOPO PROVINCE, SOUTH AFRICA | |

Phalaborwa is located in the Mopani District Municipality of Limpopo Province, near the confluence of the Ga-Selati River and the Olifants, around halfway up on the eastern border of the Kruger National Park. The name derives from the original "Ba-Phalaborwa" given to the area by the Sotho tribes who moved here from the south. The name means "better than the south" in their language.

From as far back as 400 AD, the Sothos mined and smelted iron ore and copper here and Masorini, close to the Phalaborwa Gate, is a reconstructed Ba-Phalaborwa hill village with huts, an iron smelting site and grain storage areas.

Phalaborwa is the only town bordering the Kruger National Park, and with the Mozambiquan border just two hours drive away, it is popular tourist destination. For golfing fans, the Hans Merensky Golf Estate is situated on the outskirts of Phalaborwa.

Other nearby natural attractions include Blyde River Canyon, the Three Rondavels, God's Window and Bourke's Luck Potholes and the Tzaneen fruit farms and Hoedspruit game farms can all be visited within a day.

Photo by Kyle Meerholz/Public Domain

La Lechere Guest House, Phalaborwa, Limpopo Province
La Lechere Guest House has modern African décor and features en suite rooms with a private patio. The guest house has an outdoor pool and is located 7 minutes' drive from the Phalaborwa Airport and 5 km from Kruger National Park's Phalaborwa Gate. The restaurant serves a complimentary breakfast daily on the restaurant's deck overlooking the pool. Packed lunches are available upon request. All rooms at La Lechere overlook the pool and tropical garden, and are equipped with air conditioning, a satellite TV, safe and tea-and-coffee-making facilities. Each room includes a minibar. Services on offer include arranging excursions such as hot air balloon rides over Kruger National Park, river cruises, massages and treatments.
Continue browsing accommodation in Phalaborwa


| | |
| --- | --- |
| TZANEEN ACCOMMODATION - LIMPOPO PROVINCE, SOUTH AFRICA | |

Tzaneen is located in the Mopani District Municipality of the Limpopo Province. It is known as Limpopo's paradise and has the nickname "Land of Silver Mist" due to a frequent mist that covers the mountains above the town. It is located in lush, tropical surroundings and is home to Limpopo's highest mountain, the Iron Crown Mountain, lying more than 2200 m above sea level. The Iron Crown mountain, also known by its Afrikaans name Wolkberg, support Limpopo's biodiversity and is home to the largest indigenous forest in the province.

Tzaneen thrives on the tourism industry and has a great selection of country and town accommodation for visitors. Among the many attractions around the town, visitors can enjoy the beautiful Tzaneen Dam, Magoebaskloof, Haenertsburg and Wolkberg mountains.

The town is also situated close to a number of game reserves and the town often serves as a thoroughfare for tourists on their way to other tourist destinations in the province. Kruger National Park is situated approximately 100 km (62 miles) away. The Vervet Monkey Foundation is located just outside Tzaneen which cares for over 600 vervet monkeys.

Photo by South Africa Tourism

La Barune Guest House, Tzaneen, Limpopo Province
La Barune Guest House offers elegant accommodation, just a 10-minute walk from the Tzaneen Dam. The guest house has a swimming pool and Koi pond and offers free WiFi and parking. A complimentary breakfast is served on the patio each day. The property is located 1 km from the Tzaneen Lifestyle Mall and the Oasis Shopping Centre, while the town centre is less than 3 km away. Polokwane Airport is 104 km from the property. All air-conditioned rooms at La Barune offer views over the garden and the pool. Facililities include a flat-screen satellite TV, desk and safe. Each room has complimentary bottled spring water.
Tamboti Lodge, Tzaneen, Limpopo Province
Tamboti Lodge is set against the beautiful Magoebaskloof Mountains in Tzaneen. A place of luxury, privacy and serenity in the heart of the Limpopo Valley, Tamboti Lodge is ideally situated in a quiet suburb of Tzaneen and is easily reached for a relaxing holiday. The property has safe parking and offers free Wifi. Relax at the pool or enjoy a generous and delicious breakfast in the dining room. All rooms are air-conditioned and have a view of the exotic garden, a satellite LCD TV and tea/coffee facilities. Each has a private bathroom and a minibar. The 24-hour reception staff offers a shuttle service to Polokwane Airport, 100 km away. Johannesburg is 420 km away from the property.
Tzaneen Country Lodge, Conference and Spa Hotel, Tzaneen, Limpopo Province
In the heart of the north eastern lowveld you will find the award-winning Tzaneen Country Lodge, famous for its superb service, friendly people and country cuisine. At the foothills of the Drakensberg Mountains - with an abundance of beautiful scenery and attractions - the tastefully decorated Tzaneen Country Lodge offers world-class hospitality, discreet security and outstanding service. Exclusive and private, the lodge is nestled on 170 hectares of farmland and indigenous forest. Tzaneen Country Lodge is in one of the most beautiful regions in South Africa, only 95 km from the Phalaborwa Gate of the Kruger National Park (voted best entrance gate into Kruger) and centrally located to explore the beauty and magic of Limpopo in Africa.
Tzaneen Guest House, Bed & Breakfast, Tzaneen
Tzaneen Guest House is located in the tranquil suburb of Aqua Park, where camping and fishing trips are only a walking distance away. Upon your arrival, you will be received by our warm and friendly staff members. Together, we look after you like you're family! Tzaneen Guest House is centrally located so you, our guests, are always near an attraction or two. Whether you're looking to have a field day out and about in our beautiful town, or would like to while your time away indoors and in the comfort of our accommodation, there is something for you.
Continue browsing accommodation in Tzaneen
More locations in Limpopo Province

South Africa and The Great Limpopo Transfrontier Park by Edward Kirwan
South Africa has become, in recent years an increasingly popular tourist destination. For many tourists the size and diversity is so huge that the whole is difficult to grasp. The National Game Parks have long been a favourite tourist destination. The formation of the The Great Limpopo Transfrontier Park takes this to a new era. This is an ambitious, achievable and sustainable project between the governments of Mozambique, South Africa and Zimbabwe.

South Africa enjoys tourism:

Tourism is one of South Africa's fastest-growing industries. South Africa was rated the best holiday destination in Africa in 2005. South Africa caters for high-income travellers looking for "something unique". The country's Shamwari Game Reserve was voted the World's best Safari and Game Reserve 2006

The breathtaking beauty and exciting activities that South Africa offers you, the international visitor, are as boundless as the majestic skies.

The Great Limpopo Transfrontier Park (GLTP) will link:
Limpopo National Park in Mozambique
Kruger National Park in South Africa
Gonarezhou National Park, Manjinji Pan Sanctuary and Malipati Safari Area in Zimbabwe
Additionally two areas between Kruger and Gonarezhou, namely the Sengwe communal land in Zimbabwe and the Makuleke region in South Africa.
GLTP will initially cover some 40,000sq. km. rising to 100,000 sq.km.
The famous Kruger National Park currently attracts 1.3 million visitors a year. It now has growing numbers of travellers heading to it via Phalaborwa Gate in Limpopo province, and driving across the park to Girriyondo Gate, a fairly recently opened border post into Mozambique's Limpopo National Park.

It is an 8 hour journey along rough roads to get to the coast in Mozambique, but the scenery is astounding and the journey certainly worth the effort. To travel through 'the world's greatest animal kingdom' is the thrill of a lifetime.

The Transfrontier Concept and Objectives:

The first proposal was in 1938, by ecologist Gomes de Sousa. Designed for the protection of eco-systems across international borders. To encourage collaboration and co-operation between Mozambique, South Africa and Zimbabwe. To develop trans-border eco-tourism bringing social and economic development to the region. To remove artificial barriers that impedes the natural movement of animals.

This enormous undertaking in re-establishing the ecosystem of the area and demands the attention of the wider world as a lesson in peaceful co-operation. Visiting the Great Limpopo Transfrontier Park will not only be memorable but will aid the local inhabitants to develop this mighty undertaking.

Kruger National Park, among others, has a well established tourist infrastructure. They are participants of this huge undertaking. By visiting The Great Limpopo Transfrontier Park you will not only have the time of your life, you will be aiding a great eco-sensitive and peaceful cause. You will help you build a stepping-stone in the new African history.

South Africa, Mozambique and Zimbabwe are to be congratulated for their vision.