| | |
| --- | --- |
| MPUMALANGA PROVINCE, SOUTH AFRICA TRAVEL GUIDE | |

Mpumalanga Travel Information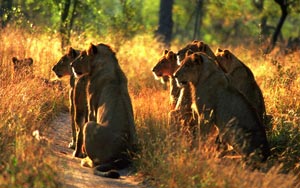 Although Mpumalanga is not the only province in South Africa with excellent game viewing, national parks and luxury lodges, it's here that the safari experience has been perfected. About half the Kruger National Park is in this lovely province and there are so many private game reserves and lodges than you will have a hard time choosing. Like Limpopo Province to its immediate north, Mpumalanga straddles the escarpment between the Lowveld and the Drakensberg, so the different parts of the province have different characters. The Lowveld is hot and humid with broad-leaved forests and wide, slow rivers, while the Highlands are cool and green, with rolling grasslands, pine plantations, pockets of indigenous forest and cheerfully gurgling mountain streams and waterfalls. Most of the game is in the Lowveld, while the attractions of the Highlands include hiking, horse trails, river rafting and other adventure activities, such as gorge swings and abseiling.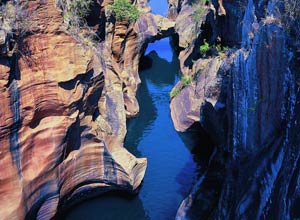 The Restaurant at the End of the Universe, near the town of Waterval Boven, is one of South Africa's most popular climbing destinations. The fly fishing in the Highlands area is awesome, particularly near the pretty town of Dullstroom, where there are loads of dams and streams well stocked with fat trout. There are awesome birds to be spotted, both in the game reserves and in the Highlands, where you're likely to see some montane grassland species, including the rare and endangered blue swallow. For a bird's eye view, rather than a view of birds, you can choose between microlight flights and gentle floats in a hot air balloon. Mpumalanga also has some fantastic paragliding and hang gliding launch sites - particularly along the escarpment. The mountain biking is great. Even with so much to do, many people visit Mpumalanga just to sight-see. The Panorama Route is a scenic meander taking in some fabulous sights, including the Blyde River Canyon, Bourke's Luck Potholes, the Three Rondawels, the Swadini Dam and many beautiful waterfalls and spectacular vistas including one called God's Window.
The Blyde River Canyon is the biggest vegetated canyon in the world. Second in size only to the Grand Canyon in the USA, and the Fish River Canyon in Namibia, it is lush and green with a plethora of plant and animal life and is a major centre of endemism. It's also where Antarctica and Madagascar split away from Africa a few million years ago during the break-up of the super-continent Gondwanaland. Also in the canyon, is Bourke's Luck Potholes - a fantastically contorted area of scenic potholes, and deeply scoured canyons. The Blyde is a great river to raft, with some pretty challenging rapids, but it also offers fun family paddling on a gentler section. The Three Rondawels are three conical hills and the Swadini Dam at the end of the canyon is a lovely stretch of water. Also on the Panorama Route is the rather cutesy museum town of Pilgrims Rest.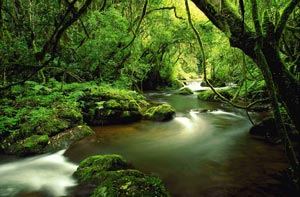 The mines were active until the 1970s when they became terminally unprofitable, and the whole town was bought up by the provincial authorities to be converted to a tourist attraction. Museums, cute craft outlets, coffee shops, restaurants and the original hotel with its characterful bar bring the gold rush era vividly to life. Pilgrims Rest was the venue for the World Gold Panning Championships in 2005.
Mpumalanga's cultural attractions are particularly colourful. The iconic Ndebele artwork that is almost synonymous with South Africa is produced in the museum village of Botshabelo. Colourful beadwork and small painted articles can be admired and purchased while the magnificent painted buildings are - unfortunately - not for sale as souvenirs. They're well worth photographing, though. Kids will love the dinosaur park, just outside the deep and convoluted Sudwala Caves. Mpumalanga has a very interesting technical freshwater diving destination that will appeal to technical divers.
Note: If you are planning to travel to the north eastern parts of Mpumalanga or Swaziland please be aware that this region is malarial. Consult your doctor or travel clinic for advice and refer to our article on malaria.

| | |
| --- | --- |
| MPUMALANGA PROVINCE GUEST HOUSES, HOTELS & LODGES - SOUTH AFRICA | |

Hazyview Guest Houses, Lodges & Hotels - Nelspruit Guest Houses/B&B's - Witbank Guesthouses/Lodges -

| | |
| --- | --- |
| HAZYVIEW, MPUMALANGA PROVINCE HOTELS & RESORTS/LODGES | |

| | |
| --- | --- |
| Although most of the smaller towns in this part of Mpumalanga are close to the Kruger National Park, Hazyview is the closest Ė just a short hop to the Phabeni, Numbi and Kruger Gates. Itís a pretty little town with some lovely guest houses on the outskirts, and a couple of good restaurants. If youíre not the sort who likes to keep your feet on the ground, you could go for a microlight flip, a scenic helicopter flight or even ride in a hot air balloon. There are fun mountain biking trails, which you could do as an escorted trip, if you wish, horse trails, kloofing trips or paddling on the Sabie River, abseiling and, of course, escorted safaris into Kruger National Park. For something a bit more cultural, you could tour a Shangaan village or a coffee plantation and roastery. | View Map of Hazyview |

Casa do Sol Hotel & Resort, Luxury Hotel & Spa, HAZYVIEW
Welcome to Casa do Sol, House in the Rising Sun which has just undergone a renaissance of major refurbishment and renovations during 2007. This luxury estate hotel situated in the beautiful Mpumalanga Region is a little Eden of tranquil pools, deeply shaded glades and quiet flower gardens. The cobbled streets, exotic gardens, coupled with enchanting sounds and smells of the bush and the warm and friendly atmosphere make Casa do Sol a destination of choice for a large variety of travellers. Just beyond the boundaries of the hotel lie some of the jewels of creation - God's Window, the Blyde River Canyon and many other scenic glories of Mpumalanga. And the world famous Kruger National Park is just a hop away!
Dreamfields Guesthouse, The Panorama, HAZYVIEW
Dreamfields Guesthouse is situated in a quiet residential area of Hazyview less than 2 km away from the centre of town. Hazyview lies on the Panorama Route, a base from which not only all the attractions of the region can be reached with ease, but that is also only 10 km from the Phabeni Gate to the internationally renowned Kruger National Park. The large house with its thatched roof and African style furnishings fits in perfectly with the atmosphere of the region and offers a comfortable lounge, African theme bar, and sparkling pool. The sub-tropical garden with its indigenous trees is a bird watcherís paradise. Dreamfields Guesthouse is run by a German/English couple Kristina and Neil Waitt. Breakfast offered is of the highest standard, consisting of scrumptious warm food prepared by your host, supplemented by a buffet of products from the local farm stalls,served in the dining room or on the patio.
Hamilton Parks Country Lodge, Country Hotel, HAZYVIEW
Hamilton Parks Country Lodge is a comfortable country hotel, set in a magnificent 250 ha estate, consisting of pristine indigenous bush near Hazy view in the Mpumalanga Lowveldís. Comfortable rooms, friendly staff and excellent food combine to make Hamilton Parks the perfect stopover. Only 20 minutes from the Kruger National Park, the lodge offers easy access to game reserves and the scenic wonders of the Blyde River Canyon and the Great Escarpment. The gracious thatched homestead is set in magnificent gardens and offers outstanding bird-watching and sightings of various animal species such as monkeys, bush pig, porcupine, bushbuck, grey duiker and the very rare red duiker. The lodge is fully licensed and the cosy bar is the perfect place to end the day, as the sun goes down behind the hills. Three golf courses and a wide variety of adventure activities nearby. Swimming pool on the property.
Laughing Waters Guest House, HAZYVIEW
Our Guest House in Hazyview is situated in the scenic Sabie River Valley six kilometres from Hazyview. Laughing Waters Guest House In Hazyview is ideally situated for visits to the Kruger National Park and the panorama route. The location of the accommodation close to the river ensures slightly cooler temperatures than elsewhere in the valley, and this comfortable micro climate makes Laughing Waters Guest House especially welcoming in the hot summer months. The beautiful gardens provide a pleasing environment to enjoy the sun or to take some respite under one of the many tall trees. Laughing Waters Guest House is affiliated with Bird Life SA; whether a novice or an expert, this is an interesting venue for your stay.
Lions Rock Golf Lodge, Self-Catering Chalets, HAZYVIEW
Lions Rock is in the hills of Hazyview, surrounded by beautiful views. Seven chalets each with king beds (or twin beds), spa bath, luxury bathroom, large shower, own private swimming pool, bar fridge, microwave, ceiling fan,electric fire-place, complimentary tea/coffee, comfy lounge chairs, DVD viewing, DVDs available. Private veranda and parking. Theatre Room with BIG screen, view Sport, DSTV, M-Net, and Movies. Karaoke for a fun sing-along! Health Spa offers massages/beauty treatments by appointment, Infra-red Sauna, Jacuzzi. 9 hole par 3 Golf Course with one green overlooking the Sabie River rapids. Relax on the river banks and watch the River Rafters passing by. Golf Cart and Quad Bikes available. A generous breakfast, enjoyed on the veranda overlooking the gardens. Restaurant across the road and others minutes away. Kruger Park 15 minutes to Phabeni Gate.
More Hazyview Accommodation

| | |
| --- | --- |
| NELSPRUIT, MPUMALANGA PROVINCE GUEST HOUSES & LODGES | |

| | |
| --- | --- |
| Nelspruit, officially renamed Mbombela, is situated in northeastern South Africa. It is the capital of the Mpumalanga province (formerly Eastern Transvaal). Located on the Crocodile River, Nelspruit lies about 100 kilometres (62 mi) west of the Mozambique border and 330 kilometres (210 mi) east of Johannesburg. The townships of Nelspruit are Kanyamazane and Matsulu which are tens of kilometres east of Nelspruit. There are many orange farms in the area around Nelspruit. It is a key manufacturing and agricultural hub for northeastern South Africa. Major industries include the canning of citrus fruit, paper production, furniture manufacture and timbermills. Fertile soils and subtropical climate provide perfect conditions for the growing of citrus and tropical fruits, mainly mango, banana, avocado and Macadamia nuts. | View Map of Nelspruit |

EcoEden Bush Lodge, Conference and Events Venue, NELSPRUIT
The luxury four star Eco-Eden Bush Lodge can be found 15 km east of Nelspruit in the heart of the Croc River Mountain Conservancy. This nature conservancy is located in the Krokodilpoort mountain range between the Kruger National Park and the historical gold-diggers town of Barberton. The conservancy boasts some of the oldest granite outcrops on planet Earth and a substantial number of wildlife species still roam free in this wilderness area. The Numbi, Paul Kruger, Phabeni and Malalane entrances to the Kruger National Park are a mere 40 minuteís drive away. Transport to and from the Kruger Mpumalanga Airport and Nelspruit is available on request. Guided tours leave from the lodge to popular tourist destinations like the Panorama route which has the Blyde River Canyon, Pilgrimís Rest and Godís Window which can be accommodated in one day.
La Roca Guesthouse, Guest House/Self-Catering, NELSPRUIT
La Roca, a top 4 star establishment adjoining the Nelspruit Nature Reserve, offers luxurious accommodation with a friendly and warm ambience. Uninterrupted views over the reserve and distant mountains and yet only a short drive to the city centre, La Roca is the ideal base for discerning executives or romantic getaways. Our individually decorated rooms combine a unique fusion of colours, textures and furniture inspired by travels throughout Africa and Asia. Set in a large sub-tropical garden, the pool deck enjoys wonderful views Ė a little oasis within which to unwind from a long dayís work, to use as a base for exploring the Kruger Park and Panorama Route, or a convenient stop over on the way to Mozambique and Swaziland, both only one hour away.
HIGHLY RECOMMENDED BY OUR TRAVEL PARTNER:
Mariu Guest House, NELSPRUIT
Mariu is an environmentally friendly guest house in a beautiful hillside location outside Nelspruit. It features a landscaped garden with an outdoor swimming pool and free Wi-Fi in the bedrooms. Guest rooms at Mariu Guest House have either a private terrace or a balcony overlooking the sub-tropical garden. Rooms feature framed artwork, elegant antique furnishings and en suite bathrooms. The rooms are equipped with water and tea and coffee making facilities. There are barbecue facilities in the garden for a traditional braai, and the restaurants of Nelspruit are 5 minutesí drive away. Day trips nearby include the Eden Chimpanzee Sanctuary 18 km away, and Kaapsehoop Horse Trails 10 km from Mariu House. Packed lunches are available upon request.
Continue browsing Nelspruit accommodation

| | |
| --- | --- |
| SABIE, MPUMALANGA PROVINCE GUEST HOUSES & LODGES | |

| | |
| --- | --- |
| Sabie is a forestry town situated on the banks of the Sabie River in Mpumalanga, South Africa. Once the Sabie River was teeming with crocodiles and the local Shangaan people dubbed it uluSaba or (fearful river). The town was started after HT Glynn and JC Ingle found gold here and formed the Glynns-Lydenburg Gold Mining Company. Sabie is located 360 kilometres east of Johannesburg and is 64 kilometres west of the popular Kruger National Park. It is known for its breathtaking scenery and beautiful waterfalls, and is a popular tourist destination. Its main industry is forestry. The plantations surrounding Sabie form one of the world's largest man-made forests. | View Map of Sabie |

HIGHLY RECOMMENDED BY OUR TRAVEL PARTNER:
Hillwatering Country House, SABIE
Situated just 50 km from Kruger National Park, this guest house offers rooms with scenic mountain views. It serves a hearty breakfast on the verandah overlooking the forest slopes. Hillwatering Country House has spacious non-smoking rooms fitted with heated blankets and deluxe bedding. Each room is equipped with a tea / coffee maker and a minibar. Guests can enjoy an English or Continental breakfast outdoors or by the cozy fireplace in the breakfast room. The staff can organize a picnic breakfast upon request. Free Wi-Fi is available in public spaces. Hillwatering Country House is 32 km from Pilgrimís Rest. Natural attractions such as Godís Window are 40 minutesí drive away. It is approximately 4 hours drive away from Johannesburg International Airport.
Floreat Riverside Lodge and Spa, SABIE
Situated by the Sabie River, Floreat Riverside Lodge and Spa features an outdoor swimming pool and views of the garden and the river. This lodge also has a lounge bar and a restaurant. The modern, spacious rooms include a TV with selected satellite channels and tea-and-coffee-making facilities. Free WiFi is available in public areas. Guests can enjoy the spa facilities as well as the swimming pool and garden. The restaurant at Floreat Riverside Lodge serves Breakfast, Lunch and Dinner. It is just 3 km to Lone Creek Waterfall, and 35 km to mountain viewpoint Godís Window. Kruger National Park is 56 km away.
Porcupine Ridge Guest House, SABIE
This beautiful country home is tucked away in the mountains at the heart of the scenic Panorama Route, only five minutes from the Sabie Village and 40 minutes from the world-famous Kruger National Park. Perched above an old gold mine and part of the original mining village, Porcupine Ridge has been extensively remodelled to create a stylish, informal retreat combining Old World charm and modern comforts. The friendly ambiance invites you to relax and unwind, surrounded by rambling gardens, abundant bird life and glorious mountain scenery. There are lovely walks on the estate through indigenous bush, grasslands and plantations. Monkeys, duiker, mongoose, bush babies and other small game may be seen. A spectacular waterfall with a deep pool for swimming is a special delight.
More Sabie accommodation

| | |
| --- | --- |
| WITBANK, (eMalahleni) MPUMALANGA PROVINCE GUEST HOUSES & LODGES | |

| | |
| --- | --- |
| Witbank (Afrikaans for White Ridge), also known as eMalahleni (meaning "place of coal") is a city situated on the Highveld of Mpumalanga, South Africa, within the eMalahleni Local Municipality. The name Witbank is Afrikaans for White Ridge and is named after a white sandstone outcrop where wagon transport drivers rested. The city is known for the coal-mining in the surrounding region. On 3 March 2006, Witbank was officially renamed eMalahleni, meaning "place of coal" matching the name of the municipality that contains it. A large number of signs to the town have already changed, but many still remain. Some landmarks bearing the name Witbank have remained, while others (such as the Witbank/eMalahleni dam) have been renamed. | View Map of Witbank |

Big 5 Guest House, WITBANK
The Big 5 Guest House in Witbank offers free Wi-Fi throughout and has a restaurant and bar. Guests can relax in the games room, or enjoy the swimming pool and garden. Featuring satellite TV, all rooms have a fan, heating and electric kettle. The private bathrooms have a bath or shower and include a hairdryer. The Ridge Casino is 6 km away, while Highveld Mall is an 8-minute drive from The Big 5 Guest House. Witbank Nature Reserve is 9 km away.
HIGHLY RECOMMENDED BY OUR TRAVEL PARTNER:
Egyptian Sands Guesthouse, WITBANK
Located in Witbank in the region of Mpumalanga, 27.4 km from Middelburg, Egyptian Sands Guesthouse features an outdoor pool and views of the pool. Free private parking is available on site. Some accommodations feature a private bathroom with a spa tub, and others have free toiletries and a hairdryer. Enjoy a cup of tea from your balcony or patio. A TV is featured. You can play pool and darts at this guesthouse, and the area is popular for golfing.
Thatchers Guest House, WITBANK
Located in Witbank in the region of Mpumalanga, 29 km from Middelburg, Thatchers Guest House features a year-round outdoor pool and barbecue. Guests can enjoy the on-site bar. Free WiFi is provided throughout the property and free private parking is available on site. Each room at this guesthouse is air conditioned and has a flat-screen TV. Certain units have a sitting area where you can relax. You will find a kettle in the room. All rooms are fitted with a private bathroom. Extras include free toiletries and a hairdryer. There is a 24-hour front desk at the property. You can play darts at this guesthouse, and car rental is available.
Continue browsing Witbank accommodation