The Eastern Cape is South Africa's second largest and most diverse province. On the one side, the Eastern Cape is a great sun, sea and sand destinationwith its coastline running from temperate rocky shores in the south right through to sub-tropical beaches in the north.

The beaches range from highly developed seaside resort areas to wild and untamed stretches of wave-washed sand, offering some of the best surfing conditions inSouth Africa.
The Eastern Cape is not classic lowveld, which is the vegetation type found around the Kruger National Park and is most usually associated with big game. However, this province also has some awesome safari destinations.
The Greater Addo Elephant National Park, near the town of Addo, conserves a staggering diversity of plant and animal life. There are a number of private game lodges, both in the national park and in surrounding private reserves. Best of all - it's totally malaria-free. South Africa's first and - to date - only serious commercial ski resort is in the high-lying northern part of the Eastern Cape. OK, it's not exactly Chamonix or Aspen - but it is skiing in Africa. Snowboarding's big, too.
The Eastern Cape's cultural heritage is particularly varied and interesting, and there are so many interpretive tours, museums and monuments, you'll never be bored. Towns that will particularly appeal to more culturally minded visitors include Graaff-Reinet and Grahamstown.
Nieu Bethesda, which is close to Graaff-Reinet, is a funky little village that owes its popularity to the existence of the Owl House, which is South Africa's most well known example of outsider art.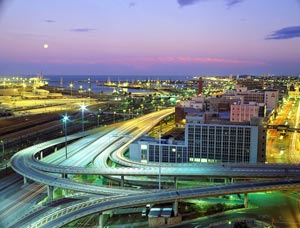 Port Elizabeth is renowned for its excellent township and cultural tours. The Nelson Mandela Museum in Umtata is a loving tribute to South Africa's first president. There are great tours along the Wild Coast, on which you get to spend time with the local people and see how they live. The Grahamstown Festival or, more accurately, the National Festival of the Arts, which showcases a huge variety of South Africa's visual and performance arts, is held in Grahamstown at the beginning of July.
There are some excellent golf courses, but they're not all as conveniently close together as they are, for example, on the Garden Route. Some of the better courses are to be found in or near Port Elizabeth, Port Alfred, East London and Port Edward. A brand new golf course has been built at the rather interesting town of Alicedale, which is experiencing a huge economic revival after spending years as a virtual ghost town.
More Reading on the Eastern Cape:
Eastern Cape Province Travel Tips South Africa by Gerald Crawford
Welcome to the Eastern Cape South Africa. Where else can you surf the worlds biggest waves, ski down the only snow slopes in Africa, go on a `big seven safari, visit the birthplace of Nelson Mandela and bungee the highest bridge in the southern hemisphere? The Eastern Cape, of course! ... read more
Ticket to Ride wraps up successful South African surfing adventure by Tim Conibear
Ticket to Ride wrapped up an extremely successful inaugural three month gap year surfing adventure to South Africa when all the 'riders' in the group completed internationally recognised surf coaching and lifesaving qualifications... read more
Best Beaches for Beach Bums by RoadTravel
South Africa is renowned to have some of the most beautiful beaches in the world. And now it's not only just the locals testifying to this. Recently 23 South African beaches were awarded Blue Flag status... read more

| | |
| --- | --- |
| ADELAIDE ACCOMMODATION - EASTERN CAPE, SOUTH AFRICA | |

Adelaide is a town and area in the Eastern Cape Province of South Africa and is situated near the Great Winterberg Mountain range. Adelaide is an important centre of wool and sheep farming. Beef, mutton, venison and citrus fruit are also important products. Many historical graves can be seen near the battlefield sites, old posts, forts and in the Adelaide cemetery.

Experience the culture and traditions of the Xhosa people by visiting the township taverns and shebeens, where you can sample the traditional cooking, watch dancing and buy beadwork and arts and crafts at reasonable prices. For those with a love of sport, Adelaide caters for squash, bowls, tennis and golf, at the nine-hole golf course which was established in 1892.


View Map of Adelaide

Tri-Angle B&B and Guesthouse, ADELAIDE
Offering a garden and a large outdoor pool, Tri-Angle B&B and Guesthouse is situated close to the R63 in the quaint town of Adelaide. Free WiFi is available. The individually decorated rooms are equipped with satellite TV, a microwave, a small fridge and tea-and-coffee making facilities. The Bridal Suite has a four-poster bed and is equipped with a corner bath and shower. Breakfast is served in the dining room and lunch and dinner can be arranged for a surcharge. Room service is available. At Tri-Angle B&B and Guesthouse you will find a bar and a shared lounge. Laundry and ironing services can be arranged and the guest house offers free on-site parking. The Adelaide Golf Club is 2 km away.
Search for more accommodation in Adelaide

| | |
| --- | --- |
| ALICEDALE ACCOMMODATION - EASTERN CAPE, SOUTH AFRICA | |

Alicedale is a very small town on the banks of the Buffels River, 90 km from Port Elizabeth and which owes its existence to the development of the railways in the early 1800's. Nested in surrounding hills, Alicedale is set in a horseshoe of the Bushmans River and was named after Alice Dale (later Alice Slessor), the wife of the engineer in charge of the junction's construction. The once-forgotten town is very small, but growing rapidly, with a population of about 6,000. There is a tourism revolution happening in Alicedale at the moment.

The multi-faceted tourism village has a fantastic golf course designed by Gary Player to attract golfers from all over the world and Alicedale is a railway stop on the Rovos Rail 9-day Golf Tour. The town is also close to numerous game and nature reserves including Shamwari Game Reserve and Addo Elephant Park. Also see Addo Elephant Park


View Map of Alicedale

Bushman Sands Golf Lodge, Addo Area, ALICEDALE
Bushman Sands is a multi-faceted experience offering something for everyone. The 4-star hotel is a delightful blend of rich heritage and modern luxury. The Gary Player designed Golf Course is perfect for the keen golfer. There are thrilling adventure options and prospects of viewing Big Game. Those wanting relaxation, pampering and peace will find alternatives at the spa, at the poolside, or even on a tranquil sunset boat cruise. The Hotel comprises of 39 bedrooms around a pool area overlooking the Bushman Sands Golf Course. At the Bunkers Restaurant, cuisine is traditionally South African with influences of Xhosa, English and Cape Malay. Hearty Breakfasts, a la carte lunches and evening dinners are served here, while a cigar and good single malt can be enjoyed on the outside patio.
More accommodation in Alicedale

| | |
| --- | --- |
| CAPE ST FRANCIS ACCOMMODATION - SUNSHINE COAST, EASTERN CAPE, SOUTH AFRICA | |

"Cape St Francis, with its historic lighthouse, is a tranquil Eco–destination. The pristine beach, the mild temperature and the longest sunshine hours on the South African Coast ensure a relaxed all year round destination. Action or leisure, the choices are endless.

Our sundowner cruise through the marina at St. Francis Bay has become a traditional highlight. On a less organised note, a trip to Seal Point Lighthouse (built in 1878 to warn ships of the dangerous reefs that stretch more than a kilometre out to sea.)


View Map of Cape St Francis

It is the tallest masonary tower on the South African coast standing at a height of 27.75 metres), with guided tours departing every 45 minutes, a round of golf at the nearby 18 hole links style course, bowls, squash, tennis, a visit to Port St. Francis home to the chokka (calamari) industry, or simply a stroll along the beach is all part of the Cape St. Francis experience.

For the more active all of the following are available: the Sand River with green emerald pools and big sand dunes, various paths through Irma Booysen fynbos Reserve, or the Cape St. Francis Nature Reserve at Shark Point, or, a walk to the Beacon with the most spectacular views. For the more adventurous: Kromme River boat cruise, diving, deep sea fishing, sea and river kayaking, horse riding, guided riding safaris through Lambordini Game Farm and surfing to name but a few.

The area is the ideal base camp enabling you to visit nearby Addo Elephant Park, Shamwari Game Reserve, Tsitsikama Canopy Tours, and the Kouga Cultural Centre or experience the ultimate thrill of Bloukraans bungy jumping. From this most southern point one is centrally situated to experience all the Eastern Cape has to offer." Information courtesy Beach Break

Cape St Francis Beach Break Villas, Holiday Rental Homes, CAPE ST FRANCIS
Beach Break, luxurious, well appointed secure beachfront accommodation with sweeping views of both seal and shark point and easy access to the beach. Secluded outdoor entertainment area with swimming pools and Jacuzzi promise idyllic relaxation. Cape St Francis, with its historic lighthouse, is a tranquil Eco-destination. The pristine beach, the mild temperature and the longest sunshine hours on the South African Coast ensure a relaxed all year round destination. Action or leisure, the choices are endless. From this most southern point one is centrally situated to experience all the Eastern Cape has to offer. Accommodation consists of three free standing units all with a swimming pool. 12 en-suite bedrooms are spacious, individually decorated.
Continue browsing accommodation in Cape St Francis
More accommodation in the Eastern Cape