Hluhluwe - Elephant Coast - KwaZulu-Natal Travel Guide
Hluhluwe Game & Safari Lodges - Hluhluwe Self-Catering Accommodation - Elephant Coast Accommodation

| | |
| --- | --- |
| Hluhluwe is a tiny town surrounded by fabulous game reserves and some wonderful cultural attractions. You could visit a traditional Zulu weaving operation where you could buy baskets, mats and other woven goods, or do a tour of Dumazulu Cultural Village – a living museum of traditional Zulu culture and lifestyle. The nearby Hluhluwe-Umfolozi Game Reserve is the oldest game reserve in South Africa and is renowned as the place where an eleventh-hour conservation push rescued the white rhino from the very brink of extinction in the 1960s. Think about it – we came a hair's breadth from never ever seeing a white rhino, and every one in southern Africa is descended from those few that survived in Hluhluwe. | View Map of Hluhluwe |
Things have changed, though. Now it's the black rhino under threat – so get in there and have a look at one while you still have a chance. Another claim to fame of this fabulous park, which was originally two different parks, Umfolozi and Hluhluwe, is that it was here the first wilderness safaris were run. It took a couple of years, but eventually the idea caught on and now many other reserves, among them the Kruger National Park, now offer this exciting experience.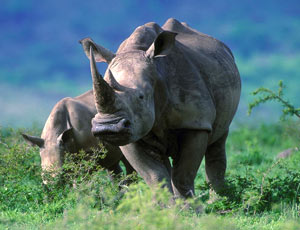 Hluhluwe is at the southern end of the Greater St Lucia Wetland Park, where you can do a boat ride to see hippos and crocs, kayak on the lakes, or do a hike or a horse trail. Keen birders should visit Mkuze, which has the reputation of being one of the best birding spots in South Africa, and divers will love the nearby Sodwana Bay, with its lovely coral reefs, extensive dive infrastructure and party atmosphere.
Note: If you are planning to travel to Hluhluwe/Umfolozi please be aware that this region is malarial. Consult your doctor or travel clinic for advice and refer to our article on malaria.

| | |
| --- | --- |
| HLUHLUWE GAME LODGES / SAFARI LODGES / GAME RANCHES & FARMS - ELEPHANT COAST, KWAZULU-NATAL | |

Gooderson Bushlands Game Lodge, HLUHLUWE
Centrally situated in Zululand within 300 acres of bush and game area and surrounded by over 300 000 acres of national parks, including Hluhluwe, Umfolozi, Mkuzi, Nduma, Sodwana Bay and The Greater St Lucia Wetland Park. Bushlands Game Lodge offers guests the ultimate African bush experience. Fully air-conditioned, en-suite accommodation blends seamlessly with the African bush and includes a telephone, air-conditioner, radio and tea/coffee making facilities. The rooms are connected by raised wooden walkways which lead to the main dining room, bar, swimming pool and Boma. The boma provides the perfect meeting place where guests can enjoy drinks around the fire before dinner, or simply unwind at the end of a wonderful day.
Emdoneni Lodge & Game Farm, HLUHLUWE
Situated in the heart of Zululand and the newly proclaimed St Lucia World Heritage Site. Emdoneni Lodge is situated on a small game farm, with sand forest vegetation. Walk with the wildlife including Impala, Nyala, Grey Duiker and other antelope. Birdlife is abundant. Approximately 2 hours drive from Durban and 5 hours from Johannesburg. Only 4 hours drive from the Kruger National Park via Swaziland and 30 minutes from the Hluhluwe-Umfolozi Game Reserve and Lake St Lucia. Accommodation is in the form of 3 self-catering rondavels and 12 chalets. Our accommodation offers intimacy and comfort and is set in a lovely well-maintained garden with swimming pool and braai (barbeque) facilities. Emdoneni Lodge offers a Dinner, Bed and Breakfast rate, which enable guests to sample the delights of true South African cuisine.
Falaza Game Park and Spa, Lodge, HLUHLUWE
Falaza Game Park is a privately owned, owner run game farm centrally situated 15km from Hluhluwe, bordering the St. Lucia World Heritage Site. Accommodation is in luxury en suite tents, with all the modern convieniences and luxuries. there are 15 tents each sleeping two persons. Meals of very high standard are served in the tatched restaurant, reed walled boma or under the stars - at a bush dinner. Game Drives, guided walks, boat cruises and horse trails are offered on the property. Friendly white rhino graze on the lawn daily. Great for game viewing and birding with over 300 different bird species. White rhino, leopard, hippo, crocodile, giraffe are a few of the species you can view on your activities.
Leopard Mountain Safari Lodge, HLUHLUWE
This Big 5 multi-award winning lodge is located high up in the wild secluded hills of the 23 000ha Zululand Rhino Reserve, with spectacular views overlooking a vast stretch of unspoiled bush land and riverine forests, from the Umsunduze River meandering below to the distant Lebombo Mountains. Join us in an environment where conservation is of utmost importance and a priority in our everyday living. Leopard Mountain Game Lodge welcomes you to our warm, inviting facilities including our lounge, bar and dining room where we will care for your every need in a relaxed atmosphere. Dine under the stars at night where our sought after chef has prepared traditional South African Tantalizing Cuisine. Select a bottle of wine from a unique multi award winning cellar.
Sand Forest Lodge, HLUHLUWE
Discover the magical quality of wetlands and ancient sand forests on the western shores of the greater St Lucia Wetland Park - one of the worlds most remarkable estuaries, at Sand Forest Lodge. The lodge is situated on a game fenced nature reserve, just 10 minutes drive from the village of Hluhluwe and 20 minutes from the oldest Game Reserve in Africa - Hluhluwe/Umfolozi. Accommodation comprises a number of comfortable one and two bedroomed cottages, tastefully decorated in Elegant Afro Colonial style. The en-suite bedrooms are equipped with air-conditioning, mosquito nets, ceiling fans and are serviced daily. In addition, each cottage has a kitchenette with a fridge and private verandah with braai facilities. Facilities include: Marula Tree Bar and entertainment area, swimming pool, lapha, boma and Sand Forest bird and tree trail.
Shayamoya Tiger Fishing & Game Lodge, HLUHLUWE
Shayamoya is a true gem offering genuine hospitality, unique settings with stunning panoramic views across the Pongolapoort Lake (also known as Jozini), Lebombo Mountains, and the Phongolo Nature Reserve. Our speciality is the challenging sport of tiger fishing where the record is 8.3kg, however we also offer game drives, boat cruises, canoeing, elephant tracking and rhino and bush walks. 10 Luxurious thatched chalets are individually situated with their own private viewing deck, ensuite wooden bathroom and enclosed outdoor showers that makes the experience truly romantic. A central lodge accommodates the lounge, bar, cellar, sundeck, and the restaurant which serves scrumptious SA cuisine. Weddings & Honeymoons: Shayamoya Tiger Fishing and Game Lodge is a stunningly romantic venue with awesome views and private settings for the honeymooners. The outdoor shower also has that sexy appeal.
Thanda Private Game Reserve, HLUHLUWE
Winner of 'Africa's Leading Luxury Lodge' at the 2007 World Travel Awards, Thanda Private Game Reserve is situated 23km north of Hluhluwe in northern Zululand, South Africa, and is set on a 6000 hectare Big Five private game reserve. Thanda, meaning 'love' in Zulu, is an expression of the magical union of the power of Zulu culture, wildlife, romance and exclusivity. Thanda Private Game Reserve is South Africa's top award winning safari destination and is situated in northern Zululand, in close proximity to the Indian Ocean. The inimitable integration of South Africa's best climate and rehabilitated and rich bush land has made Thanda home to amazing wildlife and over four hundred bird species. Ignite your imagination and open your mind to an extraordinary experience for your soul, mind and body.
Thula Thula Exclusive Private Game Reserve & Lodge, HLUHLUWE
Only 2 hours north from Durban, and 45 minutes from Richardsbay, in a malaria free area, Thula Thula, the oldest private game reserve in Kwazulu Natal, once part of the private hunting grounds of legendary Zulu King Shaka, founder of the Zulu Empire, is today home to the Big 4 with buffalo, elephant, rhino, leopard, giraffe, hyenas, crocodile, nyala, kudu, wildebeest, zebra and many more, as well as 370 species of birds, including raptors. Exclusive bush experience and absolute luxury, with only 8 thatched chalets decorated in flavours of ethnic and colonial elegance, the Elephant Safari Lodge offers superb accommodation with as much privacy and comfort you could wish for.. Candle lit dinners are served either in the dining room around the pool on the veranda, looking at wildlife coming to the waterhole, or in the Boma around a fire under the stars.
Continue browsing accommodation in Hluhluwe-Umfolozi Park and surrounds

| | |
| --- | --- |
| HLUHLUWE SELF-CATERING ACCOMMODATION / HOLIDAY RENTALS, ELEPHANT COAST, SOUTH AFRICA | |

Bushwillow Collection, B&B, Lodge/Self-Catering, HLUHLUWE
Bushwillow is a stylish, unique bush lodge, situated in 150 hectares of beautiful indigenous sand forest. The lodge is fully serviced and offers a bush experience where the only disturbance will be that of the game visiting the lodges' own small waterhole. Guests may enjoy walks on the self-guided walking trails where they are likely to have encounters with zebra, giraffe, wildebeest, nyala, warthogs and other 'safe' game. The abundance of bird life and the variety of trees and other flora makes for a great African experience but with the luxury and comforts of a 4-star graded establishment. Guests may either cater for themselves or be spoilt with leisurely breakfasts and first-class evening meals. Bushwillow is ideally situated for visitors exploring the splendour of The Elephant Coast, KwaZulu Natal. Located just 16km from Hluhluwe town on the way towards Sodwana Bay, it also proves a perfect destination for a visit to the beach.
Continue browsing accommodation options in Hluhluwe-Umfolozi Park and surrounds