---
Featured Gordon's Bay apartments
Gordon's Bay is a harbour town in the Western Cape province of South Africa, close to Strand. It is situated on the northeastern corner of False Bay about 50 km from Cape Town to the south of the N2 (South Africa) national road and is named after Robert Jacob Gordon (1743-1795), the Dutch explorer of Scottish descent.

Gordon's Bay is the smallest of three towns in the Helderberg region, so named after the Helderberg Mountain which is part of the Hottentots-Holland Mountains which dwarf the locality on two sides. Gordon's Bay was originally named "Fish Hoek", many years before the town of the same name, located on the western side of False Bay, was founded.


View Map of Gordon's Bay

Evidence of this can be seen on the outside wall of the local Post Office. Gordon's Bay consists of the old village, situated around the old harbour and Bikini Beach, the mountainside on the lower slopes of the Hottentots-Holland mountains overlooking False Bay, and the low-lying suburbs close to the main beach, making up the most recent expansion of the town.

The older part of Gordon's Bay is host to the South African Navy's Naval College, an officer training center located adjacent to the old harbour and yacht marina. Above the harbour on the mountainside is a giant anchor and the letters "GB". Many think that this stands for Gordon's Bay, but in fact it stands for General Botha which was the original name of the Naval station in the town. The Steenbras Dam, Cape Town's primary supply of drinking water, is located on the mountain above the town.

Gordon's Bay is host to one of the few blue flag beaches in South Africa, Bikini Beach. Bikini Beach is popular among teenagers, specifically female students from the University of Cape Town and Stellenbosch University. The Beach enjoys funding from the City of Cape Town to properly maintain facilities that include the public showers, changing rooms, clean bathrooms and a grassy promenade. The beach is also considered safe with regular patrols from a seasonal security guard.

Also read: South Africa Holidays - Gordon's Bay and Beyond
---
185 Beach Road Villa, GORDON'S BAY
Perched right at the sea's edge in sunny Gordon's Bay, these premium, modern Seaside Villa and self-catering Apartments have an unparalleled position with spectacular sea views from ALL rooms of False Bay, the Marina, Vineyards and surrounding Mountain Ranges. 185 Beach Road is ideally situated right on the seashore of the secure and protected cove of 'Blue-Flag rated' Bikini Beach which is just a few steps away. Restaurants, the marina and the quaint village are just beyond. Recently decorated with stylish finishes, the luxurious Villa and apartments will delight discerning guests. Large picture windows allow the sound of the waves and the cooling sea breezes to float in while plush furnishing with granite tops, porcelain tiles and quality finishes create a comfortable chic ambience.
Gordon's Bay Luxury Apartments, Self-Catering Apartments. GORDON'S BAY
This property is 15 minutes walk from the beach. Gordon's Bay Luxury Apartments offers self-catering accommodation and panoramic views of Gordon's Bay. Guests can select from a variety of large, self-catering units. Each unit is fully furnished and feature private entrances and most of them have wide views of the bay. Gordon's Bay Luxury Apartments offers free private parking is possible on site. Guests can make use of the hotel's barbecue facilities or enjoy the outdoor swimming pool, which faces the bay and is surrounded by green lawns. The small seaside Gordons Bay situated between the waters of False Bay and the scenic Hottentots Holland Mountains. An array of wine farms in Stellenbosch and the surrounds can be explored and is within a 25-minute drive. Cape Town International Airport can be reached within 46 km.
Mountain Bay Self Catering Apartments, 1 & 2 Bedroom Apartments. GORDON'S BAY
Mountain Bay Self Catering apartments offer 2 separate modern self-catering units for a family holiday by the seaside and with beautiful mountain views. Harbour Island unit consists of 2 spacious bedrooms each with a double bed. One of the bedrooms also has a twin bed. There is also a double sleeper sofa in the lounge area. There are fans in both bedrooms and in the lounge and the unit also has a hairdryer. All bedding and towels are provided. The lounge has a TV with M-Net and Satellite, a video recorder and DVD player with a selection of videos and DVD's for your enjoyment. There is also a lovely selection of children's videos, toys, puzzles and games. The kitchen is fully equipped with stove, fridge and microwave. The spacious bathroom has both a bath and a shower.
Continue browsing accommodation in Gordon's Bay
---
South Africa Holidays - Gordon's Bay and Beyond by Rachel Hill
Apartments in Gordon's Bay - Gordon's Bay B&B/Guest Houses - Gordon's Bay Hotels - Self-Catering Accommodation
There are many wonderfully scenic routes that people on South Africa holidays can enjoy. A very good base from which to explore a few of them is Gordon's Bay, 70 km (43 miles) southeast of Cape Town. This community is on the slopes of the Hottentotts Holland Mountains overlooking False Bay. It's a popular place with whale watchers in October and November. It is also an excellent starting point for touring the spectacular coastal route called Clarence Drive (R44).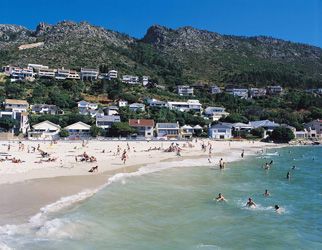 This is one of South Africa's most scenic drives. To really appreciate it take any one of the dirt roads that lead down to the sea from the highway. From the road between Gordon's Bay and Rooiels there are numerous paths to the seashore. However, if you go down to watch the waves pounding on the rocky coast, use caution. Don't go alone, and keep a few yards back from the water if the waves are big. Under certain conditions, huge freak waves can suddenly roar in. If you decide to check out the lovely beach at Pringle Bay, watch for the sign that warns of quicksand.
Betty's Bay
If you want to see African penguins on your South Africa holidays, Betty's Bay is one of only two mainland locations in the country where they can be found. (The other is Boulders Beach on the Cape Peninsula). Betty's Bay is 30 km (19 miles) southeast of Gordon's Bay. This pretty hamlet, set amidst wild and untamed scenery, is popular with South African retirees and weekend vacationers. The main penguin colony is at Stony Point, 600 yards from a parking area. There is a fence to keep the birds from being disturbed by tourists and land predators, but the occasional leopard still manages to get through. Betty's Bay is also the site of the Harold Porter National Botanical Garden. This 440-acre protected nature reserve is in the heart of the Cape Floral Kingdom. The rich profusion of plant life supports 78 species of birds and many species of small mammals, including large troops of chacma baboons. Cradled between the Atlantic Ocean and the lofty peaks of the Kogelberg Range, the setting is magnificent. You can take walking trails through the reserve to the mountains. Book ahead for the services of a guide.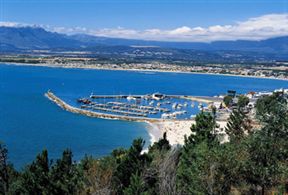 Kleinmond
The quiet coastal town of Kleinmond, 25 km (15 miles) southeast of Gordon's Bay, is another little gem awaiting visitors on South Africa holidays. Kleinmond is perched on a magnificent stretch of shoreline. In the background are the mountains of the Palmietberg. Like Betty's Bay, it's a popular place with retirees and weekenders looking for a break from the cities.
There's an attractive collection of restaurants and shops near the harbour. Not far from the town is the Kogelberg Nature Reserve; this 66,000 hectare park extends along the Palmiet River from the mountain almost to the sea. The nature walks are well-marked, and in addition to the gorgeous flora you will see some beautiful birdlife. At the eastern end of town is Sandown Bay. Here you will find a long, sandy beach. Swimming is risky because of dangerous currents, but if you're lucky you might see the famous Bot River horses that live in the marsh. According to legend, they are descendants of horses from the time of the Boer War.
Apartments in Gordon's Bay - Gordon's Bay B&B/Guest Houses - Gordon's Bay Hotels - Self-Catering Accommodation
About the Author: Rachel Hill is a Southern Africa Travel specialist at www.southernafricatravel.co.uk.