KwaZulu-Natal:
The province of KwaZulu-Natal is a strong argument both for and against political correctness. The northern part of the province has traditionally been called Zululand or - in Zulu - KwaZulu, and the rest of the province was called Natal in the colonial era.
After 1910 Zululand was simply incorporated into Natal. Then, during the apartheid era, parts of Natal were portioned off as the nominally independent homeland of KwaZulu. So - in 1994, when the homelands were done away with, the whole province reverted to the composite name of KwaZulu-Natal.
Now either of those names is pretty easy to handle on its own, but KwaZulu-Natal is a bit of a mouthful - and try typing it!!! That's why we're going to use the acronym KZN from now on.
There is so much to do in this immense - and immensely diverse - province. The coast is a sub-tropical paradise with lovely long beaches, warm water, tangled green vegetation, awesome surfing and great diving. The major coastal holiday areas - especially for families - are the North Coast and South Coast.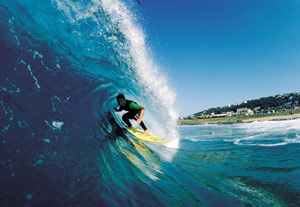 The South Coast is the most northerly extent of the annual Sardine Run and, further north, the beaches of Maputaland are home to nesting turtles that can be seen on guided night walks.
There are dozens of world class golf courses mainly, but not exclusively, along the coast. There are horse trails through the bush and the battlefields, in the mountains, along the beaches and skirting the wetlands, as well as a whole host of other adventure activities.
KZN is renowned as a game viewing destination and the birding is fantastic. You can choose between staying in a luxury lodge on a private game reserve or chilling out in one of the KZN Wildlife parks. Perhaps even do a wilderness walking safari - you get to walk through the wildest parts of the reserve, trying to avoid lions and such-like while hoping for a good (but safe) sighting of rhinos, elephants and other game.
The Hluhluwe-Umfolozi Game Reserve, near the small town of Hluhluwe, has the highest concentration of rhinos in Africa. If you're reading this and planning a raid to stock up some far eastern pharmacies and boost your bank balance - think again. How do you think the population got to that size? Game guards are armed and seriously protective of the precious wildlife in their care.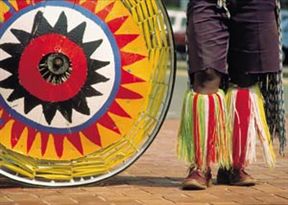 There is a range of cultural attractions. As well as the many Zulu cultural villages, contemporary tours and historical battlefields, KZN is also home to the largest Indian population outside of India - a fact which has left its mark on the landscape, the food and the culture of this vibrant province. Great curry restaurants, markets selling spices and other exotic goods, and ornate temples and mosques all attest to the influence these dynamic people have had on the development of city of Durban, but also further afield in the province.
The Midlands, situated roughly between Durban and Pietermaritzburg, is characterised by rolling green hills, flowers, pockets of forest and characterful small villages. It's a joy to explore with its many restaurants, coffee shops, pretty guest houses, innovative craft outlets, micro breweries, cheese factories, trout farms and other bucolic pleasures.
The Ukhahlamba-Drakensberg is a vast wilderness mountain area that divides the lush, low-lying eastern coastal plain from the harsher and higher-lying interior. The Berg, as it is fondly known, is a hiker's paradise and a great pony trekking destination. Other attractions include small game, birding, flowers, fabulous scenery, fly fishing, golf and fantastic rock art.
The fact that the Ukhahlamba-Drakensberg is one of South Africa's world heritage sites should give you an idea of the ecological and recreational value of this enormous mountain range. Another equally impressive world heritage site, also in KZN, is the iSimangaliso Wetland Park (now known as iSimangaliso Wetland Park), which conserves a spectacularly wide range of biomes, including wetlands, dunes, swamp and coastal forests, rocky and sandy shores, coral reefs and submarine canyons.
Note: If you are planning to travel to the northern parts of KwaZulu-Natal please be aware that this region is malarial. Consult your doctor or travel clinic for advice
.
Top
Durban Travel Information

Durban Bed & Breakfasts / Durban Guest Houses / Durban Hotels / Durban Self-Catering Holiday Rentals

High up on the east coast, Durban is South Africa's sub-tropical beach getaway. The city centre overlooks a long, golden beach that is probably the single most culturally diverse spot in Africa. Here you will find frolicking families of every hue, busy executives out for a quick lunchtime jog, teenagers in full breeding plumage, elegant sari-clad matrons strolling the sand, buff surfers running into the waves, and bead-bedecked sangomas collecting therapeutic sea water in bottles.


View Map of Durban
Durban is actually all about the beach. It is home to South Africa's only surfing museum, and is one of the most surf-friendly cities in the world. Frustrated wage slaves can look out of their office windows onto awesome breaks - and then shed the tie and jacket or the high heels and paddle out straight after work. Durban is the closest seaport to Johannesburg and is also an integral part of the city. As well as all the usual container docks it has not one, but two yacht clubs and a great little cultural spot right in the middle of the harbour - the BAT centre. Short for the Bartle Arts Trust, the BAT Centre is a hotbed of local visual art and musical creativity mixed in with some good restaurants, coffee shops and pubs. All overlooking the small boat harbour so you can sip cappuccino while watching stubby-nosed tugs coming in to rest after a hard day pushing supertankers around.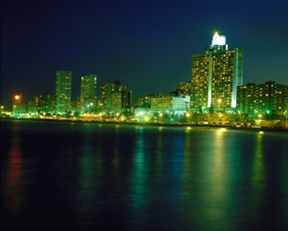 Durban Bay is one of the better natural harbours on our coastline. Its narrow opening is protected by a huge headland, called the Bluff, on one side and, on the other, a point called Point - granted not the most imaginative of names, but it's a cool place. Here you'll find another batch of fun eateries where you could - if you were sufficiently anti-social and quite strong - pitch a beer bottle onto a passing container ship as it enters or leaves harbour. Close by is the newly built uShaka Marine World - a state of the art aquarium, wet playground and shopping mall, where children of all ages can ooh and aah at the sharks in the predator tank, snorkel with the fishies (the cute little ones, not the sharks) and contemplate the moral dilemma of captive animals everywhere as they watch incarcerated dolphins jumping through hoops for their supper. Nobody said it was a perfect world.
The whole Point area is the most interesting part of Durban. At one stage it must have been very fashionable indeed, but then - well, you know, cities are living things and they grow and change - it went downhill. A drive along Point Road will reward you with the sight of row upon row of abandoned art deco warehouses and factories - but not for much longer. Already the developers have set their sights on this little treasure, and there'll pretty soon be loft-style apartments, boutique hotels and designer malls. The beachfront is lined with multi-storey hotels and restaurants, with unashamdely kitsch attraction, like a huge pool complex and a snake park. Curio sellers line the walkways and dramatically outfitted rickshaw-wallahs offer rides and photographic opportunities. The best part about Durban's beachfront, though, is the water temperature. It's rarely below 20°C, which makes ogling those tanned, buff surfers just so much more interesting, as they don't wear wetsuits.
Accommodation in Durban itself is conveniently concentrated along the beachfront or Golden Mile, close to the Durban central business district. Slick, high rise Durban hotels with sea views and swimming pools proliferate along this lively strip. Another area that's close to the beachfront and CBD with more hotels, guesthouses, bed and breakfasts and affordable self-catering apartments and villas are the leafy suburbs of Berea and Morningside, well endowed with exceptional restaurants and shopping malls. It is highly advisable to book accommodation in advance during peak season (December and January) as scores of holiday makers descend upon all the beach locations in Durban. Durban North is also an extremely popular choice with holiday makers.
Durban is in the middle of a vast sugar-growing area that was originally worked by indentured labourers from India, many of whom stayed, started businesses and built homes. Durban has the largest population of Indians outside of India. There is a vibrant Eastern feel to the city, a huge spice market, decorative mosques, fantastic temples and - best of all - great food. You'll find dozens of good curry restaurants and you just have to try a bunny chow while you're there. It's a half or quarter loaf of bread hollowed out and filled with curry. Eaten with the hands in the street, it's an obligatory Durban experience.
There's lots to do in and around Durban City. Many people just park off on the beach, especially on the North Coast, or South Coast, both of which are within an hour's drive of the city, and there are loads of restaurants, some excellent theatre and music, and wild and funky nightlife.
The surfing is great right in the city and also up and down the coast. There's some reasonable diving in Durban Bay but the South Coast has some truly world class spots - and it's a great place for pretty competent and confident divers during the annual Sardine Run.
If you spend much time at all in the sea, you should consider a visit to the Sharks Board in Umhlanga, just north of the city, where you can learn all about these fascinating creatures. They're not the bloodthirsty killing machines they're made out to be in American movies. There are a couple of fun river trips, some nice abseiling, awesome sport climbing and small game farms not too far off and the North and South Coasts boast an almost indecent density of championship golf courses.
Durban's cultural attractions are perhaps its most appealing diversions. There are Zulu cultural villages to visit, township tours and visits to mosques or the beautiful Temple of Understanding, which has an excellent, inexpensive vegetarian restaurant.
Another interesting spot to visit is Inanda, which was the birthplace of both the Shembe religion and Natal Native Congress, which later became the African National Congress. It was also where Mahatma Ghandi, who lived there at the same time these two other movements were starting, pioneered the concept of Satyagrah, or passive resistance. Truly, a little crucible of world history.
Top / Durban Bed & Breakfasts / Durban Guest Houses / Durban Hotels / Durban Self-Catering Holiday Rentals

| | |
| --- | --- |
| DURBAN AND SURROUNDING AREAS - FEATURED HOTELS - KWAZULU-NATAL, SOUTH AFRICA | |

More accommodation in Durban and Surrounds, KwaZulu-Natal, South Africa
African Pride Audacia Hotel, Morningside, Durban
Audacia Manor, is a beautifully restored old Colonial Mansion. From her silky wood panelling to her generous veranda's and landscaped gardens, Audacia Manor promises a warm welcome to all her guests. From her elevated location in Morningside on the Berea Audacia Manor, one of the original Grand Dames of Durban, has been perfectly poised for over 70 years to watch the port grow from a small settlement to the thriving city it is today. The guests first view of the estate is of the elegant facade, shuttered windows thrown open to embrace the warm African sun. Wander down to the sparking pool and have a refreshing cocktail at the Anderson Sports Bar.
Protea Hotel Edward, Durban
Situated on Durban's famous Golden Mile, within five minutes of the city centre, the Protea Hotel Edward Durban heralds a time of Victorian elegance. This world-famous hotel has played host to Princes and Presidents, Field Marshals, millionaires and movie stars since 1911. The Protea Hotel Edward Durban is well-placed within the Durban golden triangle which links the Suncoast Casino, Ushaka Marine World and the International Convention Centre (ICC). The hotel is a springboard from which to explore the rich Zulu culture and game reserves of KwaZulu Natal. For delicious meals in a relaxed setting, sample the delights of the 120-seater Brasserie and Terrace Restaurants' a la carte menu, or tempt your tastebuds with delicious buffet treats.
Protea Hotel Umhlanga, Umhlanga Rocks, near Durban
Umhlanga Rocks, near Durban in Kwa-Zulu Natal, evokes a vision of golden beaches, lush surroundings and the exhilaration of holidaying in an idyllic part of the world. The 3-Star Protea Hotel Umhlanga is where that vision turns to reality. Conveniently situated mere minutes from the protected beach and only 10 minutes away from Durban in the heart of Umhlanga Rocks, the Protea Hotel Umhlanga offers friendly and comfortable 3-Star accommodation. Most of the 120 comfortably appointed rooms have sea-views and all are elegantly and stylishly furnished. Admirably equipped semi self-catering rooms, as well as facilities for disabled guests, are available at this 3-Star Hotel. This successful and hospitable accommodation option offers guests all the mod cons as well as some outstanding features.
Quarters Hotel Florida Road, Durban
Four Victorian homes have been splendidly restored to create a hotel of the utmost class. At Quarters you'll find nothing but modern sophistication and old-fashioned hospitality – reminiscent of some of New York's finest boutique hotels. Twenty four en-suite bedrooms are decorated in a manner which reflects the architectural charm of the hotel. Set in a trendy suburb of Durban, on Florida Road, which is the dining hub of the city, this first-class hotel sets the trend of the area. Simple, stylish cuisine offered daily with guests having a choice of dining in the conservatory style indoor restaurant, or al fresco in the quaint outdoor courtyard. The intimate bar offers a wide beverage selection and an acclaimed wine list.
aha Royal Palm Gateway Hotel, Umhlanga Ridge, near Durban
Royal Palm is situated in the centre of Palm Boulevard directly opposite the Gateway Theatre of Shopping on Umhlanga Ridge. Gateway theatre of shopping is the largest shopping complex in the southern Hemisphere with upmarket retail outlets including banks, shops, entertainment, cinemas, and a hotel and conference centre. The development is close to the Umhlanga Hospital and La Lucia Office Estate. Umhlanga New Town Centre will be a mixed-use hub to be developed around a series of squares, parks & boulevards, surrounding the Gateway Theatre of Shopping. It is a vibrant environment where people live, work, shop and play; a medium density, user-friendly environment that will revolutionise the way people will live in the Umhlanga New Town Centre. Royal Palm enjoys the finest position on the Palm Boulevard and the new Piazza, which will incorporate a fountain, beautiful gardens.
aha The Riverside Hotel, Durban North
Situated above the Umgeni River in Durban North, The Riverside Hotel has unparalleled views across a magnificent green belt, and offers 169 unique rooms with all the comforts associated with a four star hotel, as well as a complete kitchenette. There is easy access to Durban's Central Business District and two minutes from the Northern Freeway leading to Umhlanga Rocks and the Dolphin Coast. Kings Park Rugby, Soccer and Swimming Stadiums are literally across the river as are Durban Country Club and Windsor Park Golf Course, which is nature at its best in the late afternoon. Accommodation: 169 rooms (400 people)
The Royal Hotel, Durban
The Royal Hotel's principle of uncompromising service and unfailing hospitality has always been a cornerstone in it's 150 years of existence. During these years it has been this ethos that has carried it from strength to strength through a colourful and, at times, tumultous evolution. At The Royal we believe that the real ingredient of lasting hotel excellence cannot be bought. This is because it is service that makes the difference and high standards first have to be cultivated and then continuously refined. It is this commitment that has made us one of the foremost hotels in the world. With six unique restaurants and a choice of three upmarket cocktail venues, The Royal offers something for every taste - from the casual to the superlative.
More accommodation in Durban and Surrounds, KwaZulu-Natal, South Africa