Travel & Accommodation Guide to South Africa




Accommodation in the North West Province of South Africa - Madikwe Game Reserve


The North West Province is mostly pretty close to the urban conurbation of Johannesburg and Pretoria. While vast areas are dedicated to maize and cattle farming, and the mining industry is very well developed, there are some wonderful destinations.

The fantastic Madikwe Game Reserve, right on the Botswana border is a wonderful place with all of the Big Five and - major bonus - a large population of the gorgeous and endangered African wild dog. It's not often you get to see these particularly attractive animals, with their 'painted' coats and white tipped tails.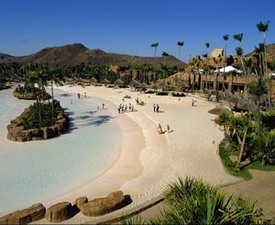 Another fantastic reserve is Pilanesburg, which is situated in an enormous volcanic crater - long extinct, don't worry. One of the major attractions of Pilanesberg is the hot air balloon flights from which you're likely to see a variety of animals. Pilanesberg is smack bang next door to the rather over-the-top casino resort of Sun City and the outrageous Lost City. As well as gambling, there are fun rides, water parks, horse trails and two championship golf courses. It's all designed to separate you from your hard earned cash but, if you go there expecting that, you'll have loads of fun.
The small town of Groot Marico is deeply entrenched in the South African psyche as the setting for the stories of one of the country's most well loved authors - Herman Charles Bosman. His rather far fetched, hilariously funny and touchingly poignant short stories tell of the ambitions and misadventures of the thinly fictionalised residents of this rural enclave in the early 20th century. And Bosman lives on. The whole town is a tribute to the man who put it - literally - on the map. The literature map, that is.
You can do mampoer tasting trips, which are only recommended for people with strong and healthy livers, visit the pub in which most of his stories are set, and do some general tours of the area, including a visit to the Eye of Mariko - a pretty spring, which is also a rather low key dive site, strangely enough.
Really close to Johannesburg is the lovely Magaliesburg, where you'll find all manner of rural pleasures including craft outlets and studios, coffee shops, restaurants, guest houses, cheese factories, horse trails and hot air balloon rides.

| | |
| --- | --- |
| MADIKWE GAME RESERVE - EASTERN REGION - NORTH WEST PROVINCE - GAME & SAFARI LODGES | |

"The 75 000-hectare Madikwe Game Reserve is located in the North West Province of South Africa. Prior to its establishment in 1991, most of the land consisted of cattle farms. Since 1991, the park has undergone an intensive phase of development as a premier game reserve, and this included an extensive restocking programme with game species that historically occurred in the region. Madikwe is managed by the North West Parks and Tourism Board, which was formerly the Bophuthatswana National Parks, a conservation organization that is world-renowned for its pioneering approach to people-based wildlife conservation which it has practiced since the late 1970.


View Map of Madikwe
Game Reserve

Weather: Hot, wet summers and cool to dry winters. Rainfall: September to March Temperature – Daytime temperatures in summer October to March are high and comfortable. Winter May to August is known to produce beautiful warm days, though the evenings and early mornings can be quite chilly. Please note: rates include two game drives per day." Motswiri Private Safari Lodge, MADIKWE GAME RESERVE

Etali Safari Lodge, Luxury Lodge & Spa, MADIKWE GAME RESERVE
Out of the heart of the spectacular Madikwe Game Reserve, embraced by pristine bushveld nurtured by Mother Africa's rich red soil, Etali Safari Lodge rises to meet you with lavish hospitality. Built in harmony with nature under the vibrant African sun, Etali is an exclusive, intimate haven, where body and soul are rejuvenated in surroundings created by people who understand luxury. You'll find the accommodation at Etali Safari Lodge sheer bliss in any one of our eight luxurious air-conditioned suites, each set apart for total privacy in its own bushveld domain. The mix of cool and earthy colours in the decor is a peaceful contrast to the unsurpassed beauty of the sweet-thorn Acacia trees outside. Cooling off in the splendid outdoor whirlpool, sipping a cocktail as you watch the breathtaking African sunset on your own deck is the ultimate indulgence.
Motswiri Private Safari Lodge, MADIKWE GAME RESERVE
Motswiri is an exclusive five star lodge set in the heart of Madikwe. Set among a Leadwood forest this lodge really give guests the impression that they are deep in the African Bush. The magnificent rooms are all very private and equipped with all the luxuries a discerning traveler could wish for. This lodge sleeps 10 people and is perfect for corporate getaways or small groups. The 75 000-hectare Madikwe Game Reserve is located in the North West Province of South Africa. Prior to its establishment in 1991, most of the land consisted of cattle farms. Since 1991, the park has undergone an intensive phase of development as a premier game reserve, and this included an extensive restocking programme with game species that historically occurred in the region.
HIGHLY RECOMMENDED BY OUR TRAVEL PARTNER:
Royal Madikwe Luxury Safari Lodge, MADIKWE GAME RESERVE
Royal Madikwe Luxury Safari Lodge features modern, African-inspired décor and the main clubhouse features a cosy lounge, restaurant and kid's club. The elegant units offer air conditioning, a minibar and a safe. Some units have a seating area and viewing deck with a hot tub. Each unit comes with an en suite bathroom and features views of the bush and mountain. Royal Madikwe Luxury Safari Lodge serves wholesome meals with local and international influences. The restaurant offers gourmet game dishes and breakfast is served on the lower deck which overlooks the water hole. The reserve boasts a variety of wildlife and panoramic views of the African savannah. A massage can be arranged upon request and children can enjoy a variety of activities in the games room.
The Bush House, Game Lodge, MADIKWE GAME RESERVE
Located within the Madikwe Game Reserve, The Bush House features a lush garden, terrace and outdoor pool. The malaria free reserve boasts the Big 5, a variety of wildlife and birds. The lodge's rooms are decorated in warm and natural colours, they offer air conditioning and a patio with a view. Each room features a private entrance, coffee machine and a safe. At Bush House the restaurant offers a variety of dishes and guests can enjoy breakfast in the garden or dinner under the stars. There is also a bar and special diet menus can be arranged upon request. Guests may occasionally see animals drinking from the waterhole which is located in front of the lodge. Other facilities include a gift shop and shared lounge. Free WiFi is available at the lodge and Pilanesberg is 97 km away.
More accommodation in Madikwe Game Reserve
Browse all accommodation in North West Province, South Africa


Vredefort Dome, World Heritage Site
South Africa's most recent UNESCO World Heritage Site is Vredefort Dome, a dramatic landscape formed by the impact of a massive meteorite impact structure, called an astrobleme. Situated roughly 120km south west of Johannesburg in the Free State, it dates back 2,023 million years and is the oldest astrobleme on the planet. Not only is it the granddaddy of meteorite craters, Vredefort Dome is also the deepest and largest with a radius of 190km.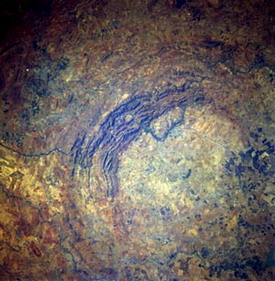 The gigantic meteorite impact caused immense shifts in the earth's crust over hundreds of kilometres and is evident in the spectacular and somewhat craggy terrain. The impact zone is remarkably visible in satellite images and photographs taken from the space shuttle. Vredefort Dome demonstrates exciting and compelling evidence of the evolution and geological record of the earth.
But there's more than just fascinating geological history, the tortured landscape sustains a variety of natural habitats including an exceptional wild olive forest. The Vaal River meanders through the hills and there is a great diversity of bird life with over 400 bird species recorded. Along with excellent birdwatching there is plentiful small game and the chance of maybe even spotting a nocturnal leopard or caracal.
For the young at heart or seriously active, the region is a great place for outdoor and adventure activities with great horse riding, hiking, abseiling, rock climbing, mountain biking, fishing and paddling. The sleepy dorp of Vredefort lies within the crater along with the arty-crafty little town of Parys which is close to some fun rafting trips on the Vaal River.
Just 30 km North West of Vredefort and in the North West Province is the historic university town of Potchefstroom. "Potch" has an annual arts festival at the end of September and early October so booking ahead at this time is a wise idea.
History buffs should check out the Potchefstroom Museum, which houses a rare Voortrekker wagon from the Battle of Blood River in 1938. Also of interest is the Totius Museum, the house that Totius, a celebrated poet and key figure of the Afrikaans language movement lived in a century ago. Paintings dedicated to him by the famous and controversial artist Jacob Pierneef adorn the walls.