Travel & Accommodation Guide to South Africa




The uKahlamba Drakensberg & Drakensberg Region (World Heritage Site)
Kwazulu-Natal - South Africa - Central Drakensberg & Drakensberg Park Accommodation
| | |
| --- | --- |
| | |



Drakensberg Travel Guide

Known as "Ukahlamba" (the barrier of spears) by the Zulus and the "Drakensberg" (dragon mountain) by the Voortrekkers. the mountain range is a rampart of sandstone and basalt, separating the lush Indian Ocean coastline from the dryer and harsher interior of the region. Most of this escarpment falls under the Ukahlamba-Drakensberg National Park.

With simply gorgeous scenery, the grasslands are green in the summer following the rains and a lighter, more delicate, blonde colour, often touched by snow, in the winter.

The area is a top notch hiking destination with a range of different trails from one to two hour hikes right through to the epic Drakensberg Traverse, which takes around three to four weeks..

View Drakensberg Map
Rock art discovered in the area tells the history of the San - or Bushmen - who originally made the area their home, before more aggressive tribes people pushed them out.

Besides the mountainous scenery, the area is home to more than 2,500 flowering plants, many endemic to the Drakensberg, along with a range of game including eland, other antelope and baboons. Birding is an adventure, where fans can spot the rare Lammergeier, or bearded vulture, swooping in the skies.

Talking of swooping, the slopes of the mountains are ideal for paragliding, especially at Oliviershoek and Bulwer, while brave ice climbers can test their skills on the frozen waterfalls in winter.

Other sports activities include mountain biking, 4x4 trails and pony trekking up in the hills.

Top
South Africa's Singing Ambassadors - The Drakensberg Boys' Choir. They Will Rock You! by Brian Kemp
The Drakensberg Boys' Choir School was founded in 1965, with 20 students. The dream? To build something that would rival the Vienna Boys' Choir. But not in a European city steeped in history and tradition. In the boondocks. In the middle of the magnificently scenic Champagne Valley in the Central Drakensberg.

They call them South Africa's singing ambassadors. And if you're planning a trip to South Africa this is something you just have to put on your itinerary. Yes, yes I know you're going to Cape Town and you want to do a wildlife safari but this is not to be missed. They'll give you goosebumps and they'll make you cry. And you'll never forget them. They tour and compete internationally every year.

Now, they take in about 100 children a year. It's not that easy to get in and auditions are held countrywide. They get a first-class education and a very active outdoor lifestyle in their rugged Drakensberg paradise. So think crisp mountain air. Big blue skies. In the winter, snow-capped peaks. And exquisite tenor harmonies.

Where, when and how much? Let's start with where. Well once you've ticked the Big 5 and had your fill of Table Mountain, you're going to need to take a little detour into KwaZulu Natal. Find Route 600 into the Central Drakensberg and you're there. When? Every Wednesday afternoon during school terms at 3:30. (Although it's a relatively big 600-seater auditorium in the middle of nowhere, booking is essential - phone (+27 (0)36 468 1012).

And the music? Well the first half of the 3-hour concert is classical. Mozart, Bach, Beethoven - they do the gamut. Then hang onto your seat and prepare yourself for diversity. It could be Queen, music from the movies or gut-wrenching African rhythms and harmonies. A spellbinding and enthralling performance.

South Africa's Singing Ambassadors - The Drakensberg Boys' Choir. They Will Rock You!

About the Author - Accommodation in the Drakensberg? Brian Kemp owns Halls Country House, a retreat in the Drakensberg mountains.

| | |
| --- | --- |
| CENTRAL DRAKENSBERG / BATTLEFIELDS ACCOMMODATION | |


| | |
| --- | --- |
| BED & BREAKFASTS/GUEST HOUSES/LODGES IN CENTRAL DRAKENSBERG/BATTLEFIELDS, SOUTH AFRICA | |

Ardmore Guest Farm, Guest House, Bergview, CENTRAL DRAKENSBERG
We provide personal, farm-style accommodation on a Dinner, Bed & Breakfast basis. Ardmore Guest farm is situated in the enchanting Champagne valley of the central Drakensberg, just below the majestic Champagne Castle (2nd highest peak in South Africa at 3377m) and Cathkin Peak Mountains of KwaZulu-Natal, South Africa. Your hosts, Sue and Paul Ross, will conspire with the magnificent scenery and tranquil atmosphere to make your visit a memorable experience. Ardmore – the perfect lodging when you travel South Africa. Our guests can choose between our three types of en suite accommodation all with tea/coffee making facilities...
Swallows Nest B&B, Winterton, Battlefields, CENTRAL DRAKENSBERG
Swallows Nest Bed and Breakfast is situated in the village of Winterton, within 20 km from the Drakensberg mountain range. It features a garden and free WiFi in the reception and dining area. Individually decorated rooms offer a patio and come equipped with satellite TV, a microwave and tea-and-coffee-making facilities. The en-suite bathroom includes free toiletries. Swallows Nest serves breakfast daily in the dining room and dinner is available upon request. Guests can make use of the barbecue facilities. Nearby attractions include Spioenkop Battlefield and Nature reserve and the Winterton Museum & Info Centre. Activities such as hiking, mountain biking, river rafting and quad biking are popular in the Central Drakensberg region, and there are a number of golf course nearby..
Winterton Country Lodge @ Rose Cottage, B&B/Self-Catering, CENTRAL DRAKENSBERG
A perfect stop over or hide away from everydays chaos! Romantic and quaint! Abundant birdlife with peace and tranquility! Indulge yourself in our lovely garden, cool down in the inviting splash pool or try some flyfishing in the dam. Enjoy a sundowner in the lapa, overlooking the majestic drakensberg. Treat yourself with a homestyle cooked dinner at candle light. A hearty farm breakfast will be served in the charming dining room or in the lapa. Arts & crafts, golfing, hiking, horseriding, game reserve, quad biking, river rafting, well known Drakensberg boys choir School and much much more, close by! Make your pleasure our pleasure!!
More accommodation in the Drakensberg - Bergview - Winterton

| | |
| --- | --- |
| SELF-CATERING HOLIDAY COTTAGES & CHALETS IN CENTRAL DRAKENSBERG / BATTLEFIELDS, SOUTH AFRICA | |

HIGHLY RECOMMENDED BY OUR TRAVEL PARTNER:
Drakensview Self Catering, Holiday Apartments, Winterton, NORTHERN DRAKENSBERG
Drakensview Self Catering is located 5 kilometres from Winterton. The property offers landscape views of the scenic surrounds and majestic Drakensberg mountain range. The modern apartments come complete with a patio offering views of the mountain and garden. These open plan and air-conditioned apartments feature a private entrance, small seating area and a kitchen. Extras include a flat-screen TV and desk. Drakensview Self Catering offers BBQ facilities and activities in the surrounding area include cycling and fishing. The Winterton Museum is a 5-minute drive away and the Spioenkop Nature Reserve is within 13 km.
Spion Kop Lodge, Self-Catering/B&B, Winterton, Battlefields, CENTRAL
DRAKENSBERG
SPION KOP LODGE : (KwaZulu Natal) tranquil and relaxing with a choice of activities, has been transformed into a beautiful 4 Star Lodge, offering an Out of Africa Experience, with warm hospitality, 8 well-appointed, double-ensuite bedrooms, plus two self-contained cottages, is set in tranquil, park like grounds. Housing a library, cosy pub, conference centre, swimming pool and dining room with breathtaking views, fine cuisine. This owner-managed destination, situated on a 703 hectare ecco farm, offers Battlefield Tours, Birding, Boat cruises, Game Viewing, Drakensberg Mountain Hikes and Horse-riding amongst the animals. Relive the past that changed the future!
HIGHLY RECOMMENDED BY PREVIOUS GUESTS:
Treks, Trips and Trails, Self-Catering Chalets, Bergview, CENTRAL DRAKENSBERG
Offering views of the Bell Park Dam and the distant peaks of the Drakensberg Mountains, Treks, Trips and Trails features well-appointed self-catering chalets in the Champagne Valley. Each of the free standing chalets features a kitchen with microwave, oven, stove and kitchenware as well as a seating area with sofa. Guests can enjoy views of the valley and the mountains. Treks, Trips and Trails has a rock pool and BBQ facilities. An array of activities can be enjoyed on site or in the surroundings, including cycling, fishing and hiking. The Golden Gate Highlands National Park is about 145 km away.
More accommodation in the Drakensberg - Bergview - Winterton

| | |
| --- | --- |
| DRAKENSBERG PARK (WORLD HERITAGE SITE) AND SURROUNDS, SOUTH AFRICA | |

Cathedral Peak Hotel, DRAKENSBERG PARK
Cathedral Peak Hotel is famous for warm hospitality, luxurious accommodation and excellent cuisine. This award winning resort has achieved the perfect balance between being a family resort and a premier conference venue. Accomodation, ranging from Deluxe Suites to Family Interleading Duluxe Suites, is available to Safarinow.com clients. A wide range of sporting facilities offered at the Hotel includes daily guided walks, guided horse and pony rides, tennis, squash,swimming, bowls, volleyball, table tennis, badminton, floodlit mini-adventure golf & trout fishing. The hotel's immaculate 9-hole golf course has been termed "the thinking golfer's course" and has alternate tees for a challenging 18-hole game. A stunning recreational area complete with heated pool, gym and steam bath is set against the backdrop of the spectacular Cathedral range. The pool bar & braai boma offer spectacular views of the valley and golf course.
RECOMMENDED BY OUR TRAVEL PARTNER:
The Nest Drakensberg Mountain Resort Hotel, DRAKENSBERG PARK
This hotel offers spacious accommodation with views of the garden or Drakensberg Mountain. It is surrounded by lush green fields in the Ukhahlamba-Drakensberg UNESCO World Heritage Site. The bright rooms are situated throughout the grounds and feature a traditional, country-style décor. Heating and a fan are available for climate control. Toiletries are provided in the bathroom. The Nest's restaurant serves traditional South African country cooking, including a 6-course dinner. In the morning and afternoon, tea and coffee is offered on the veranda overlooking the Drakensberg Mountain. In the main building, there is a bar with a lounge area featuring plush chairs and a fireplace. Guests can play a game of billiards or swim in the outdoor pool. Younger guests can enjoy the playground.
More accommodation in the Drakensberg - Bergview - Winterton
Battlefields Travel Guide
As in many parts of the world, the later part of the 19th Century was a time of conflict and confrontation in South Africa, particularly the area we now call KwaZulu-Natal. The British were at the height of their empire-building zeal, the Zulu nation was one of the most powerful in Africa, and the Boers had shaken the dust of British colonialism off their velskoens, and set off into the interior to take control of their own destiny.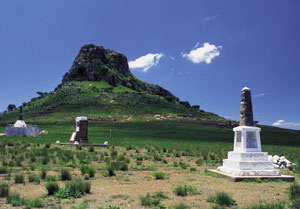 Well, that sounds like a recipe for disaster. And it was - for everyone concerned. A real free-for-all scrap, there were skirmishes, stand-up battles, sieges and ambushes. No one - Boer, Brit or Zulu - came away unscathed. The stories are fascinating, and the KZN battlefields are remarkably well preserved. It's not just a raa-raa recreation of sabre-rattling macho imperialism, and it's certainly not a celebration of all things bellicose.
Guided tours offer you the opportunity to stand on the very spot where history was made and hear of how decisions (good and bad) were taken; hear of heroism and heartache, of victory and defeat and of death and destruction. It's definitely food for thought - and it leaves almost everyone pondering on the futility of war.
For the historically inclined, these battles include Voortrekker-Zulu war (1836-1852), the Anglo-Zulu War (1879), two Anglo-Boer wars, one in 1881, and the big one, otherwise known as the South African war (1899-1902), and the Bambata Rebellion (1906). An interesting thing about these battlefields is that some of the biggest players on the planet chose to spend time there.
You can't help but wonder how different world history would have been if the young Winston Churchill or the equally young, zealous and idealistic Mahatma Gandhi had succumbed during these battles. Or if Prince Louis Napoleon, the last of the Bonaparte line, had survived his little altercation with a small band of Zulu warriors and had gone on to meet some lovely young lady and perpetuate the dynasty.
You can visit the Ultimatum Tree, near Tugela Mouth, where the British pulled a fast one on the Zulu chief Cetswayo, or Gingindlovu, where the Zulus were more than a little surprised to be the first people in the world to feel the force of the Gatling gun (precursor to the now ubiquitous AK 47s, Uzis and other automatic weapons), or mGungundlovu, where the Zulu chief, Dingaan, feeling somewhat threatened by the Boer's obvious land-lust, did away with the Voortrekker Piet Retief and his followers in a rather grisly way.
This was followed by a raid on the Boer encampment at Bloukrans, where the Zulus pretty well trashed the Boers. Oh - human history - and then the Boers sent a punitive expedition after the Zulus and, after making a deal with god (I kid you not) trashed the Zulus at the rather ironically named Ncome River (which means peace). It was consequently renamed Blood River, which seems far more appropriate. It's like kindergarten - 'but he hit me first....' We never learn, do we?
Other oft-visited sites include Isandlwana - the site of Britain's most humiliating defeat - and the nearby Rorke's Drift where a handful of resourceful redcoats did what they could to salvage imperial pride (not to mention their own skins), Ladysmith, site of one of the longest sieges (119 days) in the South African War, and Dundee, with its Talana Museum on the site of the Talana Battle.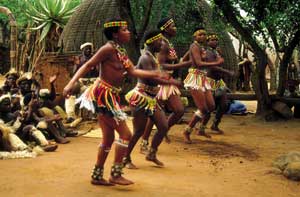 The area known today as Zululand was, initially ignored by the British when they imperiously annexed what was then referred to as Natal and the Zulus retained sovereignty over all the land north of the Buffalo and Tugela Rivers - for a while, at least. The overlap is quite broad - the battlefields comprises large parts of Zululand and extends as far as Pietermaritzburg, almost to the foot of the Drakensberg, and Zululand covers much of the battlefield territory, while extending further north to St Lucia in the southern part of the Greater St Lucia Wetland Park, where the border between northern Zululand and southern Maputaland is rather hazy. Zululand also includes the fantastic Hluhluwe-Umfolozi Game Reserve, which is the ancestral home of all the white rhinos now living in southern Africa. Seriously - they were extinct everywhere else and were brought back from the brink in this rather lovely park. Imagine - we came a hair's breadth from never, ever seeing a white rhino.
There's loads to do here. A tour of the battlefields is a given - either by vehicle, by foot or on horseback. And it probably won't be long before someone offers cycle tours. There are some great river trips, with the Tugela and Buffalo Rivers throwing up some challenging white water. Wilderness walks in Hluhluwe-Umfolozi are a truly awesome adventure - it's a real wilderness experience in Big Five country. If you want to see the picture-book Zulus, there are a handful of cultural villages that offer dancing, an insight into traditional crafts and some historical and cultural insights. And, of course, there are the beaches - all long and lovely.