Travel & Accommodation Guide to South Africa




Bed & Breakfast, Guest House, Game & Safari Lodge & Self-Catering
Accommodation in Central and Great Karoo - South Africa
Choose your accommodation option:

Bed & Breakfasts/Guesthouses
-
Game Lodges/Bush Camps
-
Self-Catering
Western Cape Travel & Accommodation Guide


Karoo Reading:

View Map of Prince Albert

The Karoo is a stark and beautiful area in South Africa with a charm all of its own.

The two national parks, the Karoo National Park near Beaufort West and the Mountain Zebra National Park near Cradock are nothing like the bushveld reserves around the Kruger National Park. The vegetation is much more sparse but, strangely, far more interesting, as it's characterised by low-growing succulents and aromatic shrubs which, upon closer inspection are very beautiful and many of which flower spectacularly for a short season.

View Map of Beaufort West
There are black rhinos in the Karoo National Park and, not surprisingly, many of the beautiful, endangered and rather rare Cape Mountain Zebra in the Mountain Zebra National Park. Although midday can be over-bright and washed out, the quality of light in the Karoo is magnificent. Sunrises and sunsets are awe-inspiring with pastel shades of purple, blue, pink and gold filling the entire horizon. The sky before a storm is particularly dramatic, with shafts of light burning down through indigo clouds and rainbows dancing merrily just behind the thunder and lightning.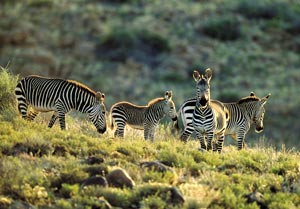 And the clear skies and freedom from light pollution makes for wonderful stargazing - the recently built Southern African Large Telescope (SALT) is in the small, rather remote Karoo town of Sutherland.
As well as showcasing some very pretty Victorian houses, the many small towns reflect a sort of sleepiness, which is appropriate to their status as urban centres in a large sheep farming area.
On the edges of these vast plains lie lovely, almost unexplored mountains, with deep gullies, pretty streams and overhangs filled with rock art. And even the older buildings - one-roomed stone cottages, corbelled huts and old stone sheds are coming into their own as they are renovated as tourist or hikers accommodation.
Graaff-Reinet and Cradock offer a wealth of cultural attractions as well as some great accommodation Nieu Bethesda is the site of South Africa's best known outsider art - the Owl House, created by Helen Martins. Nothing happens very fast in the Karoo. It's a place to go to relax, to sit back and watch time move gently over the purple hills. The Great Karoo stretches over part of the Eastern Cape, the Western Cape and the Northern Cape.
More reading on the Karoo: Exploring the vibrant Karoo by Tamara Toti

| | |
| --- | --- |
| CENTRAL & GREAT KAROO - BED & BREAKFASTS/GUEST HOUSES | |

Beaufort Manor, Guest House/Self-Catering, BEAUFORT WEST
Among some of the beautiful scenery one can expect to see when visiting Beaufort Manor in Beaufort West. Beaufort Manor offers tasteful Karoo dinners, by candle light, either in our dining room or under the brilliant stars during summer months. Choose a bottle of wine to accompany your five course meal, served by our friendly staff. Guests can expect dishes such as our famous leg of lamb, home made chicken pie, bobotie, mouth-watering gammon and organic vegetables straight from our garden. Please book to avoid disappointment. Guests are invited to relax in our cosy bar, which boasts a wide variety of whiskeys and brandies, to mention but a few. We even stock 'witblits' for the adventurous and daring. A selection of cigars is also available.
Karoo Lodge B & B, Bed & Breakfast, PRINCE ALBERT
Where else in the world will you find a sky painted from a different palette each day, 5 natural water sources feeding a bountiful almost subtropical valley year in and year out, majestic mountains standing guard over the sun drenched Karoo plains, every hiker's and mountaineer's dream, mountain passes built at the turn of the 1800's and still in use today, the warmest welcome, delicious hearty meals, outstanding accommodation and the most wonderful and hospitable hosts? Karoo Lodge nestling in two acres of tranquil gardens, is a haven to the most discerning traveller passing through this oasis of the Great Karoo. Take time, enrich your life and discover the hidden jewel of the Karoo - Prince Albert, whilst enjoying the quality and comfort offered at Karoo Lodge.

Lemoensfontein Game Lodge, BEAUFORT WEST
Set in the vast expanse of the South African Great Karoo, this beautiful homestead/lodge dates back to 1850. Built slowly and soundly to the exacting standards and architectural style of the time, the building remains unchanged with characteristic high ceilings, original wooden floors and wide verandahs which offer guests a sweeping panoramic view of the Karoo landscape. The self same atmosphere can still be felt throughout the old building even though modern comforts like ceiling fans, wall heaters, air-conditioners and en-suite bathrooms have been added to ensure our guests a comfortable stay. All accommodation leads out onto wide verandahs. Comfortable en-suite bedrooms have tea & coffee making facilities, toiletries and hairdryers. Enjoy pre-dinner drinks around the honesty bar in the lounge, which has a cosy fireplace for the chilly winter nights.
More accommodation in Beaufort West and Prince Albert and Laingsburg

| | |
| --- | --- |
| CENTRAL & GREAT KAROO - SAFARI & GAME LODGES / BUSH CAMPS | |

Ko-Ka Tsara Bush Camp, Safari Lodge/Self-Catering, BEAUFORT WEST
Ko-Ka Tsara Bush Camp is situated 470km from Cape Town just 7km off the N1. 7 stylishly decorated en-suite private thatched chalets (each with 4 beds)built in a camp style with fully equipped kitchens and own private braai areas. Dinner is served in the open-air boma around a roaring camp fire in true Karoo style where the well-known Karoo lamb and springbuck fillet often appear. Ko-Ka Tsara offers day and night game drives in open-landrovers, 4x4 routes, hikes, trails, swimming pool, bar, 23 different game species, 196 bird varieties. Safe parking, child friendly, wedding facilities, conference facilities and the perfect family reunion venue. 3 star graded, semi-finalist in AA Accommodation Awards 2003. AA South Africas Best 2003.
More accommodation in Beaufort West and Prince Albert and Laingsburg

| | |
| --- | --- |
| CENTRAL & GREAT KAROO - SELF-CATERING HOLIDAY RENTAL ACCOMMODATION | |

RECOMMENDED BY OUR TRAVEL PARTNER:
Aan De Voortrekker Self Catering, BEAUFORT WEST
Situated 7 km from Karoo National Park in Beaufort West, this air-conditioned apartment features a garden with a barbecue. Guests benefit from free WiFi and private parking available on site. The kitchenette features an oven. Towels and bed linen are featured in this self-catering accommodation.
Olive Grove Guest Farm, Country House, B&B, Self-catering, BEAUFORT WEST
Olive Grove Guest Farm is owned and hosted by Ian and Sonia Taylor. In the AA Accommodation Awards 2007, Ian and Sonia won the prize for the Host and Hostess that go the extra mile for their guests, throughout the Western Cape, this ensures a high standard of service and hospitality at this establishment. The unique combination of Olive, Sheep and Game farming makes this a Karoo experience that cannot be missed. Accommodation choice is between 7 stylish chalets and 5 luxury suites, self-catering or country cuisine from our Karoo Kitchen. This Karoo farm is 7000ha in extent and our guests are welcome to roam freely by walking, driving or mountain biking the various roads and paths. The discerning traveller will apprectiate the peace, hospitality, safety, charisma, beauty and good value.
The Artist's Cottage, Self-Catering Cottage, PRINCE ALBERT
The romantic Artistís Cottage facilities comprise a fully equipped vintage and contemporary kitchen, a small lounge/dining room with IPod speaker system, adjoining bedroom with double bed, aircon/heating, mosquito net and hanging storage space. Lush fabrics combine with smart styling for a contemporary, New Karoo look. En suite bathroom has a long bathtub, new shower and hand basin. The sunny courtyard terrace leads onto a sheltered seating/lounging area facing pool, main house and large garden. All quality linen, towels and dressing gowns are provided. The cottage is serviced 1 x weekly (more often on request), laundry service at small extra fee on the premises. A breakfast basket is provided.
More accommodation in Beaufort West and Prince Albert and Laingsburg
Top


Exploring the vibrant Karoo by Tamara Toti
At a first glance, the arid Karoo which transfrontiers the north-eastern part of the Western Cape and southern parts of Northern Cape, looks deserted and barren, but if you look closely you will see that there are numerous welcoming towns inhabitat by people who have their own stories to tell, to whoever wishes to hear it...

The name 'Karoo' comes from karusa a Khoi word that means 'dry', 'barren' or 'thirsty land' and this is exactly what you would think as you first enter the Karoo. It is hard to imagine that these vast dry plains were once an inland sea, with lush green vegetation and huge mammals roaming its shores. Its only after the Gondwanaland break-up approximately 200million years ago, that the region turned into the semi-desert area we know today.

The "Oasis of the Karoo", Beaufort West, is the oldest town in the region. With a colourful history his typical platteland town was once inhabited by the Bushman and many of their rock art sites can still be seen on sourrounding farms and nearby Nelspoort.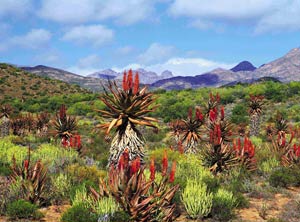 Many choose Beaufort West as a destination simply to explore the ecology and to walk through the streets and have a good look at the beautiful old buildings that display a mixture of architectural styles dating back to the mid nineteenth century. Most of the little towns of the Karoo have their own unique style of architecture, which deveoped around simple structures with prominent covered verandahs as protection against the harsh sun.

One building that you cannot miss is the Neo-Gothic Reformed Church on the N1; it was built in 1892 and designed by James Bisset. This beautiful church is situated on what is affectionately known as "Amen Corner", with its spire forming the focal point of town. Another landmark on the N1 is the jail house that stands in the middle of the road, and no one to this day really knows why a jail house was built here.

Be sure to explore the isolated but welcoming villages of the region which sit between the flat-topped koppies in desolate valleys. Names like Vosburg, Griquatown, Witput and Three Sisters, speak of fascinating stories that await to be told in vibrant Karoo colour.

To the south of the Karoo is the 75 000ha Karoo National Park where one can see the endangered Riverine Rabbit and the Black Rhinoceros. The Quagga, which until recently was thought to be extinct has also been 'resurrected' and roams freely on the grounds of the park. It is also home to lots of indigenous buck, mountain zebra, wild ostrich and five tortoise species, and for the birders there is an abundant range of species that call the park home.

Go on the fascinating fossil trail and learn more about the fossils that were discovered in this area. Round off your exploration with a scenic drives, take a challenging hiking trails into the koppies, go biking in the mountain trails or take a leisurely stroll through town.

With so much to do and discover, the Karoo is a top-class eco-destination.

About the Author - For tailor-made travel advice to Cape Town, Johannesburg, Durban or the Garden Route use CityGuideSA.com!