View map of the Overberg
Use scroll & zoom buttons for more locations

The Overberg - In the early days of the European occupation of the Cape, very few people ventured far from the foot of Table Mountain.

The vast Cape Flats to the east of the fledgling city were a treacherous stretch of shifting sands, wetlands and - of course - wild animals. And at the eastern extreme of that huge, sandy plain was a formidable mountain range, which is now - a couple of hundred years later - easily traversed by virtue of the scenic Sir Lowry's and Houwhoek Passes on the N2. But in those days, these mountains presented a serious barrier to movement and the land beyond them, which was visited only by the very adventurous and became known as the 'Overberg' - the land over the mountains.
The Overberg extends from the high-lying apple orchards of the area between the two passes in the west, to just past the lovely historical town of Swellendam in the east and - to the south - as far as you can go. Cape Agulhas is the most southerly point of the African continent and - officially - the place where the Atlantic and Indian Oceans meet.
The interior is dominated by grain farms interspersed with cute country towns, and the coast is a series of beautiful bays, beaches, wetland and dramatic headlands.
Walker Bay, which lies between the towns of Hermanus and Gansbaai, has two claims to fame. It is reputed to be the best land-based whale watching in the world, as the huge southern right whales swim close in shore and there is a beautiful and convenient, fragrant, flower-rich cliff-top walk that offers an excellent vantage point to observe these, South Africa's biggest tourists. They turn up here in late winter to escape the harsh Antarctic, give birth, nurse their calves and - while they're in a nice romantic honeymoon destination - work on the next crop of baby whales.
The second claim to fame is as the most southerly vineyards in Africa - and it's well worth doing a tasting. This is not just a gimmick.
The other big attraction of this area is the great white shark. Dyer and Geyser Islands, off the small fishing village of Gansbaai offer probably the best shark cage diving in the world. A number of boats operate in the area - chumming to attract the sharks' attention and vying with each other for the best position. Do it soon, as there is increasing resistance to a practice that many people consider to be morally indefensible, ecologically destructive and dangerous.
There's loads more to do. There are three great nature reserves. Kogelberg in the west, which is a major hotspot of botanical diversity, offers fantastic hiking and an exciting white water rafting day trip. De Hoop, in the east, has some small game, great easy mountain bike trails, an escorted, portaged hiking trail, fun snorkelling, wonderful beaches and some awesome land-based whale watching. Slightly further east, the Bontebok National Park was proclaimed to protect the last few remaining bontebok - a beautiful antelope that is found only in the Western Cape. The Breede River, in the eastern part of the Overberg, has some quite fun rafting and canoeing trips and the only remaining hand-operated ferry in the country and fantastic fishing.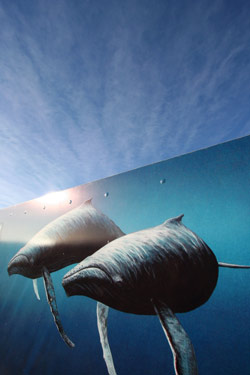 There is great paragliding and fun canoeing and sea kayaking near Hermanus, a gliding club in Swellendam, a good horse trail, great hiking and some fabulous mountain biking trails. There are fun boat trips and a long and exciting foefie slide (flying fox) on the Buffelsjag Dam, near Swellendam.
For the more culturally inclined, the mission villages of Genadendal and, particularly, Elim, hark back to a much quieter era. Interesting museums include the Drostdy Museum in Swellendam, the Old Harbour Museum in Hermanus, which has exhibits relating to fishing and whaling, and the small but fascinating Shipwreck Museum in Bredasdorp. This area is, in fact, littered with historic wrecks. A noble tradition was born when the troopship Birkenhead went down near Gansbaai in 1852. For the first time in recorded history, the troops and sailors lined up on the deck in disciplined ranks while the women and children passengers got into the lifeboats and were ferried to shore. The men then took their chances with the icy water and the legions of sharks.
Another historic wreck nearby was the Arniston, which gave its name to the town that has officially been called Waenhuiskrans - which means wagon house cave, and refers to an enormous sea cave big enough to house an ox wagon (although you'd struggle to get a bicycle to the spot, never mind an ox wagon). But everyone knows the place as Arniston - a great beach destination.

| | |
| --- | --- |
| AGULHAS, OVERBERG ACCOMMODATION - WESTERN CAPE, SOUTH AFRICA | |

Agulhas is a coastal village in the Western Cape province of South Africa. It is situated at Cape Agulhas, the southernmost tip of Africa. Agulhas is also the southern most city on the continent of Africa. Agulhas Current is a strong ocean current known for its rogue waves.


View map of Agulhas

Cape Agulhas (Portuguese: Cabo das Agulhas, "Cape of Needles") is the geographic southern tip of the African continent and is defined for hydrographic purposes to be the dividing point between the Atlantic and Indian oceans. Historically, the cape has been known to sailors as a major hazard on the traditional clipper route and is sometimes regarded as one of the Great Capes.


| | |
| --- | --- |
| AGULHAS BED & BREAKFAST / GUEST HOUSE / BACKPACKER ACCOMMODATION - OVERBERG WHALE ROUTE | |

Agulhas Country Lodge, Country House, AGULHAS
Nestled in the protected alcove know as 'Ghost Corner' at the entrance to the southernmost town in Africa, lies the Agulhas Country Lodge, built of limestone and century old Oregon pine sash windows and doors. Stunning seaviews and authentic relics from shipwrecks and bygone days are the rule here. Experience the southern most tip of Africa, where the two oceans really meet. Built from natural stone, set against the hill, Agulhas Country Lodge has spectacular sea view from nearly every vantage point. Guests can enjoy hospitable service and exceptional cuisine with the emphasis on fresh seafood in the Country Lodge's own restaurant. En suite bedrooms each have private balconies and sea views.
Cape Agulhas Backpackers, Backpacking Hostel, AGULHAS
Cape Agulhas Backpackers is situated 400m from the Main Beach and has being described as a little hotel with Backpackers character. We are the most southern backpackers in Africa. We supply you of fluffy Goose down Duvets and towels. For those who want to chill out there are hammocks in the front garden and a great DVD library in the lounge or for the more energetic a vibey courtyard with a swimming pool, bar, pool table and a spacious braai area. Come and join in the fun and adventure, meet new fellow travelers and take the Most Southern experience in Africa with you.
Cape Agulhas Guest House, Bed & Breakfast, AGULHAS
Located in the Town of L'Agulhas, which is at the most Southern tip of Africa. This guest house an affordable holiday with double bedrooms, each with en-suite showers. 5 of the bedrooms have beautiful sea views and the other 4 have mountain views. Some of our rooms have satellite TV and there is a TV with satellite in the lounge. We have a restaurant with a seating capacity for 20 guests and provide other meals on request. We also have a fully licensed bar on the premises. There are lounges available for guests to relax in front of a log fire in winter and on cold winter nights and 2 reading rooms. We are walking distance of the famous Agulhas Lighthouse and only 2 km from the most Southern Tip in Africa.
More accommodation in Agulhas

| | |
| --- | --- |
| AGULHAS SELF-CATERING ACCOMMODATION, OVERBERG WHALE ROUTE, SOUTH AFRICA | |

South Point Self-Catering & B&B, AGULHAS
South Point is situated 150m from the sea and 300m from our historic lighthouse which houses a unique restaurant. We offer 4 very affordable, tastefully decorated, upmarket, extremely clean units in a tranquil garden setting. The units are fully equipped, from linen and towels (not beach towels) to microwaves, washing up liquid and dish cloths, braai grids. TV's have 1, 2, 3, e-TV, M-Net, Movie Magic channel. We are not situated on the sea front, but only the caravan park is in front of us and we have partial sea views from patios. Stunning view of lighthouse. Smoking is allowed on patios only. Three of the units consist of one bedroom, en-suite bathroom, lounge with sleeper couch and open plan kitchen, and a private patio with built-in fireplace, table and chairs.
HIGHLY RECOMMENDED BY OUR TRAVEL PARTNER:
Tides' Song, Holiday Rental Apartments, AGULHAS
Featuring a garden and barbecue, Tides' Song is located in Agulhas, just 1.8 km from Cape Agulhas Lighthouse. Southernmost Tip of Africa is 2.7 km away. Free WiFi is available throughout the property and free private parking is available on site. All units include a dining area and a sitting area with a satellite flat-screen TV. There is also a kitchenette, equipped with a microwave and refrigerator. There is a private bathroom with bathrobes in each unit. Towels are featured. Tides' Song also includes a terrace. You can play darts at the property, and the area is popular for fishing and hiking.
More accommodation in Agulhas

| | |
| --- | --- |
| ARNISTON ACCOMMODATION, OVERBERG WHALE ROUTE, WESTERN CAPE, SOUTH AFRICA | |

| | |
| --- | --- |
| View map of Arniston | This rather schizophrenic town is officially known as Waenhuiskrans but everyone calls it Arniston. The official name, which means "Wagon House Cave", refers to an enormous sea cave that is big enough to park an ox wagon (and a team of oxen) in. It's a beautiful cave and it's a lovely walk to get to it but watch the tides. You absolutely do not want to get caught there at high tide! The more familiar name refers to the wreck of the Arniston, which ran aground in 1815, with the loss of 372 lives – only 6 hardy souls managing to struggle ashore. There is a small monument near the beach. |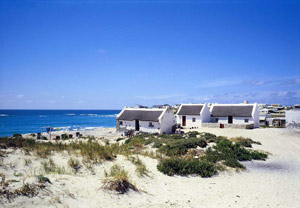 Although Arniston is a pretty beach destination, with excellent surf, great sun tanning, swimming and fishing, one of the main attractions is the lovely fishing village.

Thatched, white-washed cottages dotted amongst the dunes stand out against the clear blue sky and attract photographers and painters from miles around. Here's a challenge – take a photograph or do a painting of an Arniston cottage that isn't kitsch. It can be done.

Arniston is also close to Cape Agulhas, which is the most southerly point of Africa and the official meeting point of the Indian and Atlantic Oceans.

16 On Main, Self-Catering Apartment, ARNISTON
Located in the coastal village of Arniston lies 16 On Main, within 1 km from the beach and 43 km from Cape Agulhas. It offers a garden and barbecue facilities. The six bedroom house features brightly decorated rooms, a living room with plush sofas, a satellite TV and the en-suite bathroom has a bath and shower. Guests can prepare meals in their fully equipped, open plan kitchen which contains a stove, oven, refrigerator, dishwasher and a dining area. 16 On Main's barbecue facilities offer an outdoor dining area which overlooks the garden. De Mond Nature Reserve is 22 km away and Struisbaai is a 45-minute drive from the property.
Arniston Spa Hotel, ARNISTON
The Arniston Spa Hotel is set in one of the Cape's most exquisite locations, next to an old fishing village, surrounded by pristine beaches and nature reserves. The luxurious 4-star Arniston Spa Hotel is internationally known as one of the world's great getaways. Touched by the spray from the Indian Ocean, we welcome you with panoramic views of the unspoilt ocean and endless beaches. The luxurious 60 en-suite rooms are all elegantly decorated with the comforts of a world-class hotel. Most rooms have fireplaces for those cosy winter evenings. Our deluxe sea-facing rooms have private balconies with panoramic ocean views. The patio-facing rooms open onto a tranquil garden and swimming pool with sun loungers. Unforgettable, seductive Arniston, where time stands still and whales play in the sheltered bay.
See all accommodation options in the Overberg area