Travel & Accommodation Guide to South Africa




Sun City and the Pilanesberg National Park Travel Guide
Accommodation in North West Province, South Africa



| | |
| --- | --- |
| PILANESBERG ACCOMMODATION - GAME & SAFARI LODGES, COUNTRY HOTELS, SOUTH AFRICA | |

Another fantastic reserve is Pilanesburg, which is situated in an enormous volcanic crater - long extinct, don't worry. One of the major attractions of Pilanesberg is the hot air balloon flights from which you're likely to see a variety of animals. Pilanesberg is smack bang next door to the rather over-the-top casino resort of Sun City and the outrageous Lost City. As well as gambling, there are fun rides, water parks, horse trails and two championship golf courses. It's all designed to separate you from your hard earned cash but, if you go there expecting that, you'll have loads of fun.... read more


View Map of Pilanesberg
National Park

Ivory Tree Game Lodge, Safari Lodge, PILANESBERG NATIONAL PARK
Ivory Tree Game Lodge is situated in the north eastern region of the Pilanesberg National Park, the closest point of entry is through Bakgatla Gate. Nestled in the basin of an ancient amphitheatre divided by riverine woodlands and elephant trails lies an exclusive lodge development site. The images below depict several aspects of the lodge. The central facility includes, stunning feature pool, bar, conference room, dinning room, boma, reception and curio shop. 60 double suites are located on the edges of the amphitheater basin, each features full en suite bathroom, mini bar fridges, air-conditioning, tea and coffee making facilities. The Ivory Tree Lodge Spa offers a variety of body, skin and beauty treatments to ease the effects of life's daily stresses.
Kwa Maritane Lodge, Luxury Game Lodge, PILANESBERG NATIONAL PARK
A mere 90 minutes drive from Johannesburg or Pretoria. Kwa Maritane, "Place of the Rock" nestled on the slopes of an ancient volcano offers luxurious accommodation and extensive facilities for the holiday maker or business person. Enjoy daily game drives on open safari vehicles or walking safaris accompanied by experienced game rangers. Capture the spirit of Africa at Kwa Maritane Bush Lodge, where Mother Nature and civilisation meet in perfect harmony. Located on the slopes of an ancient volcano, Kwa Maritane offers guests all the amenities of a prime resort on the doorstep of the malaria-free Pilanesberg National Park. Indulge yourself with a stay in any one of our 90 luxury rooms. There is a weekend minimum stay of two nights. Enjoy a delicious breakfast, lunch or dinner in the Kwa Maritane Restaurant overlooking the waterhole, The Rock and the magnificent granite formations within the park.
Pilanesberg Private Lodge, Game & Safari Lodge, PILANESBERG NATIONAL PARK
Pilanesberg Private Lodge is a new private retreat nestled on the foot of the majestic Pilanesberg Mountains, in the Black Rhino Private Reserve. The lodge is uniquely situated within a two-hour drive from Johannesburg and Pretoria, and is within a 20-minute drive from Sun City. The lodge is uniquely positioned in a part of the Pilanesberg National Park wilderness area that has previously not been accessible to any visitors, where guests enjoy nothing but spectacular views of the world-famous Pilanesberg Alkaline Ring Complex. The lodge was designed to incorporate the views to ensure that even when you are not on game drives, you still have the opportunity to see any of the animals from the lodge, and elephant, Black and White rhino, lion and leopard have been spotted from the lodge in the last few months.
Shepherd's Tree Game Lodge, Safari Lodge, PILANSBERG NATIONAL PARK
Shepherd's Tree Game Lodge will offer you far more than just a memorable vacation. It is destined to become one of the premier lodges in Southern Africa. The lodge provides tremendous wildlife experiences in a vast wilderness, and still offers easy access to the world's most unique resort, the internationally acclaimed Sun City. The magnificent main lodge provides all the necessary facilities and amenities in a stylish atmosphere and picturesque setting. It acts as a central gathering point and social environment for all guests, as well as the point from which all the activities are organized.
More accommodation in Pilansberg National Park

| | |
| --- | --- |
| SUN CITY RESORT ACCOMMODATION - NORTH WEST PROVINCE, SOUTH AFRICA | |

| | |
| --- | --- |
| Sun City and the Palace of the Lost City rise from the dust of scrubby countryside, appearing like a mirage in the desert and shimmering in the African sun. It takes center stage in a volcanic valley surrounded by the Pilanesberg mountains. An open invitation to inspect this haven on your worldwide travels... read more | View Map of Sun City |

The Cabanas Hotel & Chalets at Sun City Resort SUN CITY
The refreshing, laid back ambience of the Cabanas at Sun City is the immediate impression one receives upon welcome. The most relaxed and casual of all the hotels at Sun City, the Cabanas offer informal yet comfortable accommodation. The reception area is spacious with a balconied foyer overlooking the Palm Terrace. Attractive planters placed around the tiled floor, and the lightly textured walls topped with a ceiling frieze of tropical foliage and flowers, all contribute to an immediate holiday feeling. In fact, when he's not too busy exploring what the other pool decks have to offer, guests can spot Figaro, Sun City's resident Blue Crane, strutting his stuff by the Grande Pool Bar. Sun City Cabanas offer three dining choices– the chefs excel at creating imaginative theme style buffets at the Palm Terrace and everyday a full breakfast buffet and dinner buffet is offered.
Soho Hotel & Casino at Sun City, SUN CITY
A superior deluxe hotel, located in Sun City Resort entertainment and theatre complex, sheer Sun City elegance. all rooms have colour television, telephone and radio. hotel facilities include 4 restaurants, 2 bars, 24 hour room service, coffee shop and beauty salon. complex facilities include conference for 2000 people and gym, bowls and horse riding. also access to two of the worlds best 18 hole golf courses and Lost City's Valley of Waves. Whatever you want you will find it at Sun City from sizzling entertainment, world class casinos and restaurants to cater for all tastes, to our more relaxed poolside venues, quiet places, lush gardens and extensive sporting facilities including two world class golf courses. these are just some of the element that make Sun City unique to the worlds entertainment resort.
The Cascades Hotel at Sun City Resort, SUN CITY
Cascades Hotel, Sun City…. A cool breeze, a sultry summer's day, an exotic cocktail at the sand bar and a hint of Turkish music, set the scene for a perfect holiday retreat. The Cascades Hotel, the Grotto Restaurant and the pool area underwent an extensive R60-million refurbishment project, transforming the 1980's themed pool area into a tropical paradise. The Mediterranean is the deep, blue heart that gives life to the countries that surround it. With this in mind, Sun City has transformed the Cascades Pool and Grotto Restaurant into an area reminiscent of the azure blue of the tranquil Mediterranean. The original garden area has been transformed into a lake with cascading waterfalls. The pool deck has been extended by about 7 metres and the lawn areas have been converted into a sandy beach complete with a secluded bathing area and sand bar evocative of Tom Cruise's "Cocktail" movie.
The Palace of the Lost City at Sun City Resort, SUN CITY
The Palace of the Lost City at Sun City is one of the most enticing travellers' destinations in the world, a tribute to man's imagination and revered for its art and architecture. Fabled to be the royal residence of an ancient king, it is truly one of the 'Worlds Leading Hotels". The Palace lavishes its guests with 5-star service, and is luxurious in every facet of its fabulous architecture and décor. Surrounding the hotel is a 25 hectare botanical jungle. The jungle is threaded with meandering paths, cascades, lakes and pools and a variety of water-borne adventure rides. The Palace has 338 rooms inclusive of four deluxe suites. Rooms feature rmoires & writing desks, Mini Bar, Computerised safe, Colour satellite television with remote control, Radio and wake up facility on TV Guestlink, pay TV, internet facility, Hair dryers, Telephones are provided in bathrooms, at bedside tables or on each writing desk.
View all Sun City accommodation

Worldwide Travel Tips to South Africa: Sun City & Lost City
by Ina Smit
Sun City Hotels /
Top
Sun City and Lost City rises from the dust of scrubby countryside, appearing like a mirage in the desert and shimmering in the African sun. It takes center stage in a volcanic valley surrounded by the Pilanesberg mountains. An open invitation to inspect this haven on your worldwide travels.
The Sun City Resort Complex was the inspiration of Sol Kerzner, South Africa's hotel genius. He began with a firm belief in the power of tourism and a multi-million dollar investment to build this ultra-luxurious African vacation getaway in 1980. Features like tropical gardens, a flamingo lake, rushing waterfalls and a Sky train has become synonymous with Sun City and a later add-on, the Cascades.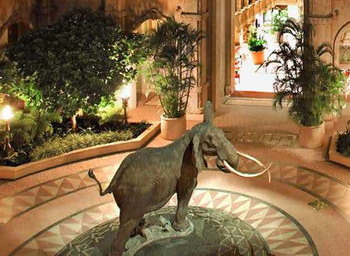 The Lost City was Sol Kerzner's supreme fantasy and was added a few years later. It has become the mystical, awe-inspiring structure portraying a local legend with a gentle people occupying an old city. You seem to be entering an extraordinary world when crossing the bridge to the city, which looks like it is thousands of years old. Burning torches are placed at regular intervals on the bridge, you can hear the roar of lions and the trumpet of elephants, and from time to time you can even feel the earth tremble when crossing the bridge.
Huge, lifelike elephants guard the center palace. The palace is adorned with Renaissance frescoes, mosaic floors, hand-carved furniture, towers of faux tusks and palm fronds and is lit by thousands of candles. Among the "ruins" you will find a mystical black pool overlooking the rest of the city and one can almost imagine beautiful princesses bathing there.
Sun City is the South African equivalent of Las Vegas with gambling as its main attraction and is about three hours drive from Johannesburg. Overall, it is like a huge, luxurious adult amusement park with assorted great stage extravaganzas at night. In short, a place to play and with beds for 2000 guests when the day is done.
The play does not stop indoors though. Outdoors you will find two championship golf courses, one with crocodiles at the thirteenth hole and which was designed by the legendary Gary Player.
Furthermore you can explore the 55 000 hectare area of Pilanesberg National Park which lies in an ancient volcanic crater and is the third largest game reserve in southern Africa. Game viewing which includes the big five (elephant, lion, leopard, buffalo and rhino) can be enjoyed from specially adapted four-wheel-drive vehicles or from the heights of a hot air balloon and followed by a sumptuous bush breakfast.
There is no doubt in my mind that Sun City and Lost City is a must see on your next worldwide travel vacation getaway, even if you do not gamble. There are simply so much to see and do and the food is superb. Just one more reason to go.
About the Author - Ina Smit has a passion for Worldwide Travel and loves to share her experiences with you as well as giving useful tips for future vacation getaways.