View map of Port Edward

Wild Coast - running from the Eastern Cape to Kwazulu-Natal, South Africa

The Wild Coast is a really great destination. Protected for years by limited road access, this area offers a combination of rural tranquillity, traditional African lifestyles and architecture, almost unbelievable scenery and fascinating flora and fauna with the opportunity to have a great beach holiday.

Hotels are spread out along the coast in the small settlements, almost all of which have their own road down from the N2 - so it's not easy moving from one coastal spot to the next.
This is a bit of a problem, but the planned 'solution' may be even worse. A planned coastal highway would, admittedly, make it easier to get around for both tourists and those few locals who can afford cars but the main advantage would be that it would make it so much easier to transport the heavy metals that multinational corporations are just itching to mine in the to date untouched coastal dunes. So - our vote is we put up with somewhat tricky road access.

As for the hotels - some are great, some a little run down, but all offer fantastic views and, invariably, excellent and plentiful seafood. This is a wonderful family holiday destination and almost all the hotels have family rooms, babysitting services, children's programmes and children's meals.


View map of Port St Johns
There is so much to do here and so many new friends to be made that most children are quite reluctant to leave at the end of the holiday, and many local families book their next year's accommodation as they leave for home.

Although the coastal hotels are wonderful, probably the best way of experiencing this area is to spend some time with the local people. There is a fantastic community project on the northern Wild Coast, which offers horse riding, hiking, canoeing and fishing from a beautiful tented camp overlooking a turquoise-blue lagoon. Here you can chat with the local people, learn how they live and go fishing with them, or foraging for wild foodstuffs. Or, of course, you can just lie around relaxing in beautiful surroundings.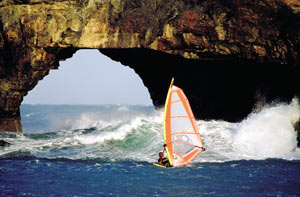 The vegetation of this area is rather unique, as many of the biomes of South Africa come together here, so you will find some unusual plants in what botanists call the Pondoland Centre of Endemism.
The Wild Coast is renowned for its fantastic surfing and excellent fishing. There is potential for good diving but the conditions are not consistent and there is very little infrastructure. This all changes in July, though, when itinerant dive operators move into the area to take advantage of the sardine run, which is the greatest migration on earth, in terms of biomass.
The Wild Coast has long been a favourite hiking destination but the huts fell into disrepair in the 1980s and haven't been rebuilt. But - and this is a good but - you can hike between hotels. Now that's a win-win. You don't have to carry sleeping bags or food. You can even organise to get your luggage driven round for you and take only a day pack. That's styling.
Towns on the Wild Coast include the laid back Coffee Bay, the rather bustling Port St Johns and, right at its northern extremity, Port Edward.



| | |
| --- | --- |
| BED & BREAKFASTS ON THE WILD COAST - EASTERN CAPE / KWAZULU-NATAL | |

Amanda's B & B, Bed & Breakfast, Gonubie, WILD COAST
Amanda's B & B is located in Gonube. right on the beach where you can hear the waves breaking on your doorstep. Your hosts, Pieter and Amanda cater for those who seek comfort with warm hospitality in a peaceful atmosphere. A special place not to be missed. Centrally situated with 6 en suite bedrooms all with private entrances, 1.5 km from main beach, boardwalk and scenic rivermouth. Enjoy the stunning seaviews from the balcony while sipping at a cocktail.
The Nest Bed & Breakfast, B&B/Self-Catering, Gonubie, WILD COAST
Your hosts at The Nest B&B, warmly welcome visitors to their appealing and attractive home located in Gonubie, the increasingly popular holiday resort, only 15 minutes from the East London city centre. Gonubie is the end of the well-known and popular Strandloper Hiking Trail as well as the Wild Coast meander. For those who are normally under the strains and pressures of city life, Gonubie is the ideal spot to relax and unwind and to be refreshed and restored as they enjoy its tranquil atmosphere and unspoiled, natural beauty. We offer three star and AA Highly Recommended luxury B&B and self-catering accommodation. Situated in a delightful treed garden, only four minutes' drive from our Blue Flag Main Beach and popular Boardwalk
Umtamvuna River Lodge, Bed & Breakfast/Lodge, Port Edward, WILD COAST
Umtamvuna River Lodge is the South Coast's best kept secret. Nestled at the foot of a mountain, in the heart of the nature reserve and on the banks of the Umtamvuna River... you will discover a lodge of leisure. With its sub-tropical gardens, soothing sounds of water falling from the edge of the cliffs and the majestic call of the Fish Eagle you find yourself lost in an unhurried tranquility that soon dispels the tensions and stress of every day life. The Lodge offers accommodation in 8 comfortable airconditioned en-suite Double, Twin or Single rooms with DSTV and private balconies which provide the opportunity to relax at sundown with views of the river and surrounding mountains.
More accommodation on the Wild Coast

| | |
| --- | --- |
| WILD COAST GAME LODGES/PRIVATE GAME RESERVES, EASTERN CAPE / KWAZULU-NATAL | |

Areena Riverside Resort & Private Game Reserve, Self-Catering/Camping, CHINTSA
Areena Riverside Resort & Private Game Reserve is situated 23 km from East London on the Wild Coast, along the banks of the unspoilt tidal river in the area, the Kwelera River. This holiday resort offers the sanctity of peace and nature, an oasis in the madness of life, a place to soak up the tranquility and prepare for a new week or a new year ahead. Areena specializes in providing prime caravan and camp sites, as well as luxury cottages, conference facilities, team building and adventure sports right on the waters edge, with unsurpassed views of the river. Cruises to the river mouth and beach can be arranged, and you can even park your boat along the jetty directly in front of you. All our sites have electricity, are level and very spacious with taps between sites.
Inkwenkwezi Private Game Reserve, Chintsa, WILD COAST
Inkwenkwezi is situated in the malaria free Eastern Cape, only a 30-minute drive from East London at the start of the Wild Coast. Here one can view the Big Five and other game housed within the boundaries of the reserve. Inkwenkwezi is a rare exquisite combination of bushveld, grasslands and forests, with an area encompassing 4000 hectares. This reserve boasts a Bush Camp, consisting of six two-person lavish ensuite safari tents. The Valley Camp offers 8 guests accommodation in four custom designed luxury tents and 2 family units each accommodating a family up to 4, which emphasize space and quality.
N'taba River Lodge & Spa, Safari Lodge, Port St Johns, WILD COAST
Nestled between towering cliffs and set in tropical gardens on the banks of the Umzimvubu River, N'taba River Lodge is a small family lodge offering a perfect mixture of Wild Coast hospitality and homely comfort. Inspired by African, ethnic design the creation of this intimate Lodge, offers a mixture of contemporary finishes in a rustic setting. Holidaymakers seeking a place to get in touch with nature can find it all here! Accommodation is in spacious and hugely comfortable cottage-style bungalows, each with its own private bathroom or shower. All rooms have their own verandah with breathtaking views of mountain and river.
More accommodation on the Wild Coast

| | |
| --- | --- |
| WILD COAST GUESTHOUSES, EASTERN CAPE / KWAZULU-NATAL | |

Umzimvubu Retreat Guest House, Port St Johns, WILD COAST
Umzimvubu Retreat Guest House is situated on First Beach, overlooking the great Umzimvubu River Mouth and Indian Ocean and within comfortable walking distance from the town center. All rooms are individually furnished - some with en-suite bathrooms and TV (satellite television available). Laundry facilities, fax and internet facilities and free tea and coffee are at hand. Selected rooms are available where children are able to share with parents at a minimal rate. Self-catering options and rates are available on request. Join us for pre-dinner drinks on the veranda under a starry expanse. Enjoy alfresco dining on the veranda or treat yourself to sophisticated dining in the restaurant.
More accommodation on the Wild Coast

| | |
| --- | --- |
| WILD COAST HOTELS & LODGES, EASTERN CAPE / KWAZULU-NATAL | |

Crawford's Beach Lodge and Cabins, Lodge and Resort, Chintsa, WILD COAST
High dunes, unspoilt beaches, all the advantages of the Wild Coast in an exclusive setting, only 40 kilometers from East London. Crawford's Beach Lodge is set in the lush dune forests, on the beautiful Chintsa Bay Beach, Wild Coast. We offer elegant Guest House accommodation or Self-catering cottages, and a well equipped conference centre. Our trade mark is personal service and fine country fare, in an atmosphere of intimate peace and tranquility. Each cottage has an individual balcony from which to greet the day, and is surrounded by an abundance of wild life and nature. Breakfast is served overlooking the shimmering Indian Ocean, and where evening barbecues are the norm for those wanting to take in the evening hue.
More accommodation on the Wild Coast

| | |
| --- | --- |
| WILD COAST SELF-CATERING ACCOMMODATION, EASTERN CAPE / KWAZULU-NATAL | |

Umzimvubu Retreat Guest House, Port St Johns, WILD COAST
Umzimvubu Retreat Guest House is situated on densely forested dunes overlooking the great Umzimvubu River Mouth and Indian Ocean and within comfortable walking distance from the town center. This family run business offers personal service, which includes organizing tours to magical waterfalls, guided hiking trails, fishing trips deep sea, rock and surf angling, bird watching, 4 x 4 adventures and places of interest in and around Port St. Johns. Moon Shadow Restaurant opened recently on site and offers fine a la Carte dining. A comprehensive menu offers contemporary cuisine in the predominantly French tradition, Thai-inspired dishes, and a stylish fusion of Eurasian fare as well as wholesome traditional homemade meals.
The Nest Bed & Breakfast, B&B/Self-Catering, Gonubie, WILD COAST
Your hosts at The Nest B&B, warmly welcome visitors to their appealing and attractive home located in Gonubie, the increasingly popular holiday resort, only 15 minutes from the East London city centre. Gonubie is the end of the well-known and popular Strandloper Hiking Trail as well as the Wild Coast meander. For those who are normally under the strains and pressures of city life, Gonubie is the ideal spot to relax and unwind and to be refreshed and restored as they enjoy its tranquil atmosphere and unspoiled, natural beauty. We offer three star and AA Highly Recommended luxury B&B and self-catering accommodation. Situated in a delightful treed garden, only four minutes' drive from our Blue Flag Main Beach and popular Boardwalk
Continue browsing accommodation on the Wild Coast