| | |
| --- | --- |
| BENONI, EAST RAND - JOHANNESBURG, GAUTENG, SOUTH AFRICA TRAVEL GUIDE | |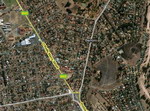 Benoni is very diverse, with people of every colour and denomination. There are over ten schools in Benoni and in some areas there is a concentration of up to 6000 students within a 5km radius.

Over time gold mining has decreased in importance. Today the town is focused more on industry and services, rather than mining, and is used as a service hub for other East Rand towns such as Brakpan, Nigel and Springs. Benoni is also the site of the Benoni Heliport, for the use of helicopters.

Visitors to the town may visit the local museum, the many lakes, the Lakeside Shopping Mall (built in the shape of a Mississippi Steamboat on one of the lakes) or Northmead Square (known as the first shopping centre to bring cinemas back to Benoni) located in the suburbs.

Near to Northmead Square is the Bunny Park which contains hundreds of rabbits and other small animals and is aimed at children. Willowmoore Park is a provincial and One-Day International Cricket venue. Sibikwa, an international recognised and aclaimed community theatre, is situated in the east of the town since 1989.

It is believed that Benoni has more horse stables per square kilometre than any other place in the Southern Hemisphere.
During the 1990's Benoni was the site for the WOMAD Festival (the World of Music, Arts and Dance), an international cultural festival held annually around the world and used to showcase various artists.
World famous Oscar winning actress Charlize Theron was born in Benoni. She then moved to become a star in Hollywood, but was seen in Benoni again promoting her movie Monster.
In December 2004, Israel Travis led a historic tour of the city on horseback while some of the tourists rode on an 1800s Victorian Spider carriage. The tourists were dressed in traditional British and Boer clothing. The tour included some of the gold mines and a parade through the main street, Prince's Avenue.
Benoni was also the setting for the MTV-inspired, popular cult movie Crazy Monkey: Straight Outta Benoni, released internationally in 2005.
The town is currently run by the African National Congress (ANC), with the liberal-democratic Democratic Alliance being the official local opposition.


| | |
| --- | --- |
| BENONI BED & BREAKFASTS/GUEST HOUSES, EAST RAND, GAUTENG, SOUTH AFRICA | |

Read about Benoni
Avoca Lodge, Guest House, BENONI
Avoca Lodge is situated in a very quiet and rural part of Benoni, 15 minutes drive from O.R. Thambo International Airport previously known Johannesburg International Airport. It is run by Michelle Smith who has had 5 years experience in the hotelier and catering industry. There are 2 double rooms, both with en suite bathrooms. They have their own private entrances, ensuring guests to come and go as they please. Each room has their own Television and Fridge along with the complimentary Tea and Coffee work station. Guests are welcome to use the swimming pool and veranda. We strive to ensure that all guests are made as comfortable as possible with the uniqueness of sharing a day in the life of a South African house hold. House breakfast is served daily, but individual requirements are catered for on request.
Lakeview Guest House, BENONI
Offering free WiFi and self catering facilities, Lakeview Guest House is located in Farrarmere ,Benoni. The guest house is a 10-minute drive from OR Tambo airport and features views of the Homestead Lake. The rooms feature air conditioning, satellite TV, a seating area and tea-and-coffee making facilities. Each one comes with a hairdryer and refrigerator. At Lakeview Guest House you will find a 24-hour front desk, meeting facilities, BBQ facilities and a garden. An array of activities can be enjoyed on site or in the surroundings, including cycling and fishing. There is also a day spa and massage facilities on offer. The guest house is 10 km from the Benoni Country Club.
More accommodation in the Johannesburg area - Benoni Accommodation

| | |
| --- | --- |
| BENONI HOTELS, EAST RAND, GAUTENG, SOUTH AFRICA | |

Read about Benoni

Africa Paradise - Airport Guest Lodge and Travel Centre , BENONI
Situated in East Rand, Africa Paradise Airport Guest Lodge offers a heated swimming pool, spa and gym. Accommodation includes free Wi-Fi throughout and BBQ facilities for the guests to use. The air-conditioned guest rooms at Africa Paradise have modern finishes and equipped with a flat-screen TV and satellite channels. Guests can use the tea and coffee making facilities. Featuring a jet bath, the private bathrooms also have a shower. The property is 7 km from OR Tambo International airport, guests can also make use of the free airport shuttle on offer. East Rand mall is an 11-minute drive away, while the Benoni Lake Golf Club can be reached in 2 minutes.
More accommodation in the Johannesburg area - Benoni Accommodation

| | |
| --- | --- |
| BENONI SELF-CATERING ACCOMMODATION, EAST RAND, GAUTENG, SOUTH AFRICA | |

Read about Benoni
Araluen Cottage, Self-Catering/Bed & Breakfast, BENONI
Araluen Cottage, En-suite room and Flat provides four-star accommodation that is ideally situated – only 15 minutes from O R Tambo International Airport. Comfortable accommodation is provided with a beautiful garden, private entrance and undercover parking. Swimming pool, private braai area and same-day laundry service available. Facilities include a north facing room, delightful self contained kitchenette, spacious dining and living area with a telephone, modem connection, television and DVD player. You will experience a warm hospitality, comfort, luxury and real value for money as a business traveller or tourist. The Cottage can be booked as a self-catering unit/B&B. Easy access to Lakeside Mall and Homestead Dam for entertainment.
Sleep Eezy, Self-Catering Cottages, Farrarmere BENONI
Two charming tastefully decorated self-catering cottages set in peaceful gardens 15 minutes from Johannesburg International Airport and 1.5 km from National Highway Network. The cottages are equipped with a TV, video machine, M-Net, fridge, microwave, toaster, kettle, food-steamer, electric blanket, heater, fan, hairdryer, radio, crockery, cutlery and safe. The Lavender room sleeps two guests in a double bed; we can also put a single bed in lounge area and an en-suite bathroom with shower only. Spacious living/dining area tastefully furnished. Separate bedroom with double bed. Under cover, secure parking with electric gates and a closed off garden area. Ideal for long stays of 30 days or more reduced rates....
More accommodation in the Johannesburg area - Benoni Accommodation

| | |
| --- | --- |
| BOKSBURG, EAST RAND ACCOMMODATION, GAUTENG, SOUTH AFRICA | |

Boksburg is a city on the East Rand of Gauteng, South Africa. Gold was discovered in Boksburg in 1887. It was named after the State Secretary of the South African Republic, W. Eduard Bok. The Main Reef Road linked Boksburg to all the other major mining towns on the Witwatersrand and the Angelo Hotel (1887) was used as a staging post.

The Mining Commissioner Montague White built a large dam which, empty for years, was dubbed White's Folly until a flashflood in 1889 silenced detractors. The 150,000 square metre dam is now the Boksburg Lake, and is surrounded by lawns, trees, and terraces. A railway was built to link Boksburg to Johannesburg in 1890. Boksburg is now part of the Ekurhuleni Metropolitan Municipality, that includes much of the East Rand.


View Map of Boksburg

Elizabeth Lodge, Guest House, BOKSBURG
We are an award winning lodge in a unique location. A touch of country life yet only one minute away from one of the largest shopping centres in Africa. 10 Minutes from O.R. Thambo international airport. The discerning traveller will appreciate the friendliness and hospitality we offer in our luxurious accommodation at an affordable price. Is an ideal venue for accommodation, parties, intimate weddings, functions and conferences. It is a place that combines the attractions of a guesthouse with friendly care and special touches. Experience the tastes of our quaint restaurant where you can sip a frothy cappuccino, sample a garden-fresh salad or savour a hearty breakfast. A place where we take the time to make real food. Unique location. A touch of country life, yet 2km from the largest shopping centre in Africa.
Europrime Boutique Hotel, BOKSBURG
Europrime Boutique Hotel is a luxury and exclusive 4 star graded property with conference facilities, conveniently situated 7km away from OR Tambo airport and centrally situated with easy access to the Johannesburg/Witbank (N12), Pretoria/Kempton Park (R24) highways. Europrime Boutique Hotel provides a perfect retreat for the discerning traveller. Europrime Boutique Hotel consist of 11 twin rooms all with en-suite shower rooms, 4 double rooms of which 3 with shower room and 1 bathroom with overhead shower and 26 Queen Rooms, 2 with en-suite bathrooms and 24 with en-suite shower rooms. We also offer 3 conference facilities which respectively can host 25, 50 and 65 delegates. We do have 24 hour reception for your convenience and we also offer warm hospitality, service excellence an entertainment area and swimming pool.
Rolls Royce Guest House, BOKSBURG
Conveniently situated in Impala Park in Boksburg, Rolls Royce Guest House is only 5 kms from Johannesburg International Airport. Guest rooms have a private terrace. The rooms are filled with natural light and fitted with simple furnishings. Each has a dining area and a satellite TV. The on-site, à la carte restaurant serves South African specialities for lunch and dinner, on request. Free parking is also available at the Rolls Royce Guest House. This property is also rated for the best value in Boksburg! Guests are getting more for their money when compared to other properties in this city.
More accommodation in the Johannesburg area - Boksburg Accommodation
Continue browsing East Rand Accommodation