Travel & Accommodation Guide to South Africa




Accommodation in Gauteng (previously Transvaal), South Africa
Hotels in Johannesburg



View Map of Johannesburg
Johannesburg is about money. It's a city built on dreams of great wealth - literally built on gold. And while the gold mines are now on the outskirts of the city itself, it is money that drives this vibrant city that is widely accepted to be the economic powerhouse of Africa. Not many visitors actually put Johannesburg on their itineraries but most end up spending a day or two here anyway, as it is the main air traffic hub of southern Africa - in fact, of Africa.

And guess what? After initially whingeing to their travel agents about having to spend a whole day here, many want to stay longer. Johannesburg has had very bad press. Sure - it's not Utopia, and it's a city where you need to keep your wits about you and preferably not much else, but it's not the criminalised war zone that's been portrayed in the media. And it's a truly vibey place.

If you like cities, you'll love Johannesburg. It's been through a number of incarnations and - at the moment - it's poised on the brink of becoming a truly cosmopolitan African city. While most business moved to the leafy northern suburbs from the CBD (Central Business District) in the 80s and 90s, the inner city is slowly reviving and within a few years it's likely to be a thriving urban environment. The Newtown District, with the Market Theatre, Museum Afrika and the newly constructed Nelson Mandela Bridge, is the epicentre of the urban revival. There is a lot to do in Johannesburg - mainly of the urban and cultural bent but there are plenty of outdoor escapes. One of the most popular day trips in Johannesburg is a tour of Soweto, where you can visit struggle monuments, artists in their studios or a range of informal taverns and music venues.

A similar tour, but offering a glimpse into a totally different type of urban community is that of Alex - or Alexandria Township. While also a black township, Alex is on the fringes of the very fashionable and expensive northern suburbs and grew organically to become the place it is now, which is in stark contrast to the engineered Soweto with its rows and rows of identical houses.

There are loads of interesting museums, the most notable of which are Museum Africa and the Apartheid Museum at Gold Reef City, which is an otherwise rather kitsch, but fun, theme park centred on an old gold mine. Golf courses aplenty will keep even the most avid grass addict happy. You could watch the dancing Lipizzaner stallions at Kyalami - the only operation of its kind other than the Spanish Riding School in Vienna . It's a great outing on a Sunday morning.

Or you could go for a ride in a hot air balloon , take a scenic flight in a vintage aircraft, or even do a short paddle on the Crocodile River. You could try your hand at skydiving, sandboard down a mine dump (big artificial dune made of mine tailings) or rapp-jump a skyscraper. You see - adventure doesn't really need the great outdoors.
And - this is Johannesburg, after all - you could go shopping. Big Time! And if your credit card survives the many tantalising malls and you have money to throw away, you could have a flutter at one of a number of casinos. And Sun City , a world renowned gambling complex with one of the best golf courses in the country, is only about an hour's drive away.

But the best thing about Johannesburg is its central position. It's just a hop, skip and a jump to the marvellous game lodges of Mpumalanga, Pilanesburg or Madikwe, the fascinating Cradle of Humankind, where you can muse on your origins, or the lovely relaxing and scenic Magaliesberg Wilderness Wilderness. Pretoria, with its many museums and historical buildings, great restaurants and even more interesting peripheral destinations, is just a half hour's drive away.

| | |
| --- | --- |
| FEATURED HOTELS IN JOHANNESBURG, SOUTH AFRICA | |

Read about Johannesburg


Africa Paradise - Airport Guest Lodge and Travel Centre , BENONI
Situated in East Rand, Africa Paradise Airport Guest Lodge offers a heated swimming pool, spa and gym. Accommodation includes free Wi-Fi throughout and BBQ facilities for the guests to use. The air-conditioned guest rooms at Africa Paradise have modern finishes and equipped with a flat-screen TV and satellite channels. Guests can use the tea and coffee making facilities. Featuring a jet bath, the private bathrooms also have a shower. The property is 7 km from OR Tambo International airport, guests can also make use of the free airport shuttle on offer. East Rand mall is an 11-minute drive away, while the Benoni Lake Golf Club can be reached in 2 minutes.
Protea Hotel Wanderers, Johannesburg
If you are looking for an ideal holiday destination in Johannesburg, the Protea Hotel Wanderers is a perfect place for you to reside and explore the surrounding areas. Protea Hotel Wanderers is ideally situated on the green belt of Johannesburg, in the prestigious northern suburb of Illovo, Sandton. This premier Protea Hotel is minutes away from many of the major attractions including Sandton City, Rosebank Mall, Melrose Arch precinct and the Johannesburg Zoo. Soundproofing, earth tones and the harmonious design principles of Feng Shui create an atmosphere of complete tranquillity and comfort in the superbly designed bedrooms. The hotel offers a variety of room types designed to suit your individual needs, with each unit equipped with a host of several modern conveniences. Protea Hotel Wanderers offers a 24-hour coffee and cocktail bar, with a separate upmarket smoking lounge for its guests to relax.
Four Seasons Hotel The Westcliff, Johannesburg
The Westcliff is located in Johannesburg, South Africa. Museumafrika is five kilometres away, the Apartheid Museum is ten kilometres away, and the Lion Safari Park is 20 kilometres away. Park Station is situated 10 kilometres from the hotel. Set on a hillside overlooking the Zoological Gardens and lush forest, The Westcliff occupies a luxury complex created in the style of a Mediterranean village, and is surrounded by three acres of gardens filled with fountains and crossed with cobbled pathways. The hotel houses two infinity pools including one overlooking the Zoological Gardens, and there is a fitness room and floodlit tennis court. The Botanica Spa Suites offers a range of massage and beauty treatments using Pevonia Botanica products, and the concierge service is on hand to offer sightseeing tips. Further amenities include complimentary garage parking, 24-hour room service, and laundry facilities.
More hotels in the Johannesburg area

| | |
| --- | --- |
| BEDFORDVIEW / EASTGATE HOTELS | |

Mercure Hotel Bedfordview, Johannesburg
Mercure Hotel Suites Bedfordview is a cozy hotel, conveniently located in a residential suburb of Johannesburg, right across from Eastgate Shopping, Entertainment Centre and only 8 km from O.R. Tambo International Airport. Mercure Bedfordview's homely residence has relaxed interiors, with fashionable yet functional furnishings, and comfortable rooms. Apartments are bright, uncluttered and lightly decorated with self-catering facilities such as fully-equipped kitchens leading into a spacious living area. Delicious English buffet breakfast along with the day's tasty African dishes is served every morning in the hotel's restaurant. There is an inviting outdoor swimming pool, garden and a bar for your enjoyment. In addition to airport shuttle service, the friendly staff can arrange trips to Gold Reef City Casino and Amusement Park, Lion Park and the Apartheid Museum.
More hotels in the Johannesburg area - Bedfordview Accommodation


| | |
| --- | --- |
| DUNKELD, JOHANNESBURG HOTELS | |

Ten Bompas Hotel, Dunkeld
In a world where size is the standard measure of success, where me-too conformity leads the upwardly mobile masses, there is a haven of sanity and tranquility for the true individual - Ten Bompas Hotel. The reception areas of the hotel comprise various sitting and meeting areas, Sides, the hotel's award winning restaurant with its own double volume, glass fronted wine cellar as well as function and conference facilities. The philosophy behind the design is to create a luxurious contemporary boutique hotel in Africa. Gentle curves and geometric forms create an air of tranquility, which belies the fast pace of Johannesburg. Ten Bompas is enriched with eye-catching focal points in the form of contemporary African art and sculpture
More hotels in the Johannesburg area

| | |
| --- | --- |
| MELROSE, JOHANNESBURG HOTELS | |

The Peech Hotel, Boutique Hotel, Melrose
The Peech Hotel is Joburg's 'chic' boutique hotel. Situated centrally in Melrose The Peech features luxurious rooms, contemporary design and plenty of good karma - an 'unexpected city oasis' (Elle South Africa). The rooms are modern and edgy with an indigenous, African feel - king-sized beds and generous bathrooms featuring 'Raindance' showers. Guests enjoy WiFi, iPod SoundDocks and an adjacent Planet Fitness gym - ' Contemporary, edgy and Afrocentric' (Condé Nast Traveller). The Peech has ten bedrooms located in the Main House and the Annexes. Private entrances, king-sized beds, crisp white sheets, feather duvets, oregon pine floors and blesbok skins all give the rooms a natural feel. Flat screen satellite TV's, a Bose iPod SoundDock, WiFi and electronic safes ensure they have the latest technology.
More hotels in the Johannesburg area - More Melrose Accommodation

| | |
| --- | --- |
| MELVILLE, JOHANNESBURG HOTELS | |

Motel Mi Pi CHi, Melville, Johannesburg
A light, white open-plan space, motel Mi Pi CHi is the ideal sanctum to retreat to after a day of Joburg frenzy. Unlike other Melville places of stay, its location offers a truly unique multi-cultural experience as one would expect to find in an African city. Designed by Architect Andrew Makin, whose creative wizardry has contributed to watershed projects like the South African Constitutional Court and Singita Lebombo and Sweni in the Kruger National Park) voted best hotel in the world, several times in a row!)
More hotels in the Johannesburg area - More Melville Accommodation

| | |
| --- | --- |
| PARKTOWN, JOHANNESBURG HOTELS | |

Sunnyside Park Hotel, Parktown
The Sunnyside Park Hotel features Victorian and Edwardian architecture and was built in 1895. It is located in the wealthy Johannesburg ridge-top suburb of Parktown and is surrounded lawns and gardens. The Hotel's Milner's Restaurant serves a varied à la carte menu and fine new world wines, and there is also a traditional British Pound and Penny Pub, which serves bar meals. Guests can work out in the fitness centre, cool down in the pool, and browse for presents in the onsite gift shop. Hotel staff can arrange childcare, safety- deposit boxes, currency exchange, laundry and dry cleaning and full concierge services, while business visitors can use the business and conference centre and there is a wireless internet access throughout the hotel for those with laptops.
More hotels in the Johannesburg area - More Parktown accommodation

| | |
| --- | --- |
| ROSEBANK, JOHANNESBURG HOTELS | |

Monarch Hotel, Rosebank
In a historic building in Johannesburg's Rosebank area, Monarch Hotel combines antique furniture with modern South African art. The hotel also has its own garden and provides stylish, spacious suites with free Wi-Fi. Overlooking the courtyard or Oxford Road, every air-conditioned suite features a separate lounge. All of the suites include a satellite TV with a DVD player and a private bathroom with free toiletries. Some of the suites also have a kitchenette. Breakfast is served in the restaurant, which also features a diverse lunch and dinner menu based on seasonal produce. A cocktail bar, room service and packed lunches are also available. Chandeliers and ornate ceilings decorate the lounge areas. The grand entrance has a 24-hour front desk whose staff can provide tourist information and arrange car rental.
More hotels in the Johannesburg area - More Rosebank accommodation

| | |
| --- | --- |
| SANDTON, JOHANNESBURG HOTELS | |

The Michelangelo Hotel, Johannesburg
The classically designed Michelangelo Hotel is located in Johannesburg, South Africa, in the upmarket northern suburb of Sandton. The contemporary hotel is on Sandton Square, next to the Sandton Convention Centre. Johannesburg City Centre is 18 kilometres from the hotel. The Michelangelo Hotel's design evokes the paintings of the Italian Renaissance. Its towering, cathedral-like atrium has stone arches, and is landscaped with plants and small trees. 'Small World' is the translation of Piccolo Mondo, the hotel's international restaurant. Seasonal produce flavours globally inspired dishes including Mediterranean specialities, lobster, cured meats and Mozambican prawns. Complimentary buffet breakfast is served. Il Ritrovo Lounge mixes sunset cocktails and offers traditional English afternoon tea.
Radisson Blu Gautrain Hotel, Sandton, Johannesburg
Located footsteps from the Gautrain Train Station, the Radisson Blu Gautrain Hotel has well-designed rooms with flat-screen TVs. It has an outdoor pool and a fitness center. The spacious rooms at the Radisson Blu Gautrain Hotel, Sandton Johannesburg feature a variety of designs ranging from earthy African tones to bold splashes of color. Each has a work desk and free Wi-Fi. The Radisson Gautrain's rich breakfast buffet includes 120 dishes from around the world, served at Central One Restaurant and Bar. Light snacks and international gourmet dinner are prepared with fresh, seasonal ingredients. Refreshments are served at the outdoor deck. The Radisson Blu Gautrain is located is just across the road from the Sandton Convention Centre and less than a 10-minute walk from the Nelson Mandela Square with the surrounding shops and restaurants.
Continue browsing hotels in Sandton
All types of accommodation in the Johannesburg area
Top



Gauteng Travel Information: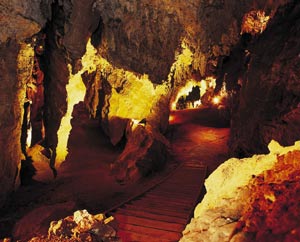 A mere hour's drive from Johannesburg, the Cradle of Humankind is a place of major significance. It was here we first became human. Here where we first stood upright on our own two, rather oddly shaped, feet, explored the uses to which we could put our usefully opposed thumbs, and experimented with more and more sophisticated grunts as we tried to make sense of our environment. Its also the place where 1.8 million years ago we first "domesticated" fire.
You can do a tour of the Sterkfontein Caves, where there is a small interpretive museum, but you'll get more out of a visit here if you take a dedicated tour with a knowledgeable guide who can tell you about the various discoveries.
OK - to be perfectly honest, it's unlikely that these hominids lived only in the Sterkfontein area - they probably ranged all over southern Africa but, in order for fossils to be preserved, they need to die under ideal conditions - ideal conditions for fossil formation, not ideal conditions for life, obviously.
And the Cradle of Humankind, with its heavy deposits of limestone, offered the perfect environment for the preservation of these ancient skeletons. Since 1947, when Robert Broom discovered the first hominid fossil, who came to be known as Mrs Ples, literally thousands of fossils have been found at Sterkfontein and the other sites that make up the Cradle of Humankind.
But, even if you're not particularly interested in visiting the place where our ancestors hung out, the Cradle of Humankind is a great place to visit and it is close to Pretoria and Johannesburg. There are enough small game farms, caves, restaurants, craft shops and guesthouses to keep you occupied for a couple of days. You could even go for a hot air balloon ride. The Cradle is also close to the town of Magaliesburg and the Magaliesberg Mountains.
© Safarinow.com

Business Tourism in Johannesburg by Sarah Manners
Johannesburg: The City of Gold
The discovery of gold in what is now known as the city of Johannesburg sparked off one of the fastest South African urban developments. Johannesburg or the 'city of gold' as it is fondly referred to, is one of the most diverse areas in South Africa. It is South Africa's premier business destination and is as rich as the cultures and heritages made up by its 5 million inhabitants.
South Africa's business hub
South Africa's premier business destination, Johannesburg, is the most powerful commercial centre on the African continent. 74% of South African companies' headquarters are located in this business hub. It is also home to the Johannesburg Securities Exchange, the biggest stock exchange in Africa and the 16th biggest in the world. Though Johannesburg has financial, municipal, transport and telecommunications infrastructure that rival leading first world cities the cost of living is so much lower, making it the ideal location for business tourism.
Business Tourism
Johannesburg has become the premier destination for domestic and international business tourists. 36% of domestic and 32% of international tourists to Johannesburg come solely for business purposes. It makes financial sense for international business travellers to come to Johannesburg as it will cost two to three times less than when travelling to London, New York or Paris for the same purpose. Johannesburg has become a magnet for international conventions such as the 'World Summit on Sustainable Development'. It is the cities world class venues, such as the Sandton Convention Centre, and infrastructure that have enabled it to become a much sought after destination for international business tourists.
Johannesburg international Airport
The busiest and most business friendly airport in Africa is located in Johannesburg. The Johannesburg international airport accommodates approximately 13 million passengers a year and about 1.2 million of these are business travellers. The airport is located approximately 30 minutes away from Johannesburg's business. There are various car rental companies that operate from the airport and there are a variety of taxi services that can take business tourists to their hotels.
Accommodation
There is no shortage of accommodation in Johannesburg and its surrounding areas. Whilst some business tourists like to stay in the business hub itself, others prefer to stay at the hotels a short drive away where they can have the feeling that they are also on holiday. There is a huge amount of variety when it comes to accommodation in Johannesburg and business travellers will always find the perfect location to suite all of their needs. Many of the hotels offer conference facilities which companies can hire, making the commute from hotel room to boardroom that much more seemless. Many businesses chose to hold their conferences in hotels such as this as it is more practical for the company. The hotel will usually set up the room, provide the technological assistance and the catering.
Tourist attractions in the surrounding areas
Whilst on business to Johannesburg most travellers try and fit in some time to see the very worthwhile tourist attractions in the area. There are a multitude of museums, parks, botanical gardens and historical sites in and around Johannesburg. The casinos in and around the area provide fun-filled evenings after a long days work. There are a variety of fantastic golf courses in the area as well, some of which are world ranked and often frequented by business tourists. Travelling around Johannesburg taking in the sights and sounds of its different suburbs, sampling local as well as international cuisine and the impressive nightlife are but a few of the things to do whilst on business in this cosmopolitan city.
For those who want to explore Johannesburg on a greater scale a 50 minute drive will take them straight to the 'Cradle of Humankind'. A world heritage site consisting of over 200 caves in which 13 fossil sites have been found, the oldest of which is an estimated 2, 5 million years old. The Hartebeespoort dam located not too far out of the business hub is an excellent venue for water sports such as boating, fishing and water skiing. There is also a snake park, fresh-water aquarium and a 2 km cableway taking visitors to a viewing site on the Magaliesberg.
Choose Johannesburg
Johannesburg, South Africa's major business destination is home to world class venues and infrastructure. There is so much to do and see in this city of gold that business tourists are afforded the opportunity of being leisure tourists as well.
About the Author - The www.fabz.co.za - Fabz Estate luxury hotel is located in the suburb of Lonehill which is extremely close to the Sandton business district in Johannesburg. The hotel is geared towards business travellers and is equipped with the infrastructure to meet their needs whilst offering them hospitality, tranquillity and luxury.