| | |
| --- | --- |
| MAGALIESBURG BIOSPHERE, NORTH WEST PROVINCE, SOUTH AFRICA - TRAVEL GUIDE | |


Magaliesburg Bed & Breakfasts / Guest Houses / Self-Catering / Holiday Rentals
| | |
| --- | --- |
| View Map of Magaliesburg | The Magaliesberg is a beautiful low range of hills not far from the city of Johannesburg and close to the town of Magaliesburg. Note the spelling. Magaliesburg is the town, Magaliesberg is the range. But, hey, whatís in a name? Magaliesberg is a fun little centre with a very countrified feel to it and loads of bucolic pleasures. Pick up a copy of the Magalies Meander map. Itís a snazzy little marketing initiative that has linked together loads of fun products such as guest houses, museums, craft shops, restaurants and attractions as varied as South Africaís first gold mine, a hot air balloon trip, spas and wellness centres, and a cheese factory. |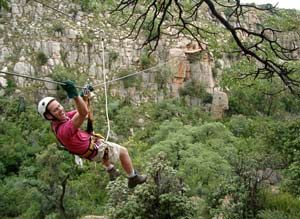 Itís also really close to the fascinating Cradle of Humankind.
Now the Magaliesberg is even more inviting. Although not very high, itís a beautiful range with lovely flora, some small game and loads of beautiful streams, pools and waterfalls. Itís a real escape from the frenetic urban conurbations of Pretoria and Johannesburg, and itís hard to believe itís so close. The hiking is legendary, there are some fun kloofing trips and some good climbing, too. There are horse trails in the area and South Africaís largest gliding club is situated nearby.
Magaliesburg Bed & Breakfasts / Guest Houses /
Self-Catering / Holiday Rentals

| | |
| --- | --- |
| MAGALIESBURG BED & BREAKFAST, COUNTRY LODGES & GUEST HOUSES, SOUTH AFRICA | |

De Hoek Country Hotel, Boutique Hotel, Magalies Meander, MAGALIESBURG
De Hoek Country Hotel the only 5 star country house in Magaliesburg, is situated in a unique valley; distinguished by its pocket of indigenous bush, amongst a sprawling farming community and a small but bountiful river. The house was built 10 years ago, but looks one hundred years old. It was designed for a family who have owned the land for a long time, and wanted to build a family country house at first. The result was a house that perfectly matched the environment and spirit of the family - a traditional design using the 'H' plan of old Cape homesteads, tin roof and stone walls of the Transvaal, Karoo and Free State homes of old. Stone and timber, with cool dark rooms of elegant proportions, a vast dining room opening onto terraces - East and West; a living room above the entrance leading out to a balcony; and bedrooms upstairs in the wings of the house, each with its own special view.
Rose Well Spa Country House & Spa, Magalies Meander, MAGALIESBURG
The Rose Well Country House and Spa is the ideal value for money destination for local and international tourists, being situated only 40 minutes drive from Johannesburg and 60 minutes from Pretoria. The Spa is situated 1.9 Km from the town of Magaliesburg on the R24 main road. With only six pretty en-suite rooms with queen size beds, the guest house is never crowded. Amenities include: Indoor heated plunge pool, Cold water swimming pool, Mineral Therapy ponds, Games lapa with Small pool table, Residents lounge and library, Pergola parking, TVs in rooms 12 Channels DSTV, Stream (no fishing). The Spa has six treatment rooms including hydro rooms and steam room and offers pampering treatments.
More accommodation in Magaliesburg

| | |
| --- | --- |
| MAGALIESBURG SELF-CATERING ACCOMMODATION, NORTH WEST PROVINCE, SOUTH AFRICA | |

Bernally's Fishing Lodge, Self-Catering Accommodation, MAGALIESBURG
Bernally's Fishing Lodge offers self-catering accomodation in Magaliesburg. Situated close to four dams, it offers fishing and canoeing opportunities. The rustic accommodation will provide you with a seating area and private bathroom. Some of the units have a fireplace. Guests can enjoy lake views. Bernally's Fishing Lodge has a braai area an provides canoes and life jackets. Free parking is available. Other activities can be enjoyed on site or in the surroundings, including cycling and hiking.
Riverbend Self Catering Cottages, MAGALIESBURG
Situated between Magaliesburg and Rustenburg and surrounded by bushveld close to a river, Riverbend Self Catering Cottages offers BBQ facilities and a plunge pool. The accommodation will here will provide you with a patio, fireplace and a kitchenette with a microwave and an oven. You can enjoy mountain views. The property offers free parking and can arrange massages on request. Maropeng is 50 km and Lanseria Airport is 90 km away.
Continue browsing all accommodation in Magaliesburg Biosphere