Somerset West South Africa by Hannah Rollmaker
top - Somerset West Bed & Breakfasts - Cape Winelands Accommodation
Situated on the Western Cape of South Africa, Somerset West is close enough to Cape Town (30m /50km to be more precise) and all it has to offer for you to be suitably entertained if you feel the need to wander. However, there is no need to worry, as Somerset West has many things for you to see and do while you are there. Whether it's for a flying visit on business, or whether it's for an extended vacation, you will find that your time is fully occupied.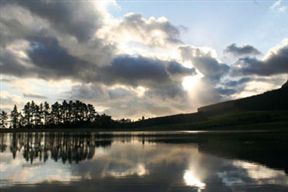 Somerset West is in the Helderberg area and is overlooked by the Helderberg Mountain, which is part of the range of mountains known as the Hottentots-Holland Mountain range.
Additionally, you will also find that Somerset West, is close enough to other towns in the Western Cape besides Cape Town, that you can get in a good dose of this wonderful land before you have to leave. These include the Cape Winelands (which is closer to home as Somerset West is on sub-route of the Wine Road); the Cape Whale Coast, the Garden Route, Robbens Island, Fossil Park, and of course the world famous Table Mountain (which is in Cape Town itself).
So where do you start? Well, a good place would be to explore close to Somerset West first, before setting out into other parts of the Western Cape. Whatever you do though, make sure that you set aside at least one day, if not two to look around Cape Town, and more importantly, to go through Table Mountain National Park. This is definitely one experience you don't want to miss.
Besides the Winelands, you will find that there is a nature reserve near Somerset West, called the Hottentots Holland Nature Reserve. There are a number of birds and other animals to see here, or if the idea appeals more, you can always go hiking through the reserve. Make sure that you consult with Reserve officials on the best routes before setting off on your own.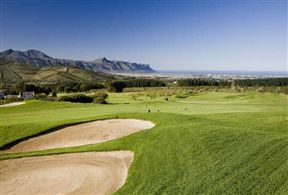 Or, if you find you want something a little less adventurous and more relaxing, why not take in a game of golf at the Erinvale Golf Course which played host to the 1996 Golf World Cup.
If wine is more your thing, then you might find that an extensive tour of the Cape Winelands is called for. The Helderberg Wine Route which lies closest to Somerset West is a sub-route of the Stellenbosch Wine Routes. The wines you will find here however, are truly unique in that they combine the benefits of mountain air with that of the sea air. This is due to the fact that the vines tend to grow on the slopes of the Helderberg, and are in close proximity to the sea.
And being in close proximity to the sea, if you are feeling particularly adventurous, you might want to try your hand at Shark Cage Diving. A truly unique experience and not for the faint hearted! From May to October is considered the best time to go shark cage diving, the months of South Africa's winter.
There are just so many places to see in Somerset West, and in particular in the Western Cape, that you will be hard pressed to find time to do them all. However, make sure that you get time in at the magnificent Table Mountain, and you will be well served. Oh, and don't forget the many Cape Town beaches, the Victoria & Alfred Waterfront, Cape Point, and the Cango Caves where you can ride an ostrich! As you can see the list is endless, and you truly have to go there to experience it all.
top - Somerset West Bed & Breakfasts - Cape Winelands Accommodation