Travel & Accommodation Guide to South Africa




Breede River Valley - Route 62 Scenic Route, Western Cape, South Africa -
Ceres, Malgas and Montagu Accommodation


Photo by Robert Wallace / CC BY-NC-ND 2.0

The Breede River Valley is located in the Western Cape Province of South Africa and is well known for being the largest fruit and wine producing valley in the region. It is also renowned as as South Africa's leading race-horse breeding area. The Breede River Valley forms part of the Boland, bordering on the Klein Karoo (Little Karoo) towards the east. The region stretches from Tulbagh in the north, to McGregor in the south, Rawsonville in the west and to Ashton and Bonnievale in the east. The valley's largest town is Worcester, situated almost in the centre of the valley. The main north-south rail and road routes traverse the valley, including the N1 highway linking Cape Town and Johannesburg.

The gorgeous scenery and picturesque views draw people from Cape Town for relaxing weekend breaks and visitors from all over the world, wishing to experience a stay in a place of sheer beauty.



| | |
| --- | --- |
| CERES ACCOMMODATION - GAME LODGES, SAFARI LODGES, GAME RESERVES - BREEDE RIVER VALLEY | |

Ceres is a town in the Western Cape Province of South Africa, named after the Roman goddess Ceres.

The name is appropriate , as the valley in which the town is situated is extremely fertile and is a major producer of South Africa's deciduous fruit.

The town is situated in the Warmbokkeveld (Afrikaans: "warm antelope field") Valley about 170 km north-east of Cape Town, which is climatically warmer than the surrounding highlands, and is known as the Kouebokkeveld ("cold antelope field").


View Map of Ceres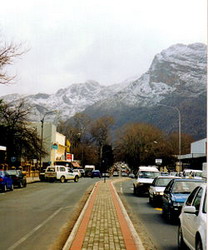 Ceres experiences a typical Mediterranean climate tempered by its altitude. The town has warmer temperatures in summer, due to its inland location with infrequent rainfall, however winters are cool to quite cold and wet, with frequent snowfalls on the surrounding higher-lying ground, rarely falling on the valley floor itself.

Ceres is well-known for fruit juices exported worldwide bearing the town's name. It is also famous locally for winter snow and cherries: Cape Town residents flock to the town during winter to ski or simply play in the powder - something of a rarity for the otherwise mild climate they are used to - whilst in summer, people come to pick cherries from "Klondyke" farm.

Wonderful area for game watching, fishing, mountain climbing, abseiling, skiing and other adventure activities.
Kagga Kamma Private Game Reserve, CERES
Kagga Kamma is a very unique private game reserve located near Ceres in the magnificent Cedarberg Mountains of the Western Cape. It is totally malaria free and only 260km (± 40 min. flying time) from Cape Town. As a guest you can indulge in the viewing of game from an open vehicle, enjoy a sundowner at the Ceres Karoo escarpment as well as explore 6000 year old Bushman rock art. At our mini observatory you can navigate the Southern skies with our powerful high-tech 10 inch telescope. You can also learn more about the culture and beliefs of the ancient Bushmen. At the Bushmen Lodge you can be accommodated in one of fifteen luxury air-conditioned en-suite rooms (five resembling Bushmen huts and ten resembling caves) nestled between unbelievable sandstone formations.
Continue browsing accommodation in Ceres - Breede River Valley

| | |
| --- | --- |
| MALGAS ACCOMMODATION - BREEDE RIVER VALLEY, WESTERN CAPE, SOUTH AFRICA | |

Malgas - Breede River Valley, Western Cape, South Africa

Malgas - a small, historic and scenic village on the Breede River just 35 km inland from Witsand and close to Swellendam. Famous for the only remaining hand-drawn pontoon in South Africa, which takes you across the Breede River.


View Map of Malgas
Malagas Hotel & Conference Centre, MALGAS
The inviting Malagas Hotel on the banks of the Breede River at Malgas combines traditional Cape hospitality with modern comforts. The 45 warmly decorated en-suite bedrooms feature reed ceilings. A wide wrap-around verandah offers spectacular views of the broad expanse of the Breede River. Sip your favourite beverage in Moxie's Pub and enjoy a leisurely home-cooked dinner in the pleasant restaurant. The well appointed conference venue in the Hotel seats 128 delegates. The Hotel's position on the Breede River is ideal for water-based team-building activities. Sun downer cruises can be enjoyed on a variety of boats accommodating from 10 - 60 guests. Whale watching and game parks are in the vicinity.
More Malgas Accommodation - Breede River Valley

| | |
| --- | --- |
| MONTAGU TRAVEL GUIDE - BREEDE RIVER VALLEY, WESTERN CAPE, SOUTH AFRICA | |

Montagu - Breede River Valley - Route 62, Western Cape, South Africa

Montagu is a town in the Western Cape province of South Africa. The town is named after the former secretary of the Cape Colony, John Montagu. It is 180km from Cape Town on the Route 62 scenic route. Montagu is a tourist destination, known for its hot mineral springs and great scenic beauty. It is an agricultural centre, where orchards and vineyards are in production and local herbs are grown. Nearby rock formations make it one of the country's major mountain climbing centres. Montagu is a stone's throw from the Robertson Wine Valley. Montagu is also on the Klein Karoo Route 62


View Map of Montagu

| | |
| --- | --- |
| MONTAGU BED & BREAKFAST/GUEST HOUSES - BREEDE RIVER VALLEY, WESTERN CAPE, SOUTH AFRICA | |

20 on Church, Bed & Breakfast, MONTAGU
20 on Church is conveniently situated in Montagu on Route 62. Only 2 hours from Cape Town it is the prefect stop between Cape Town and the Garden Route. 20 on Church have 4 Rooms all en-suite. This historic house has been carefully renovated to combine old world charm with today's modern luxuries. All rates include Breakfast which is served at Mimosa Lodge. The rooms are all individually decorated and is equipped with a hair dryer. The rooms are all en-suite with a shower only. 2 Rooms has a bath and shower. Honesty Bar. Lounge. Garden. Restaurant. Pool at Mimosa Lodge.
7 Church Street Guest House, MONTAGU
Nestling peacefully in the heart of Montagu, recently voted South Africa's Favorite Village. Our tastefully restored Victorian Luxury Guest House is set in beautiful park like gardens with a sparkling swimming pool, surrounded by panoramic mountain views. Amazing sunsets over Kogmans Kloof close the day and herald glorious majestic star lit evenings in the dry Karoo. We offer: A Luxurious honeymoon suite with a four-poster bed Tv, en-suite Victorian bathroom with huge ball and claw bath and separate shower. The stunning elevated garden-suite with a large and spacious lounge, Tv and fridge, with a sundeck over looking the herb and indigenous gardens and mountains, queen sized bed and bathroom with bath and separate shower. A spacious twin room with en-suite bath and separate shower. A cosy double room with queen bed and en suite shower set behind the veranda where the morning sun streams in.
Anchorage Inn, Luxury B&B/Self-Catering, MONTAGU
B&B and luxury self-catering accommodation. Spacious and attractive cottages under thatch, superb mountain views, exceptional hospitality. Excellent value. Let us spoil you with wonderful sunsets, a sparkling pool, cottages with distinctive character and delicious breakfasts. Walk to the village centre, enjoy tranquility and champagne air. Safe parking, valuable advice on surrounding areas and day excursions. Your hosts Joop and Monica welcome you. We know that you will find excellent accommodation in most places, beautiful rooms, attention to detail, delicious breakfasts. SO WHAT MAKES US DIFFERENT? We have traveled extensively in our own country and abroad, and can share valuable information with you on all areas of South Africa, not only our immediate surrounds.
Montagu Vines Guesthouse, MONTAGU
Montagu Vines is situated in the historic conservation area of Montagu. The main farmhouse was built between 1900 and 1910 and reflects the early Victorian-influenced Karoo-styled farmhouses of that period. The garden rooms overlook the wine-producing vineyard and compliment the stately main house. We offer our guests a taste of old-fashioned comfort and luxury in the town of Montagu on the world famous "Route 62". You can relax in the splash pool set in the tranquil gardens with magnificent old oak and milkwood trees. Alternatively, you could lounge on the lawns with glorious views of the vineyards and surrounding mountains, sipping a glass of Chenin Blanc produced from grapes from our vines.
More accommodation options in Montagu - Breede River Valley


| | |
| --- | --- |
| MONTAGU GAME AND SAFARI LODGES - BREEDE RIVER VALLEY, WESTERN CAPE, SOUTH AFRICA | |

African Game Lodge, Self-Catering/Full-Board Thatch Chalets, MONTAGU
Situated in the spectacular mountains of the Cape Winelands, only 2.5hrs from Cape Town and 30 minutes from the quaint karoo town of Montagu, African Game Lodge is a private nature reserve which offers you a taste of nature where you can relax and enjoy the scenery and wild animals without any pressure. Well-appointed thatch chalets (self-catering or full board) are luxuriously furnished for your comfort, but you can still light a braai on your verandah and enjoy the vast plain and surrounding mountains as the sun sets. We offer daily nature drives and game viewing to see large game on our property, as well as a cheetah conservation and awareness program.

| | |
| --- | --- |
| MONTAGU HOTEL ACCOMMODATION - BREEDE RIVER VALLEY, WESTERN CAPE, SOUTH AFRICA | |

Mimosa Lodge - Guest House/Hotel & Fine Dining Restaurant, MONTAGU
Nestled on the foothills of the majestic Langeberg Mountain range in the heart of Montagu on the popular Route 62 is Mimosa Lodge. Only a 2 hour drive from Cape Town, Montagu is the perfect stop between Cape Town and the Garden Route. Better known for the fine hospitality and superb cuisine provided by the friendly couple Fida & Bernhard Hess, an award-winning Swiss chef, Mimosa's restaurant is a culinary experience par excellence. Beautifully appointed en-suite rooms open up onto a rambling garden littered with myriad facilities including a sparkling swimming pool and deck, Bernard's herb and vegetable garden, croquet lawn and boules pitch.
Montagu Country Hotel, MONTAGU
Walking through the foyer you get a glimpse of the courtyard, lush green lawn and swimming pool area where guests unwind while enjoying the view of the nearby mountains. All 33 en-suite bedrooms offer air-conditioning and modern facilities to ensure an enjoyable stay. After a delicious meal in the Wild Apricot Restaurant, which offers a choice of traditional and continental dishes, our residents pub, The Dog and Trumpet, is where pre-dinner drinks and after dinner night caps are served until late. The Wellness Centre offer health treatments, and include a steamroom. This, in combination with our mineral pool, ensures you'll be spoiled before you continue your journey. The hotel is pet friendly* and offers the ideal weekend breakaway for Capetonians as well as a convenient halfway stop-over between Cape Town and the Garden Route.
Continue browsing accommodation options in Montagu - Breede River Valley

| | |
| --- | --- |
| MONTAGU SELF-CATERING / HOLIDAY RENTALS - BREEDE RIVER VALLEY, WESTERN CAPE, SOUTH AFRICA | |

HIGHLY RECOMMENDED BY OUR TRAVEL PARTNER:
Bon Accord Farm Cottages, MONTAGU
Bon Accord Farm Cottages are located just outside of Montagu and offer picturesque views of the Baden Keisie Valley. The cozy and well-appointed units feature a covered verandah with BBQ facilities and views. Each chalet has a living area, air conditioning satellite TV and a fully equipped kitchen. Activities in the surrounding area include hiking, cycling and a visit to the popular hot springs in Montagu.
Little Sanctuary, Self-Catering Apartments, MONTAGU
Little Sanctuary in Montagu offers elegant self-catering accommodation, overlooking the valley and with two private pools. Located 200 m from Avalon Springs and set on a 2.5 ha private estate, guests can prepare their own meals using the kitchen facilities in the apartment. Several restaurants are located in Montagu town, which is a 5-minute drive from Little Sanctuary. The spacious luxury apartments are equipped with a lounge and dining area, a TV with selected satellite channels and spacious bedroom. Activities in the surrounding area include hiking, mountain biking, bird watching and golf. The Montagu Golf Club is 1.4 km and the scenic Route 62 is about 3 km away from the property.
Continue browsing accommodation in Montagu - Breede River Valley
Continue browsing accommodation in the Breede River Valley