| | |
| --- | --- |
| CAPE WEST COAST TRAVEL GUIDE - WESTERN CAPE, SOUTH AFRICA | |


View Map of Cape
West Coast

The West Coast is an acquired taste. The vegetation is subdued, the sky incredibly wide and the sea very often a dead calm expanse of cerulean blue. But sometimes, of course, it's an angry grey expanse of snarling and crashing breakers.

But change is the only certainty. In spring, the somewhat monochromatic landscape explodes into a riot of colour. In small hollows between the dunes bright blue heliophilas nod on slender stalks as they turn towards the sun, and fields of orange, white, yellow and purple daisies shimmer in the heat as far as the eye can see.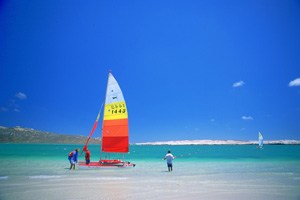 The West Coast National Park is a great place to see the flowers, either by car, on foot, or by bicycle. The Cape Columbine Nature Reserve, near the small town of Paternoster, is also a floral paradise but it's better known for its rocky shoreline with numerous sheltered coves, so it's a very popular sea kayaking area.

But there are loads of other places to see the flowers. The small town of Darling is well known for its fabulous bulbs, annual flower show and as the home of the wildly creative Pieter Dirk Uys who has catalysed the town's metamorphosis from sleepy hollow to a vibrant cultural centre.

Traditionally the West Coast has been populated by subsistence fishing folk, and their thatched, whitewashed houses are typical of the area but, in many places they are becoming a tad overshadowed by rather opulent holiday homes as South Africans have woken to the fact that the West Coast is every bit as interesting as the Garden Route - albeit in a far more low key way.
There are some good wineries in the area and, while most of the eateries are of the steak and pizza variety, there are some excellent restaurants - many specialising in seafood. In fact, one of the most rewarding West Coast experiences is to while away a whole afternoon at a traditional beach restaurant. This is like nothing you've ever seen.
Built from dried out bushes and a bit of shade cloth, these ephemeral structures offer makeshift furniture on a sand floor and fabulous seafood cooked on an open fire and served with home made bread. It's certainly not smart, but the food is excellent.
There's loads to do on the West Coast. The birding is spectacular with huge flocks of resident and migratory waders. There are horse trails, a fossil museum, boat trips on the Berg River, some not particularly well organised whale watching, and some good hiking and day walks. There is some interesting rock art.
Langebaan is one of the top windsurfing and kite surfing spots in the world and there are wonderful facilities for both experienced sailors and novices, and the lagoon is perfect for kayaking. Elands Bay offers some of the best surfing in the country and the nearby Verlorenvlei is a birder's paradise.

| | |
| --- | --- |
| DARLING ACCOMMODATION - CAPE WEST COAST | |

Darling is a small town in a farming area on the west coast region of the Western Cape, about 75km from Cape Town. By the beginning of the 18th century about 29 farmers lived in an area called Groenkloof and on one of these farms, Langfonte, Darling was founded in 1853. It was named after Sir Charles Henry Darling who came in 1851 to the Cape as Lieutenant Governor. The Darling Museum shows the history of the town and the Darling creamery which was established in 1899 by two Swedish settlers, Nils Georg Moller and G. Threnstrom, and was closed in 1950. Darling is famous for its wildflowers and since 1917 the annual Darling Wildflower show is held by the Darling Wildflower Society, founded in 1915 by Mrs. Suzanne Malan and Mr. Frederick Duckitt of Waylands.

The South African satirist Pieter-Dirk Uys performs many of his shows as Evita Bezuidenhout at Evita se Perron, a cabaret venue and restaurant in Darling. The adjacent arts and crafts market has been taken over in 2006 by the Darling Trust, a charitable organisation which addresses the problems of impoverished communities in the area through the establishment of grassroots projects.


View Map of Darling

Darling Lodge Guest House, DARLING
The West Coast, heart of South Africa's Floral Kingdom and the Flamingo Bird Trail, is famous for its unspoilt natural beauty: Game and Nature reserves, rolling hills, wheat farms and wine estates, lagoons and long stretches of beaches can be found and experienced in the immediate proximity of Darling. Darling Lodge, less than 1 hour away from Cape Town, is a place to relax and unwind. This in combination with a round of golf at the Darling Golf Course or numerous Golf courses close by, driving through off-road trails, hiking in the Darling Hills, a picnic on a wine farm, whale watching at Yzerfontein's Sixteen Miles Beach, visiting Evita Se Perron or watching a soccer match less than an hours drive at the 2010 Soccer World Cup in Cape Town.
HIGHLY RECOMMENDED BY OUR TRAVEL PARTNER:
Disa Lodge, Bed & Breakfast, DARLING
Nestled amongst wineries and nature parks in the heart of Darling, Disa Lodge features an outdoor pool, a sun terrace and a landscaped garden. Evita se Perron is a 4-minute walk away.The rooms feature wooden décor, white painted walls and carpeted floors. Each has a wardrobe and private bathroom facilities. Some rooms have a patio. Free parking is available at the lodge. Disa Lodge serves breakfast daily in the dining room beside the fireplace or in the breakfast room. Guests can prepare their own meals in the Braai/BBQ area. Local restaurants, wineries and shops are within a 10-minute walk away. Guests can enjoy a swim or relax on the terrace, overlooking the garden area. Indoors, there is a communal living room with sofa lounges and a stereo. Darling Renosterveld Local Nature Reserve is a 10-minute drive away.
HIGHLY RECOMMENDED BY OUR TRAVEL PARTNER:
Lookout Darling, Self-Catering house, DARLING
Located in Darling, this 3-bedroom house is surrounded by a lush garden and comes with a private small outdoor pool. Lookout Darling features a furnished terrace where guests can relax. Free WiFi is available. The country-style house features a seating and dining area, a fireplace, as well as a TV and DVD player. This self-catering home comes with a fully equipped kitchen containing an oven, stovetop, microwave and refrigerator. It includes kitchenware, a washing machine and tumble dryer. At Lookout Darling there are BBQ facilities available and the surrounding area features olive and wine farms. The famous Evita se Perron is 800 m away and the Darling Golf Club is within a 5-minute drive.
The Granary Petite Hotel, DARLING
The Granary is situated in the heart of the quaint and picturesque village of Darling which is only 70 km or 40 minute drive from Cape Town on the West Coast and 23 km or 15 minute drive to the beach. Darling is a charming 150 year old village, nestled in a fold of the West Coast hills, surrounded by vineyards, wheatfields, dairy pastures and wild flower reserves. Winter is rolling green wheatfields, tasting award winning local wines, olives and dairy products, relaxing in front of a roaring fire and visiting the unique museum and theatre. Spring is a must for bird and wild life lovers, a breathtaking multicoloured carpet of wild flowers, the excitement of the wild flower and orchid shows and the Darling Spring Festival. Summer is harvesting golden wheat, bringing in next year's vintage and enjoying Darling's colourful Carnival or a visit to one of the spectacular West Coast beaches.
More accommodation options in Darling