Guguletu, mfethu, is a truly South African experience by Tamara Toti
If you want the real kasi (township) experience and you want to feel the spirit of true ubuntu (kind-heartedness) among South African people, then mfethu (my friend), you have to visit Guguletu...

Gugs, as it is affectionately known to residents, was established in 1960 under the Apartheid legislation, because of overcrowding in the townships of Nyanga and Langa. Guguletu, which means "pride", has since developed into a bustling community - a gem that has and still continues to make its people proud.

Guguletu is situated on the Cape Flats and is a mere 15km away from the city centre of Cape Town. The people who live here are Xhosa and the language spoken is isiXhosa. You can visit Gugs by bus, taxi or train - although I would recommend the taxi ride. You cannot leave South Africa without experiencing a taxi ride, or you might miss out on an experience that is both comical and exciting. Mind you I am not talking about those metered taxis...

Get down to the taxi rank at the station in Cape Town's central business district (you will know it's the right place when you see the white minibus taxis queued in a line under numbered and named signs). Here you will be greeted by the oh-so-normal sounds of the rank - sounds without which it could never be called a taxi rank:

"Manenberg, Athlone...Claremont, Wynberg...one more, one more to go...where to my darling?"

Ask for the Nyanga, Guguletu taxis. Nyanga, KTC, N.y 1/108 that is. Get in the N.y 1 taxi, which will take you straight to the heart of Gugs: "Four four, uyaphi sisi?"(Where are you going my sister?), "Masambeni!" (Lets go!) the taxi conductor will be shouting. Once the taxi is full, doors will close and off you go, making your way towards the N2 freeway. The driver will take a left into Modderfontein road, turn at the robots, pass Montana Shopping centre and before you know it, you're in Guguletu.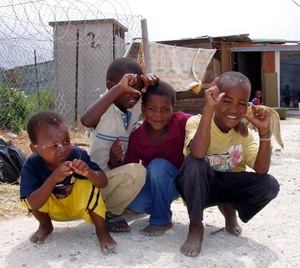 As you enter Gugs you will see young children playing and laughing in the streets. Others will be enjoying the sun if it's a hot day or people will just be sitting around, talking. You will also see little stands here and there, where some of the women make a living selling braaied meat. There are also a few fruit and vegetable stands as well as hair salons. If you are looking for a traditional outfit you'll also find a dressmaker amongst them; and if it's traditional healing you're after, there is even a healer nearby. Guguletu has sure become its own little town.
Another familiar kasi 'accessory' is the Cressidas that weave their way in and out of traffic. "Peep, peep!" These are our cabs - or amaphela as they're called. When you translate amaphela it means cockroach, and they were nicknamed this because of the way they move on the road: with such ease and speed, it's looked at by some as an art. They transport people in and around the township and it only costs you R4.00 to get where you want to go in a jiffy.
The best time to visit Gugs is during the hot months of summer when everyone is jolly, energised and playful - a feeling that is contagious and makes Gugs very exciting.
The first place you have to stop at is Mzoli's - Guguletu's most popular chill-out spot. Every Saturday and Sunday this is where people spend their afternoons, eating meat, chatting and just lounging around. If you are a lover of red meat, then this is the place to get it fresh and succulent. (Mzoli was originally a butchery eventually turning into a place where people could buy their meat and braai it.)
Today the meat is braaied right in front of you and it does not take long. Tshisa Nyama (braai) is a long standing tradition of Xhosa people and is a vital part of the kasi culture. The meat is served with mieliepap (maize meal porridge) and gravy or you can have it with bread - the real kasi way.
Mzoli is structured to fit in with the kasi-lifestyle; seating is outside where you can get a view of everyone passing by. This way you get to interact with people while enjoying your meal.
If braaied meat is not your thing, you can always pop in next door at Phunga with its African print interior, where they serve real authentic Xhosa meals such as upense (tripe) with pap(porridge), steamed bread and various other meats that are loved by the Xhosa people. If you are not into the food at all, then simply have some drinks, make yourself comfortable in the in- or outdoor seating area and lounge amongst the locals.
These two places might give you a South African experience that is unforgettable, but if you would really like to 'live amongst the people' then Liziwe's Guest House is another option for you. Liziwe's Guest House offers a choice of four bedrooms, each proudly decorated with a simple and tasteful touch of African decor and fitted with satellite television and en-suite bathrooms. Liziwe also offers a self-catering cottage.
An exciting occurrence that usually happens in Gugs around December is the boys going into initiation - a really important part of the Xhosa culture. When they reach the age of eighteen all Xhosa boys have to go for initiation. During this time, the boys stay in the bush for three to four weeks. The ceremony starts on the Friday with the men singing, slaughtering sheep and the women cooking. Accompanied by the older men, the boys prepare themselves to leave for their makeshift home, the very next morning.
When they return from the bush a big ceremony called umphumo is held. Traditional beer is made, sheep are slaughtered and the boys are welcomed back by people singing and giving praise to the ancestors for bringing them back safely. The celebration carries on until Sunday when they umgidi - showering the parents of the initiates with gifts of money and alcohol. Again meat is served and beer is drunk and the incredible kindness of ubuntu is displayed: people of Gugs coming together and helping each other where they can.
A visit to Guguletu will give you a taste of an authentic kasi - an experience you will never forget, and once you've experienced Gugs and its talkative, friendly inhabitants you won't want to leave.
Here you will not simply witness it - you will feel the spirit of ubuntu. But don't take my word for it - come and experience it yourself...