Flying Adventures in Southern Africa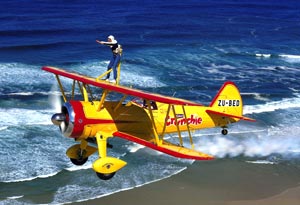 If you're into flying, you'll find that - in South Africa - the sky's the limit. That's because we don't offer rocket flights out into space, but that's about all we don't do.

South Africa is one of the few places in the world, where you can ride as a passenger in a supersonic military jet - either in Cape Town or near Sun City. There are hot air balloon trips near Johannesburg, near Hazyview in Mpumalanga, near Oudtshoorn in the Little Karoo, in the desert in Namibia and - in summer only - in the Western Cape's Winelands.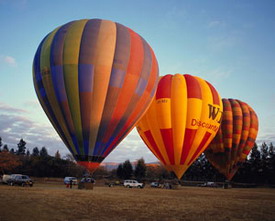 There are scenic flights in most places along the coast - in either fixed wing planes, helicopters or microlights. For a real whirl, though, you could watch your stomach do flick-flacks from the seat of an aerobatic plane in a number of centres, including Cape Town and the Garden Route. Air transfers can be more than just transport - most game lodges have landing strips and flying in is one way to ensure you see your chosen destination from every possible angle. The Mozambique islands in the Bazaruto Archipelago also offer scenic transfers. One of the most flown over places in Africa has got to be Victoria Falls. You can do a helicopter flip or a microlight flight over the falls, which are absolutely spectacular from the air. The gliding in South Africa is great, with immense thermals in the warm, flat interior - particularly in summer - and good wave and ridge soaring near the coast. You could learn to glide at one of the many clubs, or just do a scenic trip in a glider. Bitterwasser in Namibia and Gariep Dam in the Free State are two awesome destinations where international glider pilots often spend the summer doing long cross country flights or setting personal records.
If you want to learn to fly, South Africa is the place to do it. With the favourable exchange rate, you could fly here (as a passenger in a Boeing), spend a month doing your PPL full time, have a week's holiday on the beach or in the bush, and fly home and still spend less than you would on just the flying lessons in either Europe or North America. There are full time residential flying schools in Port Alfred and Port Elizabeth, both in the Eastern Cape, as well as more standard flying schools in most of the other major centres.