Dolphin and Whale Watching in South Africa
South Africa is an awesome dolphin and whale watching destination as there is a large population of resident cetaceans, and many visit here during their annual migration. The most well known of the cetacean species seen in South Africa is the southern right whale, which swims up from Antarctica, usually arriving some time in June. They spend the winter in some quiet bay between the West Coast and Port Elizabeth in the Eastern Cape, mating, calving and generally having some quality time with their families. They usually hang around until October, with the stragglers leaving towards the end of November. It's not a definite, but out of season sightings suggest that some individuals have worked out that there is enough krill off the West Coast to support a very small population so they seem to be staying almost all year.
Humpback whales mate and calve in the warm waters off Mozambique and West Africa, and can be seen as they move past South Africa on their northward migration in winter, usually May and June, and then on their return trip to the Southern Ocean in October and November, with a few stragglers in December.
The third most important whale seen off South African shores is the rather enigmatic Brydes whale, which is rare elsewhere but quite commonly seen between the West Coast and Port Elizabeth. Other whales that are occasionally seen include orcas and sperm whales.
Bottlenose dolphins are very common and play in the shallows just behind the breakers, so they are regularly seen all along the coast. Humpback whales are seen between KZN and the Garden Route, and common dolphins are seen off the whole coast, but usually quite far offshore.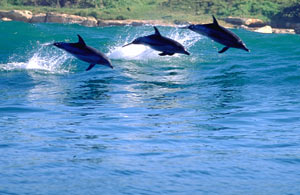 Dusky dolphins are seen around Cape Town and the endemic heavisides dolphin of the West Coast is a particular attraction for serious cetacean watchers. It is illegal to swim with dolphins in South Africa.
Cape Town and Hermanus are the best spots for land-based whale watching, while Cape Town, Hermanus, Gansbaai, and Plettenberg Bay are the best for boat based whale watching. There is equally spectacular land-based whale watching from the excellent vantage points atop the steep cliffs of De Kelders. The whales lie near the rocky cliffs, sheltering from the South Easter which blows from the land across the ocean.
As most of the whales visiting South Africa are either calving or mating, they are protected from excessive voyeurism by some pretty strict legislation. No boat, except those with permits, may be closer than 300m from a whale. Permitted boats may approach up to 50m from a whale, cut their engines and see if the whale approaches. It often does but, if it doesn't, it is to be left in peace. Any single group of whales may only be visited twice in one day and then for a maximum of twenty minutes.
In theory, there are about 18 permitted whale watching operators along the coast from Velddrif on the West Coast to Sodwana Bay in the Greater St Lucia Wetland Park in KwaZulu-Natal. The reality, however, is that there are pockets of active whale watching. The most organised – and most rewarding – boat-based whale watching in South Africa is in Plettenberg Bay on the Garden Route. Other excellent venues include False Bay in Cape Town, Hermanus, Gansbaai and Port Elizabeth. Between the West Coast and Port Elizabeth, Cape fur seals are easily seen as they live in sizeable colonies, usually on offshore islands, and there are boat trips that specifically go to see seals, as opposed to cetaceans.
Further north, there are operators on the South and North Coasts of KwaZulu-Natal and also off the coast of the Greater St Lucia Wetland, where the main attraction is humpback whales, dolphins and the occasional orca. During the annual sardine run, usually in June, the Wild Coast and the KZN South Coast is a veritable feeding frenzy of fish and cetaceans. During the "run" many animals that usually stay further south, for example Brydes whales and Cape fur seals, can be seen following the mobile larder of millions of pilchards as it heads north.